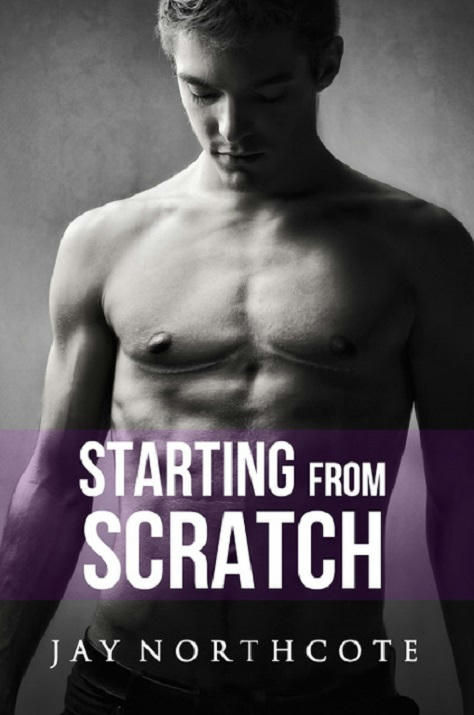 Title: Starting from Scratch
Series: Housemates #5
Author: Jay Northcote
Genre: Contemporary, Transgender
Length: Novella (112 pages)
Publisher: Jaybird Press (April 10th 2017)
Heat Level: Moderate
Heart Rating: ♥♥♥ 3 Hearts
Blurb: Starting over isn't easy, but Ben is ready to live his life as the man he was always meant to be.
Ben is transgender and back at university after hormone treatment and chest surgery. His new housemates have no idea about his history and Ben would prefer to keep it that way. He's starting from scratch and his life is finally on track, except in the romance department. The idea of dating guys as a guy is exhilarating but terrifying, because if Ben wants a boyfriend he'll have to disclose his secret.
Sid is drawn to Ben from the moment they meet. He normally gets what he wants—in the short term at least. Ben's guarded at first, and Sid's not used to guys rejecting his advances. He eventually charms his way through Ben's defences and helps Ben on his journey of sexual awakening.
It doesn't matter to Sid that Ben is trans. He's attracted to the whole person, and isn't worried about what is—or isn't—in Ben's pants. They're good together, and both of them are falling hard and fast, but Ben's insecurities keep getting in the way. If Sid can convince Ben he's committed, will Ben finally be able to put his heart on the line?
Although this book is part of the Housemates series, it has new main characters, a satisfying happy ending, and can be read as a standalone.
ISBN: 9781545255728
Product Link: https://www.amazon.com/gp/product/B06Y3YVY82
Reviewer: Aerin
Review: How in the hell can I review a book when the topic is something I've got no clue about? All the informational reading in the world couldn't give me the ability to understand exactly what Ben is feeling, how hard it is for him to integrate himself in the society as a man after living as a woman (girl?) for so many years, and how awful and deep rooted his transphobia and insecurities are. I'm trying not to be a judgy bitch and I took in this story for the well of information it really is. I never really gave a lot of thought to transgender people's genitalia because (with the risk of sounding ignorant) it never interested me. Go me for not sexualizing people! I was scared of reading this book but it ended up being sweet and informative; I didn't find it hot and sexual despite all the sex that took place.
Starting from Scratch is a story about a woman who became a man, a story about loving people not genders, a story about acceptance and understanding, about a vagina called Voldemort, and a bunch of friends who have each other's backs. I like this series a lot, but I have to admit this book is very different from the rest.
Ben is obviously the focus of this whole book, so much so, that I felt Sid didn't shine through quite as bright as I expected him to. Ben has been through a lot…. born a girl, Ben hasn't really questioned who he was until his 3 year relationship with his boyfriend at the time. The sex was fine, Ben (we don't know Ben's former girl name, and that's ok) certainly enjoyed it, but something was missing. Taking the time to really examine his thoughts and feelings, Ben realized he identifies more as a man rather than a woman, and was brave enough to take the steps needed to become a man, with the support and love of his family. Becoming a man however didn't wipe away all Ben's insecurities; Ben opted to not have gender reassignment surgery, and while the testosterone treatments helped his genitals change into a small penis, he's not like other men and he knows that. He feels inadequate and his fears are deep that he will eventually get rejected by a prospective lover.
Again, I can't even begin to imagine what Ben is going through, but…. how do you not question your gender until you're 18 years old (shouldn't that feeling of discord always be present)? I'm not going to rationalize it by comparing it with men who didn't realize they were gay until later in life, or maybe I should? It is something similar to that? Does one live peacefully as a man or woman and years later they realize they were born the wrong gender? I always assumed transgender people always knew deep down who they are, regardless what sex parts they were born with, but maybe that's not the case? I'm very confused!
Either way, it was very hard for me to connect with Ben and to understand his inner struggles. And with all the focus being on Ben, I don't feel like I got to know Sid all that well either. What I did learn about Sid I liked, especially his thoughtfulness when it came to Ben. Sid was understanding and honest, and when he realized his knowledge about trans people is kind of limited to the basics (like mine had been, and I felt better knowing a fictional character was a clueless as I was), Sid did research. If that research involved some FTM porn, it was all in the name of learning. So yeah, I admit Sid being so specific about what to write in my google search, and me being such an easily influenced (and curious dammit!) person, I ended up watching that stupid video Sid watched! Don't judge me!
This book was interesting, and I learned things I didn't know before, which is always a plus. But I wasn't blown away by the romance and considering the length of this book, many things were overlooked and it seemed rushed. But wait a minute…… Johnnie wears lacy underwear??? Yes please! And Ryan is his love interest… hunky Ryan! Fuck yeah! Bring it on!