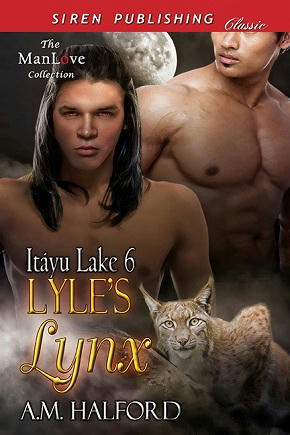 Title: Lyle's Lynx
Series: Itayu Lake  #6
Author: A.M. Halford
Genre: Paranormal, Fantasy
Publisher: Siren Publishing (April 26, 2017)
Length: Novella (104 Pages)
Heat Level: Low
Heart Rating: ♥♥♥♥ 4 Hearts
Blurb: Lyle Du'Val came to Itáyu Lake following his ex, Adriano. Instead of getting him back, he found his destined mate, Kai Kramer. Kai isn't too pleased with Lyle still chasing after his ex-boyfriend, but he is willing to be patient.
When Lyle finally decides to move on and accepts Kai, he learns things about his mate that he never suspected, such as Kai having a daughter. With this new mating comes a daughter that just wants a family, and she wants Lyle to be her mommy. Kai is stunned as he watches Lyle easily fall into the role of a parent for his daughter, Zarinna, and he quickly finds himself falling for his mate.
Just as the three of them are starting to settle into their new lives together, Kai's ex and Zarinna's mother starts making demands. Kai and Lyle find themselves having to protect the young cub from her own mother. At the same time, they try to nurture their new mating bond.   
ISBN: 978-1-64010-297-2
Product Link:  http://www.bookstrand.com/book/lyles-lynx
Reviewer:  Lisa
Review:  Each book in the Itayu Lake collection features a different romantic couple. To enjoy the overall story arc and crossover characters, I would recommend reading the series in sequential order. 
Lyle comes to Itayu Lake because he wanted his ex back with him.  What he had not expected was to find his mate.  Kai is not pleased but he is very pleasant when his little mate hides from him.  However it would seem Kai has his own little secret, a very sweet little girl.  A sweet little girl, whose mother is a danger to herself, and to her daughter.  Time to be protective parents.
Now I can see why the kid calls Lyle mom, but really it made the whole thing sound off.  I am sorry but Lyle is still a man.  It was the one reason I almost put the dang book down.  A four year old knows the difference between a man and a woman, a mother and a father.  Yet to hear her call him mother is a bit disturbing to me.
Other than that issue, the book was pretty entertaining.  I did have fun reading it, but I had to go back and read the other books to remember the characters for this book.  The guys were pretty hot, but they just seemed to be off, just a bit.  I couldn't really connect with them like I should have, but it was still fun to read. 
I look forward to the next story.