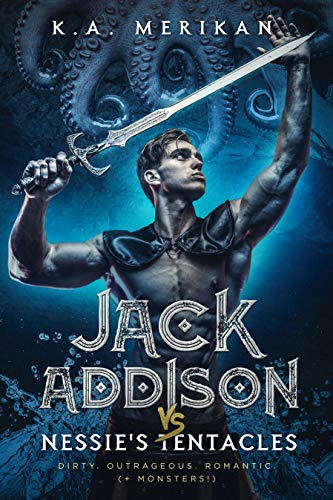 Title: Jack Addison vs. Nessie's Tentacles
Series: Jack Addison vs. A Whole World of Hot Trouble 02
Author: K.A. Merikan
Genre: Horror, Interspecies, Science Fiction
Length: Short (47pgs)
Publisher: Acerbi & Villani Ltd. (December 1, 2018)
Heat Level: Moderate
Heart Rating: 💖💖💖 3 Hearts
Blurb: "I'm not here to make friends. I'm here to slay Nessie."
Jack Addison is on his way to becoming a famous monster hunter, but luck had been against him at the Annual Nessie Hunt the previous year. Now, he's back at Loch Ness to show everyone what he's made of.
He's got a lot to prove to Roux Chat-Bonnes, the snotty cat-like creature who saved his life last time, so Jack goes into the woods to hunt Nessie armed with a brand new detection device.
But the creature he finds is nothing like he expected. Where he thought he would slay a monster, he ends up learning a valuable lesson about opening his horizons to new lifeforms. The learning curve is made delightful with the help of tentacles, suckers, and lots of slippery slime.
POSSIBLE SPOILERS:
Themes: pride, dreams, self-discovery, tolerance, fame, monster hunting, interspecies relations, tentacles
WARNING: This story contains morally ambiguous characters and scenes of sex that might be considered taboo.
ISBN: B07K5Z3QGN
Product Link: Amazon US | Amazon UK
Reviewer: Shorty
Review: The blurb is wrong. Jack is not on his way to being a famous slayer he's on his way to being a monsters plaything. From the first book he is captured by a spider and taken advantage of. No monster slaying by him what so ever. In this story it claims he's fought monsters but we're only told that not shown that it actually happened.
Nessie seduces Jack and has sex with him. I have to say I am not impressed with this series so far as I was expecting someone to actually hunt and fight the creatures mentioned instead I get a man used as a sex toy.
I personally do not like the series myself but others would enjoy it. It's a well written and entertaining short story.