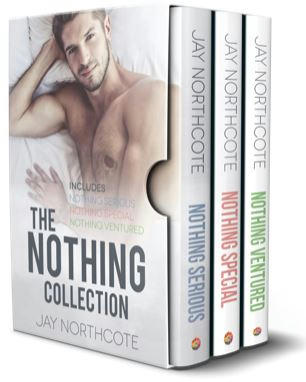 Hi guys, we have Jay Northcote popping in today with his new release Nothing Collection, so check out the post and enjoy! ❤️ ~Pixie~
Nothing Collection
by
Jay Northcote
Three feel-good MM romance bestsellers in one box set.
Nothing Serious
friends with benefits, gay first times romance
What happens when "nothing serious" turns into something more complicated?
Mark O'Brien is finally being honest with himself. His relationship with Rachel is over and he's moving out of the home they've shared for six years. They get along, but he can't fix a relationship when the person he's with is the wrong gender.
Jamie Robertson, one of the removal men, is huge and ridiculously gorgeous, and Mark is smitten at first sight. When a cardboard box splits, revealing items of a personal nature that Mark never wanted anybody to see, he's mortified. But it sparks the start of a beautiful friendship with benefits.
As Jamie initiates Mark into the joys of gay sex, the two men get increasingly close and "nothing serious" turns into something rather important to both of them. But communication isn't their strong point. Will either man ever find the courage to be honest about his feelings?
Nothing Special
meet cute, MM romance
When Noah's insecurity threatens their fledgling relationship, can Sol convince Noah that he's enough?
Noah thinks he's nothing special. Average height, a bit on the skinny side, and cute but rather geeky, he's relentlessly ordinary. He certainly doesn't expect to be noticed by Sol, the gorgeous dark-haired stranger Noah usually sees on his commute home.
When a friend persuades Noah to take a big risk in a bid to get Sol's attention, things turn out better than Noah dared to hope. But Noah doesn't believe he's interesting or sexy enough to hold Sol's attention.
As Sol tries to get closer, Noah tries to protect his heart by pulling away. If their relationship is going to survive, Noah needs to accept that Sol sees him very differently to how Noah sees himself. Because to Sol, Noah is something very special indeed.
Nothing Ventured
 enemies to lovers, sports, out for you, bisexual romance
Mud, sweat, and reluctant romance. Can Aiden and Matt sort out their feelings before race day?
When Aiden agrees to run the Mad Mucker—a twelve-mile muddy slog over an obstacle course—he's expecting it to be a bit of a laugh. The training will be tough, but Aiden could use the motivation to regain some fitness.
Matt is the sexy cousin of one of Aiden's coworkers and a last-minute addition to the team. When he agrees to train with Aiden, Aiden suddenly finds the prospect of regular workouts a lot more appealing.
Soon attraction flares, and they embark on an intense physical relationship. Matt doesn't want to fall in love with a man, and Aiden doesn't want to fall in love at all, but despite their insistence on no strings, they grow closer. As the day of the race approaches, time is running out for them to work out how they feel about each other.
.•.•.**❣️ Amazon US | Amazon UK ❣️**.•.•.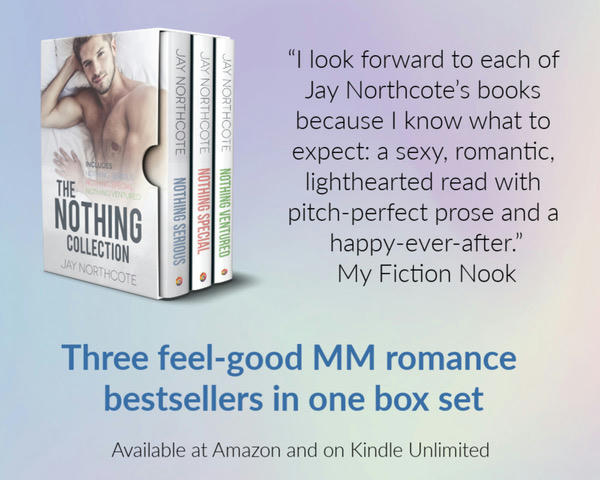 About Jay!
Jay lives just outside Bristol in the West of England. He comes from a family of writers, but always used to believe that the gene for fiction writing had passed him by. He spent years only ever writing emails, articles, or website content.
One day, Jay decided to try and write a short story—just to see if he could—and found it rather addictive. He hasn't stopped writing since.
Jay writes contemporary romance about men who fall in love with other men. He has five books published by Dreamspinner Press, and also self-publishes under the imprint Jaybird Press. Many of his books are now available as audiobooks.
Website | Twitter | Facebook profile | Facebook Author Page | Facebook Author Group | Newsletter | Jay's books