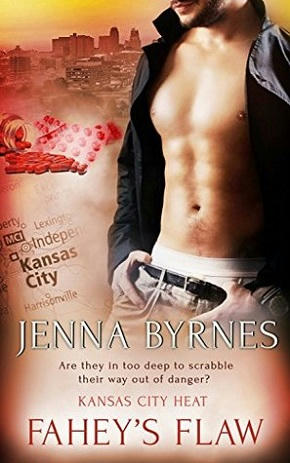 Title: Fahey's Flaw
Series: Kansas City Heat 9
Author: Jenna Byrnes
Genre:  Crime, Mystery
Length: Novella (100 Pages)
Publisher: Pride Publishing (January 6, 2016)
Heat Level: Moderate
Heart Rating: ♥♥♥♥♥ 5 Hearts
Blurb: Can KCPD detectives keep the latest designer drug off the streets and out of the hands of teenagers?
There's a new drug of choice in town, and the detectives of the KCPD Vice Department are working fast to keep it away from unsuspecting students looking for a cheap high. Detective Wynn Fahey's son, Connor, is thirteen going on thirty. His recent announcement that he's gay causes concern for his mother and her new husband, and the parents of the boy he's been caught in a compromising position with.
Wynn struggles to help his son adjust, not having gone through the same issues since he didn't come out until he was divorced with a child. When the new five dollar Insanity drug invades Con's school, the boy is forced to grow up faster than his parents would have liked. Will the love and support of handsome English teacher Reilly O'Keefe be enough to sustain Wynn and Connor, or are they in too deep to scrabble their way out of danger?
ISBN: 978-1-78430-929-9
Product Link: https://www.pride-publishing.com/book/faheys-flaw
Reviewer: Lisa
Review: Each book in the Kansas City Heat collection features a different romantic couple. To enjoy the overall story arc and crossover characters, I would recommend reading the series in sequential order.
I love the way this author can put together a book that not only fascinates you but draws you in. I had a blast reading this and look forward to reading more by Jenna. The characters are beautifully written with big hearts, however if you cross them, they have no problem putting you down.
There is a new drug out there that is sold extremely cheap and is ending up in the hands of teenagers. It has the police department searching for a way to stop it. It brings it even closer to home, seeing as Wynn's son is thirteen. Wynn seems to have many problems at hand on top of the damn drug. His son has come out gay, and Connor's mom's husband is not taking it to well.
On top of that Wynn is falling for Connor's teacher. It would seem Reilly feels the same way. Now they just have to figure out how to stop the danger from hitting close to home.
I can honestly tell you that this is going to be one of those types of series that you can't put down and have to read more than once. It is the perfect story for me and gave me all that I needed. In fact I think that this one is my favorite.
I love the way all the feelings they felt was involved in this story. I had a blast reading it and I can't wait to read the next story. When Jenna puts out a book I am usually there to eat them up. I would definitely recommend reading this book. Trust me it will keep you laughing, crying, loving and having fun.