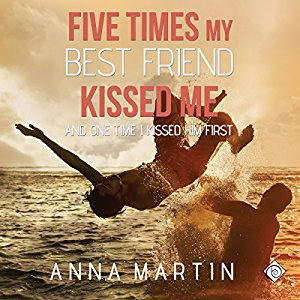 Title: Five Times My Best Friend Kissed Me
Author: Anna Martin
Genre: Contemporary, Coming Out
Narrator: Jesse Cota
Length: 6 hrs 17 min
Publisher: Dreamspinner Press (26th January 2017)
Heat Level: Moderate – Explicit
Heart Rating: ♥♥♥♥♥ 5 Hearts
Narration: ♥♥♥♥♥ 5 Hearts
Blurb: When you realize you want to marry your best friend at age six, life should follow a pretty predictable path, right? Maybe not.
As a kid, Evan King thought Scott Sparrow was the most amazing person he'd ever met. At 17, his crush runs a little deeper, and nothing seems simple anymore. Scott is more interested in football and girls than playing superheroes, and Evan's attention is focused on getting into art school. A late-night drunken kiss is something to be forgotten, not obsessed over for the next 10 years.
When life suddenly brings them back together, it doesn't take much for the flame Evan carried for Scott nearly all his life to come roaring back, and Evan discovers that life sometimes has a strange way of coming full circle.
Product Link: Audible US | Audible UK
Reviewer: Gigi
Review: Our lives take unseen and unpredictable turns, and the people in our lives often cross paths at different intersections, sometimes walk the path with us for great lengths before trotting off on their own journey. This lovable story is a lot about that, how important people in our lives come and go, all the while making an impact present or not. It's about best friends, growing up together, first attraction, first loves, self-questioning… all of those deep and common experiences. 
Evan and Scott have an interesting and endearing dynamic as friends and eventually as a couple, but I appreciated that other people were allowed to come into their lives throughout the story, it was realistic in that sense, and helped the overall theme resonate with me.
The passionate scenes were steamy yet realistic, beautiful descriptors and romantic settings. The narration was good, not as diverse as I like for different characters but Jesse Cota's voice suits the youthful journey these characters take from childhood to young adulthood and he reads well. 
Anna Martin's writing is always fluid and crafted expertly. A heart-warming story of a life journey from school yard pals to lifetime lovers, you'll enjoy Five Times My Best Friend Kissed Me, a great warm and endearing read.