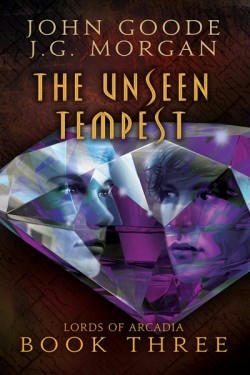 Title: The Unseen Tempest
Series:  Lords of Arcadia # 3
Author: John Goode and J.G. Morgan
Genre: High Fantasy, Teen Fiction
Length: Novel (244 pages)
Publisher: Harmony Ink Press (Dreamspinner Press) (July 10, 2014)
Heat Level: Low
Heart Rating: ♥♥♥♥♥ 5 Hearts
Blurb: Kane used to be a normal boy with normal worries. Now he fights alongside his boyfriend, Hawk, and an unlikely group of allies as they attempt to reclaim Hawk's throne and save the Nine Realms. With time running out, Hawk decides to raise an army against the evil shapeshifter, Puck, and his army of The Dark. The adventurers split up in search of a force that will join their cause and help restore order to the Nine Realms.
New allies aren't as easy to find as they hoped. Kane, Hawk, and their friends face unforeseen danger as centuries-old grudges threaten their quest. Nothing is what they thought it was, and Kane and Hawk must find the truth in time to defend against Puck's encroaching army. But the truth about who their true foe is will change everything.
ISBN-13: 978-1-63216-191-8
Product Link: Dreamspinner Press | Harmony Ink Press
Reviewer: Shorty 
Review: Oh. My. God.  Give me a minute while I get my emotions under control. I don't know how to start this review as my head is still spinning from the wonderfully woven tale to the cliffhanger at the end. 
Trying to find allies to fight an evil man is much harder than the band of allies anticipated. But find them they do and just in the nick of time. As with all epic tales there is fantasy mixed with paranormal on every aspect. The worlds themselves are beautifully depicted to the point where you actually see them. Hawk and Kane along with their allies are jolted as a new threat emerges along with the old ones.
I found that splitting the allies up and getting different POVs was extremely informative. We learn more about Molly, as well as a slew of others that have appeared throughout. The more I read of this series the more it climbs my list of all-time favorites.
I don't want to give anything away so I'll just say this: read the series. You won't be disappointed. I certainly was not. As always this series has a lot going on in it and leaves you with a feeling of having been on a long journey underwater and finally let up for air only to feel anticipation for the next book in the series.
Absolutely brilliantly written, I loved it. Highly recommended.