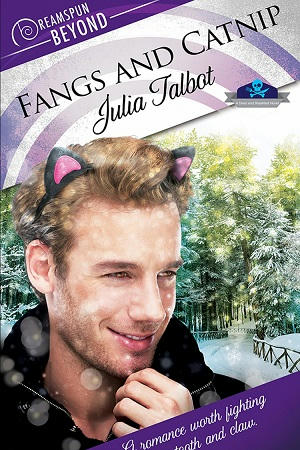 Title: Fangs and Catnip
Series: Dreamspun Beyond 09 / Dead and Breakfast 01
Author: Julia Talbot
Genre: Paranormal
Length: Novel (220 pages)
Publisher: Dreamspinner Press (1st December 2017)
Heat Level: Explicit
Heart Rating: 💖💖💖💖 3.5 Hearts
Blurb: A romance worth fighting for—tooth and claw.
Solitary vampire Fallon Underwood gets all the social interaction he needs being the silent partner at the Dead and Breakfast B and B high in the Colorado mountains. Change is hard for Fallon, so when his business partner, Tanner, suggests hiring a new manager for the inn, he's adamant that they don't need help, especially not in the form of bouncy werecat Carter Hughes.
Carter is a happy-go-lucky kitty, and he loves the hospitality industry, so the D and B ought to be a great place for him. He falls for Fallon as soon as he picks up one of Fallon's novels, and begins to woo the vamp with gifts. When Fallon finally succumbs to Carter's feline charms, the results are unexpected, to say the least. Their mating will have irreversible consequences—for their bodies and their hearts.
ISBN: 978-1-63533-977-2
Product Link: Dreamspinner | Amazon US | Amazon UK
Reviewer: Prime
Review: Fangs and Catnip is the first book in Julia Talbot's Dead and Breakfast series and is a part of Dreamspun Beyond house line. For me, I have enjoyed Julia Talbot books in the past, but she is one of those authors that I don't have any real opinion on other than they are usually a good read.
This plot of Fangs and Catnip is totally cute and charming. There is no real big drama or obstacles – this is a shifter and vampire who have to get their shit together. This is perhaps my only criticism of the book – the simple plot meant that there was room for characters to develop further, which unfortunately did not happen as much as I would have hoped.
Fallon Underwood is a vampire who is basically a hermit. He is a few centuries old and prefers his solitude. He resides in the attic at the paranormal bed and breakfast destination, The Death and Breakfast, where is the silent partner in the business with the sleepy, grumpy bear shifter, Tanner, located on the top of an isolated, snowy mountain. Tanner does a lot of the work on his own and finally convinces Fallon that he needs to hire a manager so that he can sleep/hibernate a bit more as the winter approaches.
This is where hospitality manager Carter Hughes. He's the bouncy cougar shifter that is basically Tigger. He comes to the B and B all excited for his new job, looking forward to being involved with a business that caters for all manner or paranormals and humans. When he encounters the enigmatic Fallon he immediately is attracted, and his inner cat knows that Fallon is his mate. The problem is vampires and shifters usually don't mate in the sense that they form a full blown emotional and mental bond, so there are unexpected results as their different physiologies alter to help the bonding process.
There is low level angst and some mucking about that felt like filling pages more than anything else. I won't go into details, but Fallon tries at certain points to push Carter away because he cares for the man too much and like many men in romances doesn't talk to his partner about his concerns. However, on the whole, guys have great chemistry and the sex scenes are steamy.
Secondary characters, at least one them, will no doubt get their own romantic story at some point and I'm really looking forward to that. I can't wait for November when the second books comes out featuring barely in control, newly turned wolf Tom.