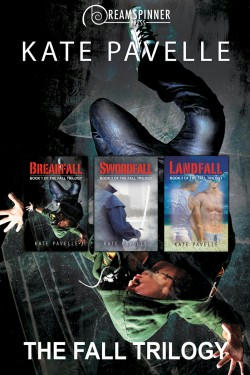 Title: The Fall Trilogy
Series:  The Fall Trilogy | Books One – Three
Author: Kate Pavelle
Genre: Mystery, Suspense
Length: Novel (666 pages)
Publisher: Dreamspinner Press (September 9, 2016)
Heat Level: Moderate
Heart Rating: ♥♥♥♥ 3 ¾ – 4 Hearts
Blurb: The Fall Trilogy follows Sean Gallaway and Asbjorn Lund as their relationship goes from dating to marriage, but along the way, violent stalkers, jail breaks, secrets, school, and even shipwrecks all conspire to drive the couple apart. If their relationship is going to survive, they must learn to trust each other, no matter the cost.
See excerpt for individual blurbs.
ISBN: 978-1-63477-621-9
Product Link: https://www.dreamspinnerpress.com/books/the-fall-trilogy-by-kate-pavelle-7517-b
Reviewer: Shorty 
Review: This trilogy follows the lives of Sean and Asbjorn as they struggle through ups and downs to make a life for themselves.
Breakfall
Heart Rating: ♥♥♥ 3 Hearts
There was a lot of information about martial arts in this story. It was a bit much and the actual story seemed to fall to the background because of it. Then through in the mix a stalker and there is your story. I don't know how I feel about the way Sean was treated by Asbjorn after he was brutally attacked by the stalker. Seemed to me if he cared for him he would have been more understanding.
Swordfall
Heart Rating: ♥♥♥♥ 4 Hearts
This book picks up where the first book ended. The stalker/assassin is back with a vengeance and all Sean's new self-confidence is slowly torn away. Needing a change of scenery Asbjorn takes Sean to see his family. But things go from bad to worse as added stress and another attack leaves them reeling and Asbjorn wanting to remove the threat to Sean permanently.
Landfall
Heart Rating: ♥♥♥♥ 4 Hearts
The killer is finally taken care so the couple should be happy but with the pressures to finish college mounting Sean ends up getting ill. Asbjorn feels out of sorts as well but when Sean gets a letter in the mail saying he's won a boat they head off for some much needed rest and relation. Unfortunately things do not go according to plan as per usual. They get stranded on an island, a body washes ashore.
All in all it was a good series with some major issues being dealt with as one struggles to come to terms with happened to him and the other trying his best to protect them both from a killer and the world. But as with life it does not come without its ups and downs. Great read.