Hi peeps! We have Liv Olteano visiting today with her upcoming teen fiction lesbian dystopian romance Thirteen Mercies, Three Kills, we have a fantastic guest post, a great excerpt and a brilliant giveaway, so check out the post and click that giveaway link! <3 ~Pixie~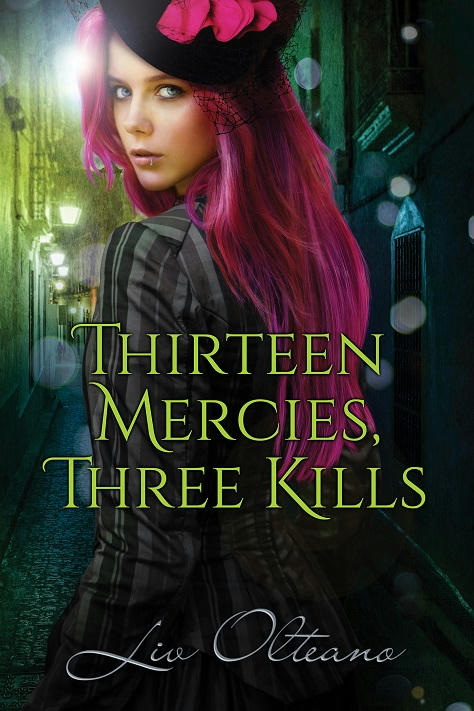 Thirteen Mercies, Three Kills
by
Liv Olteano
Watching her father's termination, twenty-year-old Cristina Mera Richards decides to kill the reaper Edgar Verner. Verner is the resident alkemist of New Bayou, though, and since alkemists are immortal, killing him won't be easy. But the harvesters are destroying the hovertown one citizen at a time. Edgar Verner must be stopped.
Cristina Mera has a gift for seeing and hearing ghosts. She escorts souls out of bodies ravaged by the withering sickness, taking away their pain. Her gifts are unique. Once it's clear she's a changeling, Verner becomes more than interested in having her by his side.
Mysterious Wanderer Alkemist Nikola Skazat is the solution to Cristina Mera's problems—a delightful and charming one, since Nikola is a woman unlike any Cristina Mera has ever met. Becoming Nikola's apprentice instead of Verner's finally gives Cristina Mera the opportunity she needs to save her hovertown. It also puts her heart in high gear, gives her butterflies, and just might get her killed.
Release date: 13th June 2017