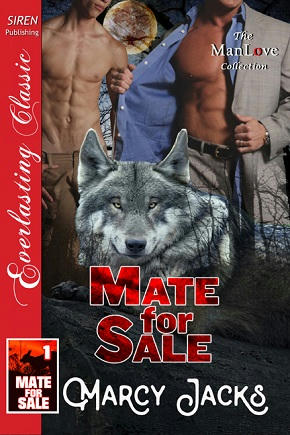 Title: Mate For Sale
Series: Mate For Sale # 1
Author: Marcy Jacks
Genre: Contemporary, Paranormal
Length: Novella (93pgs)
Publisher: Siren-BookStrand, Inc. (March 3, 2017)
Heat Level: Explicit
Heart Rating: ♥♥♥♥♥ 5 Hearts
Blurb: After Andy Lapin's brother falsely accused him of theft, he was taken away to do his time. Luckily, the crime is petty, and he can get out by selling himself to an alpha who needs a temporary mate for breeding. The only problem is that he actually has no choice in the matter, and the alpha is already here to collect what's his.
Istvaughn Kristoff is at an age where he should be producing pups, heirs who will take over the pack when he's gone, and he needs a human to drink his blood and act as his mate so he can get them. Only humans can carry shifter babies, but the problem is they often die when doing so. Still, Vaughn is willing to pay good money for Andy to take the risk, even if Vaughn is risking that his children end up with terrible red hair.
What he doesn't expect is the instant attraction that hits him—or wanting this human so badly.
But surely it's just a normal attraction. He can't possibly have a natural mating with this human…could he?
ISBN: 978-1-68295-929-9
Product Link: http://www.bookstrand.com/book/mate-for-sale
Reviewer: Shorty 
Review: Falsely accused of theft Andy is put in a program to breed with the highest bidder. He is sold to Alpha Vaughn. Vaughn has no intentions of getting close to Andy as humans are the only ones who can have shifters children and usually die in childbirth. Unbeknown to him fate has other plans in store for him.
It's a great beginning to the series as we see how cold Vaughn is toward Andy. I'm actually surprised Andy stayed as I would not have. I loved Andy. He was so sweet and innocent. I just wanted to hug him as the story progressed.
Highly recommended.