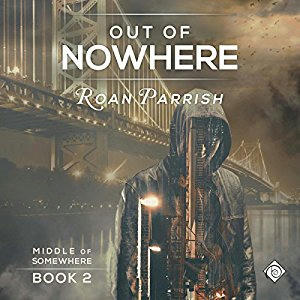 Title: Out of Nowhere
Series:  Middle of Somewhere 02
Author: Roan Parrish
Narrator: Spencer Goss
Genre: Contemporary
Length: 10 hrs, 33 minutes
Publisher: Dreamspinner Press LLC (7th April 2016)
Heat Level: Moderate
Heart Rating: ♥♥♥♥♥ 5 Hearts
Blurb: The only thing in Colin Mulligan's life that makes sense is taking cars apart and putting them back together. In the auto shop where he works with his father and brothers, he tries to get through the day without having a panic attack or flying into a rage. Drinking helps. So does running and lifting weights until he can hardly stand. But none of it can change the fact that he's gay, a secret he has kept from everyone.
Rafael Guerrera has found ways to live with the past he's ashamed of. He's dedicated his life to social justice work and to helping youth who, like him, had very little growing up. He has no time for love. Hell, he barely has time for himself. Somehow, everything about miserable, self-destructive Colin cries out to him. But down that path lie the troubles Rafe has worked so hard to leave behind. And as their relationship intensifies, Rafe and Colin are forced to dredge up secrets that both men would prefer stay buried.
Product Link: Audible US | Audible UK  
Reviewer: Prime
Review: As soon as I finished listening to the first book in this series, Middle of Somewhere, I quickly found myself pressing play on the audio for Middle of Nowhere. Now, I have to admit after reading about the third book in the series that I have some reservations on that one, but that isn't relevant here. The point is after reading book 1 I knew that I needed to devour this book. Through Daniel Mulligan and Rex Vale's story, it became clear that the next story was going to be about Daniel's combative and misunderstood older brother, Colin Mulligan.
The story follows Colin's life from about the same place in time where Daniel's story started. We first met Colin as a complete asshole who seemed beyond redemption. But if you're a sucker for these types of stories – another type of story I can't help to love – this sequel is another sure thing for you to listen to or read. I also happen to think that Spencer Goss absolutely captures Colin's tone perfectly.
Seriously, Roan Parrish is just filling these books with literary tropes that I just love!
Colin in nothing short of a broken man – he puts on an act in front of his family, even though that is broken too. The events that occur later in the book with his younger brothers cement that fact. He has hidden his true self from the world for the sake of his father and that has left his life in utter ruins. Colin Mulligan is the broken asshole you love to fall in love with and see him through his redemption.
His chance at redemption doesn't come until he meets Rafael Guerrarra. Rafe has been through his own shitty times in life but he has come out the other side a better man for it. Colin's self-destructive tendencies first draw him in. Later, it's clear that Rafe's need to care for people is what propels the start of their unsteady relationship. By the end of the book, not only has Colin worked through his shit, he is also presented with a chance to do something for someone else for a change, after all the damage he has inflicted in the past.
This is so much more than a story of romance and redemption. I simply loved this one and absolutely fell in love with both of the main characters.