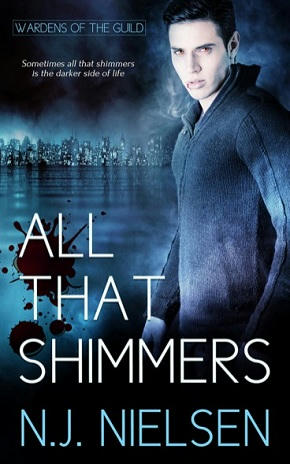 Title: All That Shimmers
Series:  Wardens of the Guild 02
Author: N.J. Nielsen
Genre: Fantasy, Paranormal
Length: Novella (130 pages)
Publisher: Pride Publishing (May 30, 2017)
Heat Level: Moderate
Heart Rating: ♥♥♥♥♥ 4 ½ Hearts
Blurb: Sometimes all that shimmers…is the darker side of life
When the only world he'd ever known changed, Eric Meyers had to change along with it. Now he needs to figure out his next steps, especially when it comes to Tagh. Things get even more confusing when he starts dreaming about a man he doesn't even know.
Tagh's recovery from battle wounds isn't helped when he has to face Eric's continuing doubts. If that's not bad enough, he also has to deal with more of his kind turning up and what it all means. There are zoos out there filled with people, people who shouldn't even be there—people who need rescuing.
Jory has been held captive in one of these hellholes for the last few years. His dreams of Eric, a man he's never met, give him hope that help is on the way, but the waiting is hard. To save the others, Jory stands up to their jailers. The only problem is that he is just one against the many.
What fate brings together, let no person tear apart. But is the trio ready to face a future none of them had ever planned on? Between their enemies and their heavy responsibilities, Eric, Tagh and Jory have to work out more than their immense differences—they have to figure out if their very relationship is strong enough to survive whatever's coming next. Because come it will…
Reader Advisory: This book involves characters who are kept imprisoned to be used as sexual slaves, discussion of rape and sexual assault, references to starvation and beatings and references to incest. 
Publisher's Note: This book is best read in sequence, as part of a series.
ISBN: 978-1-78651-580-3
Product Link: https://www.pride-publishing.com/book/all-that-shimmers
Reviewer: Shorty 
Review: After the events in the previous book leave Tagh gravely injured and Eric stays by his side. He learns Tagh is his mate though he is confused by his feelings for the man. Amid that he is dreaming of a sexy man in dire need of help.
Wow this story was a great addition to the series as progress was made in determining who was with who and all the help involved in setting about taking down the zoo's. I seriously found that part disturbing in that anyone would do that to someone.
The overall story comprised of romance, suspense, action and edge of your seat scenes that leave you wanting more.