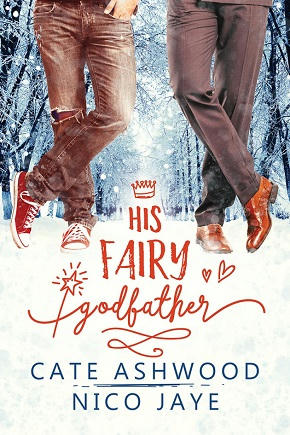 Title: His Fairy Godfather
Author: Nico Jaye & Cate Ashwood
Genre: Urban Fantasy
Length: Novel (200 pages)
Publisher: Dreamspinner Press (9 Dec 2016)
Heat Level: Explicit
Heart Rating: ♥♥♥♥♥ 4.5 Hearts
Blurb: Since the death of his father, Trick Grigsby has fought to keep his head above water. Following in his father's footsteps as a talented architect, he hopes to work his way up at the firm. Unfortunately, the company's new owner barely resembles the man who was once Trick's father's best friend. Trick's days are filled with drudgery and cruel remarks from the man who was supposed to be his mentor—along with his two sons, whose only jobs seem to be making Trick's life miserable.
But all that is about to change.
Edwin Goodmaker struggled through his fairy godparent curriculum, but his mother—the reigning Fairy Queen—has a simple solution: Edwin will go to New York City and get some practical experience. When he meets Trick, Edwin knows he's found a worthy charge, and he's sure he can help Trick achieve all of his heart's desires. Edwin falls for Trick, but with everything standing in their way, a fairy-tale ending might remain nothing more than a dream.
ISBN: 978-1-63533-125-7
Product Link: https://www.dreamspinnerpress.com/books/his-fairy-godfather-by-nico-jaye-and-cate-ashwood-7869-b
Reviewer: Prime
Review: This is one of those stories where I was drawn in by the blurb since I really don't have an opinion, or memory, of reading something by either author in the past. It was a very happy choice though because the story is exactly as described in the blurb.
It is a totally sweet romance between a down on his luck human called Trick (Patrick) and a fairy sent to New York for some practical experience as a fairy godfather named Edwin. Edwin arrives in New York after his mother, the Queen of the fairies, sends him to the mortal realm where he saved by Trick. Edwin's magic is drawn to trick, a man who did a nice turn for him when Trick really has nothing in his own life to be happy about. Edwin makes it is mission to be the best fair godfather that Trick could possibly need. What Edwin didn't count on was the romance between that developed between them.
The chemistry and emotion between the MCs is sweet and gentle, it's not an aggressive love – it is something that is both strong and kind. I don't know how to explain it better than that. The book is stacked with emotion. Trick starts as a down-trodden guy to a man who is strong and certain in the world and it's all because of Edwin. This book is magical in more ways than one and perfect for any fan of fantasy and true love.