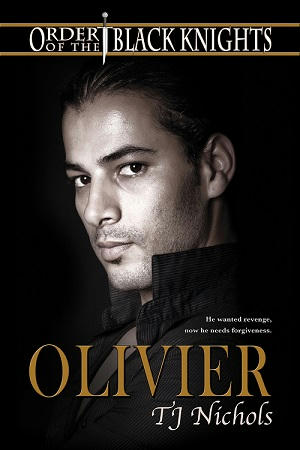 Title: Olivier 
Series:  Order of the Black Knights 07 
Author: TJ Nichols
Genre: Mystery, Suspense, Urban Fantasy
Length: Novel (200 pages)
Publisher: Dreamspinner Press (July 31, 2017)
Heat Level: Moderate
Heart Rating: ♥♥♥♥ 4 Hearts
Blurb: Olivier Merlo works for a dangerous man. He does what he's told without asking questions because he needs to protect his sister and niece. When someone gives his boss trouble, Olivier does what he does best. It's a routine hit—until the victim's brother starts poking around.
Cody Anders left his family behind a decade ago—along with their wealth and influence—to live on his own terms. Still, he knows his twin didn't die of a drug overdose, and he'll do anything to find the truth. What he uncovers is a conspiracy that will topple his family and leave him staring down the barrel of a gun.
Olivier must decide if he's going to obey orders or free himself from the curse that has guided his hand for centuries. Cody, who challenges Olivier's notion that no one can love him, holds the key to breaking his chains. But when the truth finally comes out, it might be more than Cody can accept.
ISBN-13: 978-1-63533-768-6
Product Link: Dreamspinner Press | Amazon UK | Amazon US
Reviewer: Shorty 
Review: This story did not have the same intensity as the previous books in the series to me but the never the less was just as good. Olivier's nightmares were a glimpse into what has happened in the past though he does not know it. Cody was determined to find out what happened to his brother no matter what.
Olivier's past and present story was heart-breaking. I admired how strong he was mentally to do what he has to do to survive for his family. 
I felt sorry for both Olivier and Cody as one was ready to walk into danger and the other wanted to protect him from his boss and father. There were a lot of players involved but I found some were not explained well enough to get a complete understanding of their role.
It was a great read that I enjoyed.