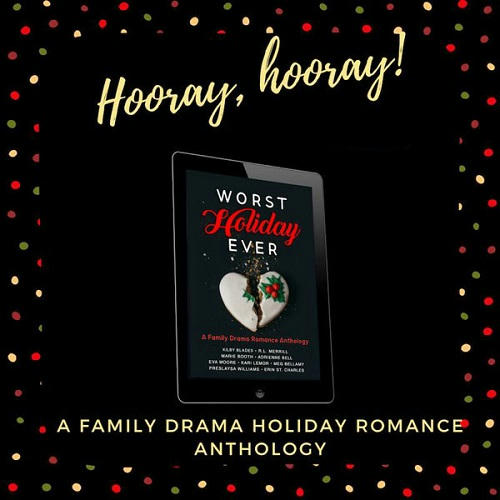 Hi guys! We have R.L. Merrill poppin gin today with the tour for her story in the Worst Holiday Ever anthology, The Thanksgiving Parade From Hell. We have a great exclusive excerpt and an awesome $25 Amazon or Dreamspinner GC, so check out the post and enter he giveaway! ❤ ~Pixie~
Worst Holiday Ever
by
Eva Moore, Adrienne Bell, Kilby Blades, Kari Lemor, Preslaysa Williams, Marie Booth, R.L. Merrill, Erin St. Charles, Meg Bellamy
It's the most wonderful time of the year! OK—scratch that. It's time for another obligatory family gathering. And nothing spices up the egg nog like bringing your partner home. Surely your belligerent brother-in law, your gimlet-eyed granny and your drunken uncle will keep it classy. With forced proximity and alcoholic beverages, what could possibly go wrong?
Decked Out by Eva Moore
A Perfect Fit by Adrienne Bell
Crazy Old Money by Kilby Blades
Stealing Christmas by Kari Lemor
Touched by Fate by Preslaysa Williams
Ringing in the Reefer by Marie Booth
The Thanksgiving Parade From Hell by R.L. Merrill
Thankful in Perdition by Erin St. Charles
Feliz Chanukah! by Meg Bellamy 
This anthology is for readers who love any or all of the following: m/m, #ownvoices, plus-sized heroes, interracial/multicultural families, paranormal romance, contemporary romance, Thanksgiving, Christmas, and Chanukah! (M/M, M/M/F, M/F)
It is best to leave this one to the mature audiences.