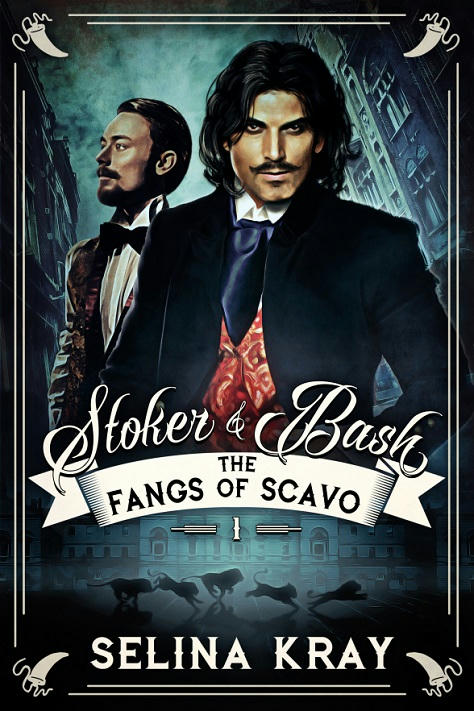 Title: The Fangs of Scavo
Series: Stoker & Bash 01
Author: Selina Kray
Genre: Historical, Mystery, Suspense
Length: Novel (413pgs)
ISBN: 9780995992504
Publisher: Selina Kray (7th June 2017)
Heat Level: Low
Heart Rating: ♥♥♥♥ 4 Hearts
Reviewer: Pixie
Blurb: At Scotland Yard, DI Timothy Stoker is no better than a ghost. A master of arcane documents and niggling details who, unlike his celebrity-chasing colleagues, prefers hard work to headlines. But an invisible man is needed to unmask the city's newest amateur detective, Hieronymus Bash. A bon vivant long on flash and style but short on personal history, Bash just may be a Cheapside rogue in Savile Row finery.
When the four fangs of the Demon Cats of Scavo—trophies that protect the hunters who killed the two vicious beasts—disappear one by one, Stoker's forced to team with the very man he was sent to investigate to maintain his cover. He finds himself thrust into a world of wailing mediums, spiritualist societies, man-eating lions, and a consulting detective with more ambition than sense. Will this case be the end of his career, or the start of an unexpected liaison? Or will the mysterious forces at play be the death of them both?
And just who is Hieronymus Bash?
Purchase Link:  Amazon US | Amazon UK
Review: DI Timothy Stoker loves his work, he doesn't care about grabbing headlines, he just wants to solve his cases and begin the next case. His newest case is to unmask a flash amateur detective who keeps solving high society cases; Stoker has to go undercover to get close to Hieronymus Bash and he discovers that Hiero is not quite what he thought.
Bash loves debunking spiritualists and solving mysteries, but when, during a séance, a fang from the Demon Cats of Scavo disappears right under his nose he knows a simple solution will not be forthcoming, and he ends up with a tag-a-long in the shape of Timothy Kipling, a man who seems to be hiding something.
Stoker and Bash couldn't be more different from the other, Stoker is plain and unassuming, disappearing into the background and often overlooked and forgotten. Bash on the other hand is flashy, attention grabbing and lives to be the centre of the spotlight. These two together make for an odd couple but surprisingly they hit it off and discover a mutual attraction.
The mystery storyline is quite attention grabbing in itself, we have the creepy story of the Fangs of the Demon Cats of Scavo and their shocking disappearances, we have characters who thrust themselves into the culprit spotlight and there's one character in particular who you desperately hope gets his comeuppance because his behaviour is just *shudder* beyond the pale.
I quite enjoyed this story and really enjoyed the descriptions and setting, all the characters are fleshed out perfectly so you can imagine them in your mind's eye as they crop up in the story. There are some action scenes that are quite exciting and daring, and believe me Stoker and Bash just seem to attract danger.
The relationship between Stoker and Bash is quite tempestuous, Bash is a full-on passionate man while Stoker seems to have a banked passion that he controls with an iron fist, and it leads to some passionate interludes but with Stoker pulling back in the times in between.
Overall this story was a fascinating read, I found the characters to be enthralling, the storyline fascinating and the romance to be fitting for the time.
I recommend this to those who adore historical mysteries, fantastic characters, danger and action, and an ending that has you impatiently waiting for the next book.