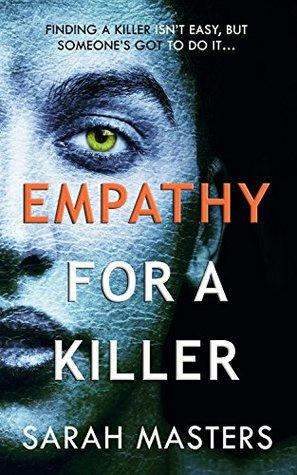 Title: Empathy for a Killer
Author: Sarah Masters
Genre: Mystery, Suspense, Contemporary
Publisher: Pride Publishing (May 16, 2017)
Length: Novel (202 Pages)
Heat Level: Low
Heart Rating: ♥♥♥♥♥ 4.5 Hearts 
Blurb: Finding a killer isn't easy, but someone's got to do it…
Detective Burgess Varley is called out to view a dead body. It isn't one of the best things about his job—but putting killers away for the rest of their lives? Now that's one of the best. Problem is, the victim has something in her mouth that has always scared Burgess—something that links him to the killer without him even knowing it. And that link is more than Burgess might be able to handle.
Detective Shaw Peters, Burgess' partner for several years, loves Burgess in ways he perhaps shouldn't. Or ways that Burgess won't accept, anyway. But Shaw isn't one to back down from a challenge, and as well as being by Burgess' side on the hunt for a killer, he has his own mission to accomplish—getting Burgess to admit they're meant for each other. It won't be easy, but by God, he's going to give it a try.
With Burgess and the killer learning things about themselves, their lives, and each other that they previously hadn't known, life—and death—is about to become serious.  
ISBN: 978-1-78651-557-5
Product Link: https://www.pride-publishing.com/book/empathy-for-a-killer
Reviewer: Lisa
Review:  I don't even know where to really start this review.  This is one of those stories that will take you breath away if you let it.  It has romance in it, but it also has a very dark side as well.  I have not been a fan of these types of stories, but I have to admit that this one was damn good.  A little creepy but a very well written story.
There is nothing better than a man who carries a gun.  In this story you get two very sexy partners who have a damn gruesome murderer to find.  There are many twists and turns in this story that will have you on the edge of your seat.  You also get a cop that has a hard life in love with a cop that is more flighty I suppose.  One who is trying his hardest not to be in love, but you can tell that he definitely is.  
Burgess is a hardnose cop that does everything he can do to catch the killer, however these murders lead him to someone he had not expected.  A past that he had forgotten and a betrayal of one he had loved.  Then you get Shaw who leaves a wet towel on the bed, dirty socks on the floor, tooth paste on the sink and loves him no matter what.
I have not read many stories by this author but I have to say that this is one of the best psychological thrillers I have come across in a long time.  In fact I could see it being turned into a movie, it was that good.  Three murders that lead to three murders previously, one who was Burgess's father.  The story takes you into a serial killer's head and why he did what he did.  I guess he isn't a serial killer but I felt like he was.  The creatures were a big impact into the story as well, a bit creepy if I must say so though.  After reading this story you can see how it got its title.  
This story caught my attention from the start and kept it all the way to the end.  In fact I didn't move a muscle until I finished it.  I am not saying that I will keep an eye out for these stories, but this one does leave an impact.  I enjoyed reading it and look forward to reading more from this author.