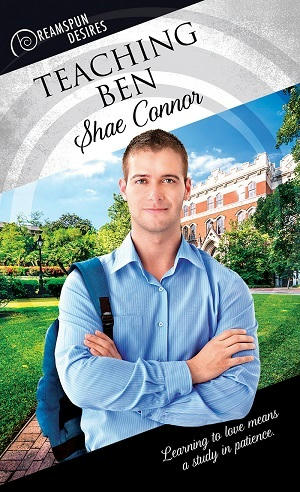 Title: Teaching Ben
Series: Dreamspun Desires 52
Author: Shae Connor
Genre: Contemporary
Length: Novel (209 pages)
Publisher: Dreamspinner Press (20th February 2018)
Heat Level: Explicit
Heart Rating: 💖💖💖 3 Hearts
Blurb: Learning to love means a study in patience.
Fresh out of the military, Ben Cooper is ready for a new start. He's away from his domineering father, making his own choices… and out of the closet. On his first day of college, he meets David Powell, who's just the kind of gorgeous man Ben's dreamed of. Too bad he's the teaching assistant—which makes him off-limits in Ben's eyes.
David is Ben's age, but his life has taken a different path. He's close with his family, who helped him deal with personal struggles after he came out. And while he's staying away from any hint of scandal, Ben's a kind of temptation he hasn't faced in years. If only they'd met on more equal footing. As the semester progresses and their lives become more entwined, keeping their relationship platonic becomes more difficult. They just have to hold out until the end of the semester….
ISBN: 978-1-64080-412-8
Product Link: Dreamspinner | Amazon US | Amazon UK
Reviewer: Prime
Review: Teaching Ben is a cutesy story about two college students in their mid-twenties. This is very much what I expect from the author, Shea Connor, and I was quite pleased with this addition to the Dreamspun Desires line.
Teaching Ben is the story of Ben Cooper and his college tutor David Powell. Ben is twenty-four and recently out of the air force. After growing up with a controlling father who was also in the military which led into his career in the navy. Now he can have a life for himself and for Ben that is going to college and studying communications and documentary making. On his first days in one of his introductory subjects he feels an instant spark of attraction to third year student and his tutor for the class, David Powell.
David is also twenty-four. He's got a past as a member of a rich family and growing up getting everything he wanted. A life altering situation some years ago meant that David had learnt his lesson and had since been working hard to finish college. Meeting Ben, David can't deny the attraction, however David also knows that he start a relationship with a student he was teaching for the semester.
This is a sweet, well-paced book with very little angst. These are just ordinary guys living life, meeting their challenges head on, going to college and that ultimately is what makes this charming.