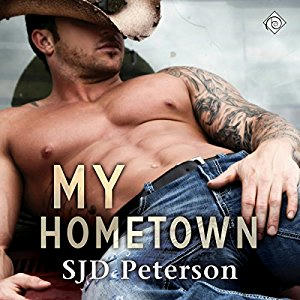 Title: My Hometown
Author: SJD Peterson
Narrator: Ronald Ray Strickland
Genre: Contemporary
Length: 7 hrs, 14 mins
Publisher: Dreamspinner Press LLC (11th July 2016)
Heat Level: Moderate
Heart Rating: ♥♥♥♥ 4 Hearts
Blurb: Jimmy Brink and Eric Halter grew up together in a small country town. While Eric has always been content with life as a rancher, Jimmy wanted more and moved to Chicago early on to pursue a medical career.
Life has a way of coming back around. When Jimmy's parents decide to retire in Florida, Jimmy returns to his hometown to finish his residency at a local hospital. Flamboyant boyfriend Oliver in tow, Jimmy bumps into his old friend. Eric quickly takes a disliking to Oliver, though, and for good reason. Oliver proves he's not only self-centered but also a cheater.
To complicate matters, Eric finds it more and more difficult to hide his attraction to his best friend. When the opportunity arises, he needs to decide whether to risk their friendship to pursue his feelings, but maybe Jimmy will see there's more for him now than ever before in his hometown.
Product Link: Audible US |  Audible UK
Reviewer: Prime
Review: My Hometown is your usual Gay-for-you type trope, right down to two childhood besties harboring lifelong crushes on each other but never able to admit the truth to each other. In all honesty, the only reason I didn't rate this one a 5/5 was because I found that aspect a little too tiring at times and I just wanted the guys to get a move on.
But I'm jumping ahead of myself.
The two best friends in question are Jimmy and Eric. They grew up in a small town, working on their parents' farms, but once they finished high school, Jimmy went off into the big bad city where he studied to become a doctor. That was when things started to go bad for their friendship. Jimmy is a bit of a lazy friend, as in he is hopeless in keeping in contact with Eric, though Eric could have also tried as well (but that's beside the point).
But then Jimmy moves back to take over management of his family's farm when his parents retire. He doesn't plan on taking over operations completely as he will be there to manage things while also completing his residency at the local hospital. So, what we got essentially is 2 best friends that love each other and a rift that is only made worse by Jimmy's cheating (for lack of a better word) boyfriend.
That's the bare bones of the story. As I said, it's pretty much what you'd expect from this type of story. Its fun and I liked the country twang that the narrator uses, I got no idea if the accent is accurate but I loved it and thought that it was perfectly charming.