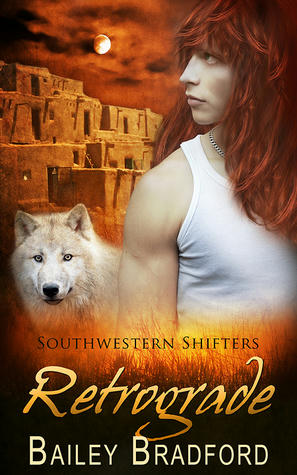 Title: Retrograde
Series:  Southwestern Shifters 11
Author: Bailey Bradford
Genre: Action and Adventure, Paranormal, Wereshifters
Length: Novella (182 pages)
Publisher: Pride Publishing (3rd November 2015)
Heat Level: Moderate
Heart Rating: ♥♥♥♥♥ 5 Hearts
Blurb: Letting go of the past to embrace the future…
Things are changing for Marcus and Nathan, in more ways than one. Nathan is still trying to deal with the action he took in order to save Marcus' life. It isn't easy to do, and sometimes he fears he'll give in to all the doubts and fears plaguing him.
What they need is some time alone, without guards shadowing their every move, no one to interrupt. Because soon, they'll be busier than ever.
A short vacation before the annual gathering of Alpha Anaxes at the compound, that's what they decide to do. But their vacation isn't so private when they discover a wild pack of young shifters barely surviving.
Changes are coming.
A strange young shifter with abilities neither Marcus nor Nathan have ever seen before. Alpha Anaxes and attitudes. An intruder in their midst. And with the help of Shania, the pack doctor, the most important event of Marcus and Nathan's shared life is about to happen.
Changes are coming, and they're coming fast. 
Reader Advisory: This book contains scenes of fisting.
ISBN: 978-1-78430-831-5
Reviewer: Shorty
Product Link:  https://www.pride-publishing.com/book/retrograde
Review: This is book eleven in Southwestern Shifters. Nathan struggles with what he did in the past but Marcus is there to help him every step of the way. I loved these two characters as they helped one another and lifted the other up when needed. They are definitely a powerhouse not to messed with. They are both fierce and loyal to those they care about.
I loved the introduction of new characters and was intensely curious about Asher and his abilities. I was deeply saddened by what happened to him but glad that he finally found a place to call home and not be afraid anymore. As always with Bailey's books this one has the perfect blend of drama, action, life changing decisions and some extremely hot sex.
A fantastic addition to the southwestern shifters and highly recommended. Although I'm sad to see this series will soon be coming to an end it's been amazing journey that I have felt privileged and honored to read. I will definitely be re-reading this entire series soon, it's that good.