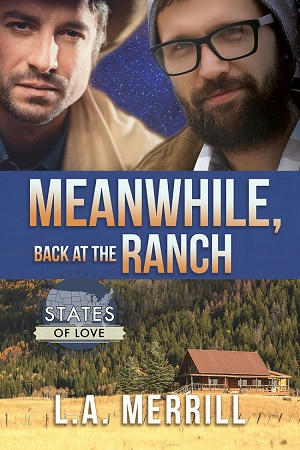 Title: Meanwhile, Back At The Ranch
Series: States of Love 26: Montana
Author: L.A. Merrill
Genre: Contemporary
Length: Novella (91 pages)
Publisher: Dreamspinner Press (31st May 2017)
Heat Level: Moderate
Heart Rating: 💖💖💖💖 4 Hearts
Blurb: David Marks is looking for the perfect place to film his new web series and recover from his latest failed relationship. When reclusive writer Michael Sharp opens his Montana ranch to paying guests, David knows he's found the right place—but he doesn't expect to find Mr. Right too.
Forty years ago Michael Sharp's father was murdered in front of him. No one believed a six-year-old boy's testimony against the powerful Carver brothers. For years Michael has lived in self-imposed exile, the only living witness who can bring down the Carver criminal empire. But now the money is running out, and he's forced to play host to a troupe of temperamental web actors and their energetically attractive director in order to stay alive.
The Carvers aren't about to stand for rebellion. Michael has outlived his usefulness. Now Michael and David have to find a way to end this fight once and for all, finding justice for Michael's father and meeting David's funding deadline—all before one or both of them ends up dead.
ISBN: 978-1-63533-569-9
Product Link: Dreamspinner | Amazon US | Amazon UK
Reviewer: Prime
Review: While I'm not familiar with the work of LA Merrill, and I find the States of Love line/series a bit hit or miss, I was drawn to the blurb of this book. It looked fun and sexy, which turned out to be true and so much more.
David Marks arrives at the Montana ranch where he has booked to use the new accommodations up for rent to help make ends meet. He and friends are also trying to film a web series on a shoe string budget which was entirely crowd funded. It's a tall order and there are so many ways to fail. One of which could be getting off on the wrong foot with the ranch owner is probably one of those ways to screw things up.
Michael Carver is a man with a dark past. At the age of six, forty years earlier, he witnessed his father, the town sheriff, get murdered by the local crime family. Feeling powerless to stop anything and to do anything as the years go by, the only thing he had so far been able to do was write a crime fiction based heavily on those events. Of course, he is also avoiding admitting to one of the hardest truths which questions just how good was his dad. Michael has lived a lonely life, he kept things together while his mother was alive but now she also gone he believes it better off if he sees as few people as possible. He has one friend, a lesbian with memory issues (her story is also explained in the book).
Michael was surly when he first met David and his friends but he makes up for being a less than accommodating host by helping the rag tag filmmakers get their web series together. It also happens that there is some wicked chemistry between Michael and David. However, the trouble from Michael's past means that there is more trouble on the horizion than a web series with a bad script.
This is a fun and strangely action packed novella. You'll need to suspend your disbelief for a little but if you like a bit of danger, that Hollywood/Indie magic, a bit of crime and suspense, you might well enjoy this book as well.