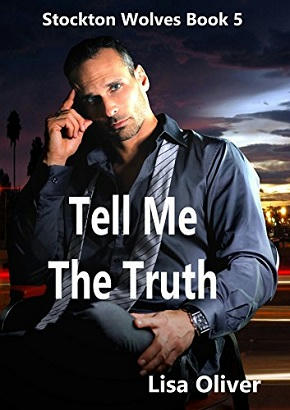 Title: Tell Me The Truth
Series:  Stockton Wolves #5
Author: Lisa Oliver
Genre: Paranormal
Publisher: Lisa Oliver (April 13, 2017)
Length: Novel (218 Pages)
Heat Level: Moderate
Heart Rating:  ♥♥♥♥♥ 5 Hearts
Blurb:  Special Agent Niclas Draig was on a mission…well, he was supposed to be. But when sent to Stockton with his partner Jack, to investigate what looked like the work of a serial killer, he walked into the Captain's office and found himself looking at his mate. A mate, who's delicious scent was tinged with deceit as the man looked him in the eye and lied to his face. 
Captain Anthony Reynolds was getting tired of the way paranormal's played fast and loose with the law and his life. Eighteen months from retirement, the last thing he expected when the FBI came in was to have such a physical reaction to one of the agents. When the same agent blasts him two weeks later for lying, Tony knew his life was going to change. He'd been around paranormal's enough to know exactly what the word mate meant. But that didn't mean he had to accept it. 
An unguarded moment, a flash of teeth and both men's lives change. Their mating causes problems from every angle and…an unexpected bonus. An abduction, a bomb and Nico's interfering family – will Nico and Tony ever get their HEA? 
ISBN: B071CQK8BY
Product Link: https://www.amazon.com/Tell-Truth-Stockton-Wolves-Book-ebook/dp/B071CQK8BY
Reviewer:  Lisa
Review:  Each Book in the Stockton Wolves collection features a different romantic couple.  To enjoy the overall story arc and crossover characters, I would recommend reading the series in sequential order.
I have spent most of my life surrounded by paperback books, loving the stories that seem to take me away from whatever trouble is bothering me.  I started enjoying reading at the age of twelve and to the surprise of many; they were in fact male on female romance stories.  A few years ago I accidentally bought two male on male romance books and something seemed to click.   Now over time I have come to favor paranormal's more than contemporary.  I also love a man in a uniform or at least with a gun, now with this particular story I get a nice big dragon shifter who carries a gun.  Now when you think big ass dragon, you assume he is the strongest but let me tell you, you are in for a big surprise.  
Nico is a sexy ass special agent and a powerful dragon shifter.  He makes the wolves duck for cover, but you will see that he is also the sweetest man around.  Nico and his partner Jack are investigating a serial killer, but the police captain is hiding something from them.  To top it off that captain is his mate.  
Tony has known about the paranormal world for a few years now, but hates how they have their own way of dealing with certain things, such as the killer being a paranormal.  He just wants to show the families their closure, but he supposes knowing it is over will have to be enough.  Then a very sexy man comes in and tells him that he is his mate, well you can imagine what happened.  Leave a dragon to his own attitude and mating will happen whether you're ready or not.  Then you have abduction of his son, a bomb set to kill and a few other surprises that you will have to find out will leave you gasping for more.
Now Lisa has informed us that this was the last book for this series, and I must protest.  I want to hear more about Jack and Roger plus Tony's son's mating.  I want to know if Orson catches Robert in the end.  I will be pouting and wanting to know that answer.  I have enjoyed these stories by our very best Lisa Oliver, and can't wait to get started reading them over again.  This is one series I would definitely recommend.