Sand-Man's Family
Series: Wild and Precious Book 3
Author: CJane Elliott
Publisher: CJane Elliott
Release Date: 8/24/20
Heat Level: 3 – Some Sex
Pairing: Male/Male
Length: 36,800 words
Genre: Romance, New Adult, Young Adult, Coming of Age, coming out, family drama, bisexual, college, hurt-comfort
Synopsis
It isn't easy to leave a family that hurts. But what if it's the start of finding a love that heals?
High-school senior Sandy's Catholic parents are furious to discover he's had sex before marriage. But when he blurts out he's bisexual, they go ballistic. To avoid conversion therapy, Sandy runs away from Rockford, Illinois to move in with his gay uncle in Portland and start a new life.
He leaves behind Jade, the fabulous out gay kid in their Catholic high school. They hooked up—once—to confirm Sandy's bisexuality. Jade had never expected to get that far with star athlete and altar boy Sandy. But he was crushed when Sandy disappeared without even telling him.
A year later Jade and Sandy run into each other on the train going home to Rockford for Thanksgiving and form an alliance to help Sandy confront his parents. Will they keep building where they left off or will their spark turn to dust?
If you like coming of age stories, queer kids finding the courage to be themselves, and the comfort of found families, you'll love Sand-Man's Family.
Excerpt
Sandy woke with a start from a bad dream, a wild panic seizing his lungs, and gasped for air. Something wasn't right. Instead of Connor's snores, he heard traffic noises and clanging outside, and a series of rhythmic squeaks inside the room. He sat bolt upright, then remembered. He wasn't at home. He was in Chicago, on the lumpy couch in Dan and Fred DeMartino's apartment. And that squeaking noise was from their caged hamster doing seemingly endless laps on its wheel. He'd forgotten that hamsters were nocturnal.
He slumped down and checked his phone. Six o'clock Tuesday morning. If he were at home, he'd be getting up and arguing with Connor over who got to shower first. His eyes filled with tears at the thought of Connor. He'd had tons of text messages and calls from him in the three days since he'd run away, none of which Sandy had answered. He'd never kept Connor in the dark about something so major before, but this time he had to. He didn't want Connor in trouble with Mom and Dad, not when Connor still had to live with them. Josh was the only one who knew where he was.
Sandy let the tears run freely as the hamster wheel squeaked. He missed home. Caitlin and Bridget, the eight-year-old twins, used to tackle him every morning when he came down for breakfast, squealing with delight as he picked them up and ran around growling like a big-brother monster. Maureen would watch, pretending to be dignified, until finally she'd jump on his back, clamoring to join the fray. Mom would scold them from where she stood at the stove scrambling eggs, but she'd have one of her rare smiles. Mornings were a nice time in his family. Dad was either still asleep or awake and sober, and Mom was usually in a better mood.
Running the back of his hand over his eyes, Sandy thought about the rest of what he was missing out on. They had a big baseball game this week with their arch-rivals, and he was going to be a no-show. Coach would kill him, if he could get his hands on him. There was a student council meeting that he was supposed to run. He'd been looking forward to the high school musical this coming weekend, especially to seeing what Jade would do with his starring role. And he and Brittany had planned to go to the cabin. Then later came prom and the sports banquet and graduation. How was he going to graduate now? He thought he had enough credits even without finishing his current classes, but how would he get a diploma out of St. Ignatius?
Damn Mom and Dad. He longed to go home and keep living his old life. But that was no longer an option, not with them set on sending him to conversion therapy and Canticle College. He'd called them from a pay phone Saturday night to let them know he wasn't coming home and not to look for him, and had hung up in the middle of their yelling. They weren't going to change their minds, and neither was he. He put a hand to his cheek, which still ached slightly from his father's blow, as bitterness washed over him from everything they'd taken away.
Sandy sighed, his tears forgotten and the beginning of a headache pressing at his temples. It was scary to be on his own. Chicago seemed huge and alien, like he'd landed on another planet. The money he'd taken out of his savings account wasn't going to last long. Dan and Fred, guys he'd known from Rockford before their family moved, were cool with him staying with them for now. And if he could manage to graduate and then make it to fall, he'd be able to start at U of C. Somehow. Even though his parents were no longer supporting him.
Salvation came later that day in the form of a text from his favorite uncle. Uncle Phinney lived in Portland, Oregon, and had always been cool. Sandy knew he was gay, although they'd never spoken about it. He saw him every year at Christmas and enjoyed hanging out with him and talking about books and movies, especially those his parents disapproved of.
The text came through as Sandy was walking back to the apartment with a small bag of groceries.
Hey, guy, I hear you got out of Dodge. Send me up a smoke signal and let me know how I can help.
Relief flooded Sandy from the new future rising up in front of him. He could move to Portland. Uncle Phinney would take him in, no questions asked. He didn't care if Sandy was straight, gay, or a unicorn. The brisk March wind ruffled his collar as he called his uncle back.
Fifteen minutes later, Sandy strolled into a funky hair salon he'd seen on his walk. The tattooed-and-pierced girl with dreads nodded to him. "Need a cut?"
"No. I want it dyed. I'm moving to the West Coast tomorrow."
"Cool. Got any color in mind?" She beckoned him to a seat and draped a protective gown over him.
Sandy considered himself in the mirror. Time to say good-bye to Opie. "How about green?"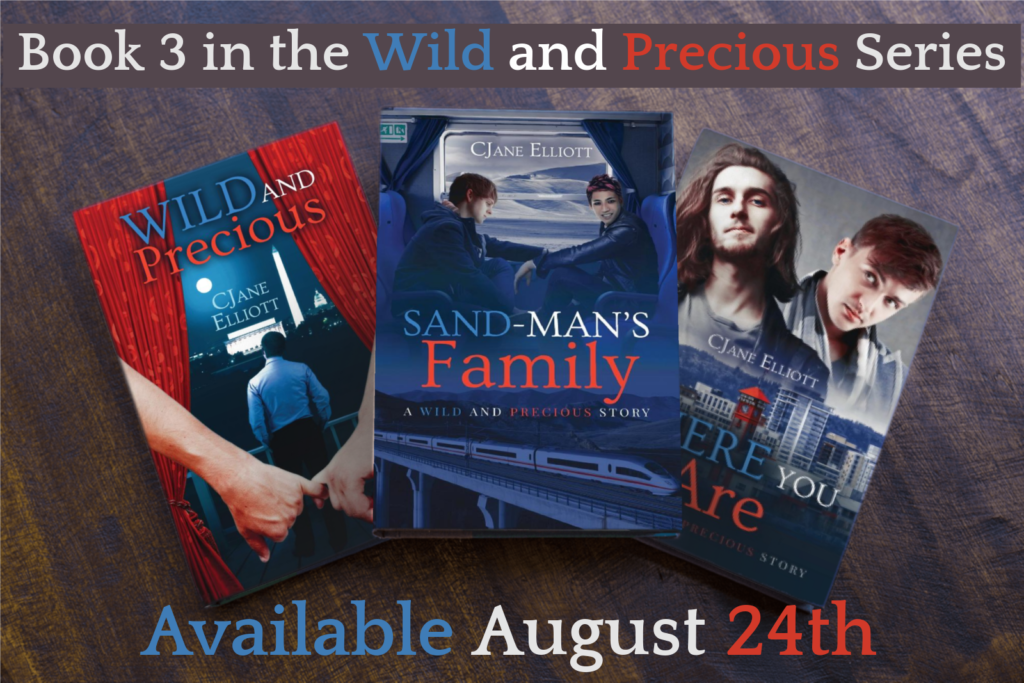 Get the whole series! Book 1, Wild and Precious, is on sale for just $0.99 for a limited time. Find the entire series

HERE.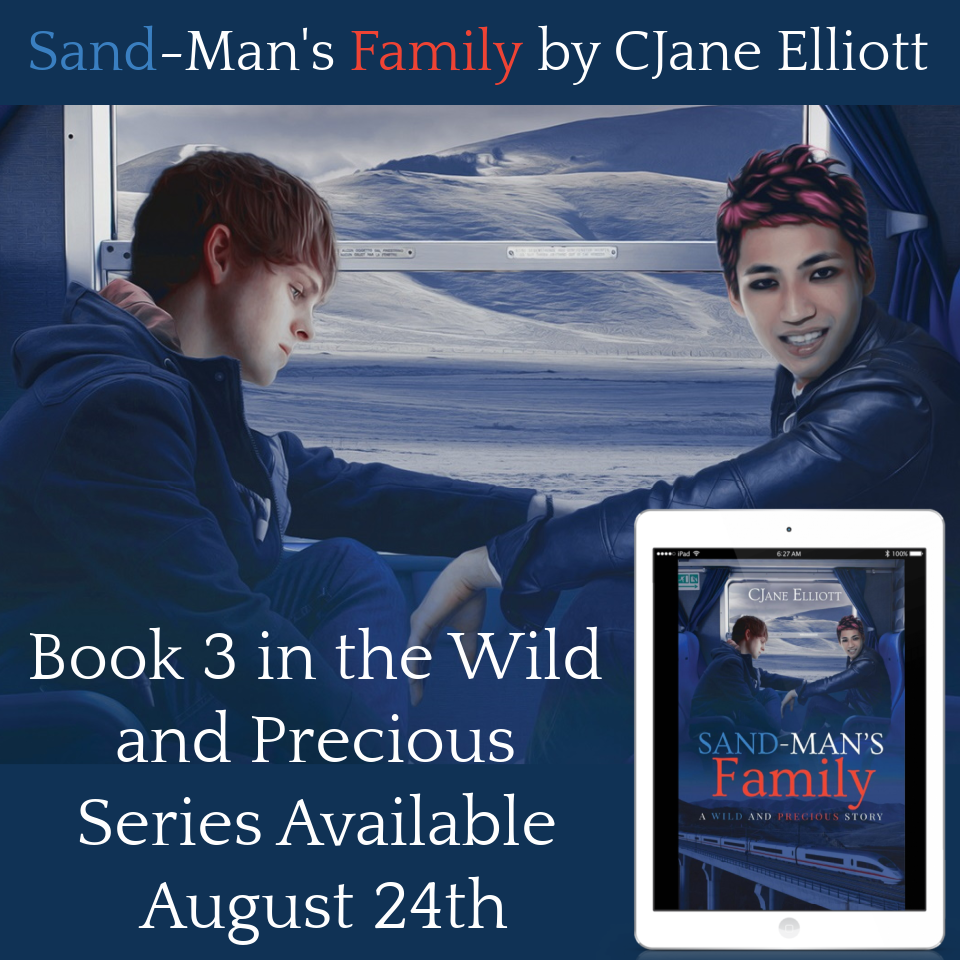 Meet the Author



After years of hearing characters chatting away in her head, award-winning author CJane Elliott finally decided to put them on paper and hasn't looked back since. A psychotherapist by training, CJane writes sexy, passionate LGBTQ romances that explore the human psyche. CJane has traveled all over North America for work and her characters are travelers, too, traveling down into their own depths to find what they need to get to the happy ending.
CJane is bisexual and an ardent supporter of LGBTQ equality. In her spare time, CJane can be found dancing, listening to music, or watching old movies. Her family supports her writing habit by staying out of the way when they see her hunched over, staring intensely at her laptop.
CJane is the author of the award-winning Serpentine Series, New Adult contemporary novels set at the University of Virginia. Serpentine Walls was a 2014 Rainbow Awards finalist, Aidan's Journey was a 2015 EPIC Awards finalist, and Sex, Love, and Videogames won first place in the New Adult category in the 2016 Swirl Awards and first place in Contemporary Fiction in the 2017 EPIC eBook Awards. Her contemporary novel All The Way To Shore was runner up for best bisexual fiction in the 2017 Rainbow Awards.
Giveaway