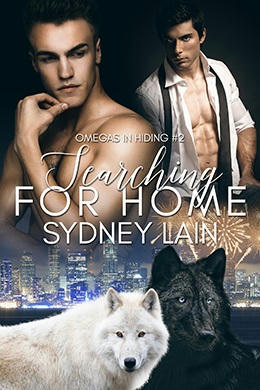 Title: Searching for Home
Series: Omega in Hiding #2
Author: Sydney Lain
Genre: Paranormal
Length: Novella (101 Pages)
Publisher: Sydney Lain (December 25, 2016)
Heat Level: Moderate
Heart Rating: ♥♥♥♥ 3.5 Hearts
Blurb: Just a short few weeks ago, Jonah gave Alex his heart. But as the New Year approaches, Alex realizes Jonah's fears run so deep, introducing his omega to his secret playroom calls for baby steps. That's a tall order for size-10 feet that never learned to walk tip-toe.
Jonah is grateful for his alpha's protective presence, but the remnants of his old, dysfunctional life threaten to pull him right back into the nightmare he thought he'd left behind. And he's afraid turning to Alex for help will destroy the only dream he's ever dared to hope would come true.  
ISBN: B01NCNYXV9
Product Link: https://www.amazon.com/dp/B01NCNYXV9
Reviewer: Lisa
Review: Over the years one gets use to certain books and they have an expectation of what they would like to read.  Now I have read several stories by this author and have pretty much loved them all.  However this one I had just a few issues with it.  The other thing was I don't mind books that continue about the same character as the previous book; however they lose their lustre with me.  I seem to lose interest in them just as fast.  
Now in this one we have Alex getting ready to move his little omega mate in with him.  However it would seem Jonah has been keeping some secrets and it just might get him in trouble.  Although the trouble he would get from his mate, he might like that kind.  Our poor little Jonah has zero confidence and trust.  He thinks his alpha is going to lose interest in him, and Alex is just going to have to well if you want to know what Alex needs to do, read the book.
Now I like the whole omega and alpha story but this one takes it a bit too far for my taste.  I mean Jonah comes off as a very weak young man who is too needy.  Whereas Alex is the mean, powerful alpha who just adores his mate, which is great.  However I feel that there is something really missing between these two.  I mean omega's might be smaller and might be weaker than the others, but to make him come off like he did just didn't really work for me.  I was not as into this book as I should have been and that was a big disappointment.