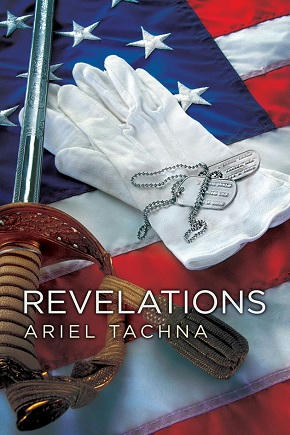 Title: Revelations 
Series:  Prequel to Talking in Code
Author: Ariel Tachna
Genre: Contemporary, Free Fiction, M/M/M or More
Length: Short (39 pages)
Publisher: Dreamspinner Press (June 14, 2017)
Heat Level: Moderate
Heart Rating: ♥♥♥♥ 3.75 Hearts
Blurb: Spanning the six years before the events of Talking in Code, this collection of short stories recounts highlights of how Richard, Tim, and Eric fell in love—and into bed. These seven tales reveal the early adventures of the two former Navy SEALs, an expert sniper, and their paramilitary organization, Strike Force Omega. Between dangerous missions and their aftermath, the three men find time to explore the limits of their relationship and what it might become, whether it's blistering physical passion or something with the potential to run much deeper—something that will see them through their most difficult battles.
ISBN-13: 978-1-63533-524-8
Product Link: https://www.dreamspinnerpress.com/books/revelations-by-ariel-tachna-8567-b
Reviewer: Shorty 
Review: A collection of short stories that highlight certain events that chronicle when Richard, Tim and Eric take notice of each other and begin their relationship. Each story is about five pages long so it starts right at each scene as opposed to a long drawn out scene.
Good read.