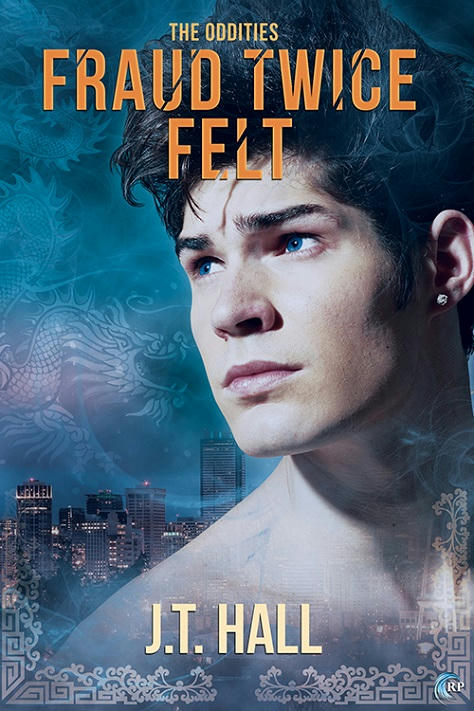 Title: Fraud Twice Felt
Series: The Oddities #2
Author:  J.T. Hall
Genre: Fantasy, Paranormal
Publisher: Riptide Publishing (May 29, 2017)
Length: Novel (368 Pages)
Heat Level:  Low
Heart Rating: ♥♥♥♥♥ 5 Hearts
Blurb:  Three weeks after solving his old boyfriend's murder, bounty hunter Derwin Bryant is trying to let go of the past and embrace his new life with Elliot Leed, a former rentboy and fellow Oddity. Elliot, meanwhile, is trying to adjust to working at Bob's Bail Bonds and having a real relationship despite his strange power of Object Reading. Hanging over the couple is the fear that Roy Yoshiro, notorious gang lord, will make good on his threats to claim Elliot. If that happens, not even Derwin's superhuman strength will be enough to protect the man he loves.
Their concerns are overshadowed when Derwin's friend asks for help finding her missing son. It's not long before the case takes Derwin and Elliot back to the crime-ridden underbelly of the city and straight into Yoshiro's clutches. Two gangs are vying for power, and Derwin and Elliot get caught in the middle of their very public fight.
Derwin and Elliot must find a way to thwart both gangs' plans and escape alive. This time, one misstep could spell disaster for all the inhabitants of Nis.    
ISBN: 978-1-62649-594-4
Product Link: https://riptidepublishing.com/titles/fraud-twice-felt
Reviewer:  Lisa 
Review: Each book in The Oddities collection features Derwin and Elliot. To enjoy the overall story arc and crossover characters, I would recommend reading the series in sequential order.   
I have had the pleasure of reading J.T.'s first book in this series and when I heard this one was coming out, I just had to grab it.  The characters are quite unique and a very fresh idea.  I thought the characters were not only strong but you can feel the way they feel for those around them.  This story caught my attention from the moment I started reading and kept it all the way to the very end.  I am usually not a fan of very long stories but this one was so exciting that I knew it would become a favorite real soon.
Derwin is an oddity and a bounty hunter.  He hunts those who cause pain and death, including other oddities and demons.  Three years ago his boyfriend was murdered and it took him that long to find out who did it.  He had finally solved his murder three weeks ago and was now embracing his life with Elliot.  Elliot was a rent boy and has his own oddity.  He can see visions from strong feelings.  Now he worked with Derwin and his boss.  He is also hiding from a gang lord that wants him for his very own.
Another friend in the office is scared for his missing son.  She asks Derwin for help and it leads him and Elliot in to some major danger.  For some more juicy details about this story, pick up the book.  Let's just say it has some major kinky and hot sex scenes, danger, death, excitement, suspense and so much more.
I had a lot of fun reading this and can't wait to see what other dangers these two sexy men can get into.  I loved the characters and their story just kept me on the edge of my seat.  I can guarantee that you will love this book.  I would definitely recommend it.