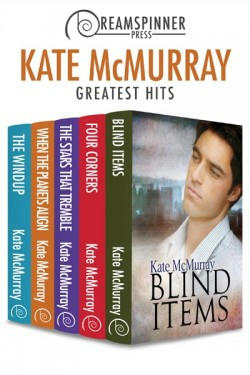 Title: Kate McMurray's Greatest Hits
Series: Includes books from The Rainbow League and Stars
Author: Kate Murray
Genre: Contemporary, Sports
Length: Bundle (936 pages)
Publisher: Dreamspinner Press (1 April 2016)
Heat Level: Moderate
Heart Rating: ♥♥♥♥♥ 5 Hearts
Blurb: Don't miss these reader favorites from Kate McMurray!
In Blind Items, Jonathan is too afraid to step out of the closet, and Drew thinks the smartest thing might be to let him go—until Jonathan shows up drunk one night at his apartment. The slow burn of their attraction doesn't fade with Jonathan's buzz, but navigating a relationship is never easy—especially in the shadow of right-wing politics.
In Four Corners, after five years gone, Adam is back, and he has his mind set on Jake. But those years of anger, hurt, and confusion are a lot to overcome, and Jake doesn't find it easy to forgive.
In The Stars The Tremble, Mike's partner was killed when Emma was a toddler, and Gio mourns the beautiful voice he will never have again, so coping with loss is something they have in common. Their initial physical attraction quickly grows to something more as each hopes to fill the gap that loss and grief has left in his life.
In When the Planets Align, quiet, practical Simon realizes he's been in love with Michael all his life, only now Michael has moved on. They will find themselves in the right place at the right time to take the next step.
In The Windup, Ian lets an old friend talk him into joining the Rainbow League, New York's LGBT amateur baseball league. Baseball turns out to be a great outlet for his anxiety, and not only because sexy teammate Ty has caught his eye. But when Ian receives an offer for a job overseas, Ty needs a new plan: convince Ian that home is where Ty is.
ISBN: 978-1-63477-443-7
Product Link: https://www.dreamspinnerpress.com/books/kate-mcmurrays-greatest-hits-by-kate-mcmurray-1266-b
Reviewer: Prime
Review: For the most part I've been thoroughly enjoying Dreamspinner Press's greatest hits bundles for a number of their authors. Kate McMurray's Greatest Hits is certainly no exception, which features a couple books that I've read in the past (Blind Items, Four Corners and The Windup) and funny enough, I found myself enjoying more on the second reading! As a whole I rate this bundle a 5/5 if only for my enjoyment of those 3 books. However, I found that I also enjoyed The Stars that Tremble and When the Planets Align just as much as the 3 I had read in the past.
Blind Items: Jonathan is the son of a very conservative, homophobic senator. He has tried the best he can for years to keep his life out of the limelight and part of that has meant he is deathly afraid of coming out of the closet. Part of that is probably also because he is so damn shy it's bordering on cute. Then there is Drew, he is an openly gay journalist who has continually criticized Jonathan's father. When rumours surface that Jonathan is gay, it is Drew's job to find out the big scoop.
But there is a lot going on between these guys. As the blurb says, they develop a slow burning attraction. However, this isn't an angst-ridden trope it is actually quite fun and the characters are very optimistic, which for me made it so easy to enjoy. Honestly, I'm not sure on the connection between the title Blind Items and the actual story. But I'm letting that slide because I absolutely adored this story. All characters, particularly the MCs have great depth and the emotion from the story is just so strong.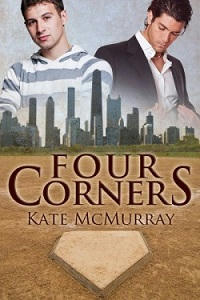 Four Corners: Jake, Adam and Kyle were basically the type of friends that would be dubbed The Three Muskateers. However, all that changed one day when Adam left town and didn't make contact with Jake or Kyle for five years. But now Adam is back and he wants Jake to be his. The problem with that being that he needs to grovel for Jake's forgiveness for the hurt that was caused five years earlier. The guys have brilliant chemistry and they fit together so well, but it is understandable that the pain from the past will not allow Jake to just slip into Adam's arms like nothing happened.
Add into that Kyle, who is the open minded mostly straight friend. He is a brilliant minor character, who sometimes just steals the scene. He has seen Jake through thick and thin and though he does not know what happened between Adam and Jake in the past, he is the awesome type of friend that is Jake's shoulder to cry on and the one ready to set Adam straight – so to speak. Kyle is a great buffer for the whole Adam/Jake thing which really had potential to be an angsty battle between the two men.
The Stars that Tremble: This is a story all about loss and coping with losing an integral part of one's self. Mike has been raising his daughter Emma on his own since she was a toddler, after the death of his former partner. Then there is Gio, an opera singer who can no longer sing on stage again, not the same as losing a life partner but it was a major life changing loss. Their lives collide when Gio becomes something of a mentor to Mike's daughter Emma, who is a gifted singer and wants nothing more than to be an opera singer. It seems like one of those fairytale type match ups considering she is the young teen daughter of a self-employed plumber.
This is one roller coaster of emotion but like in all her other books, the chemistry is there from the beginning and it works perfectly. While neither man is closeted, they have to navigate the completive world of opera with a class full of young opera hopefuls and one particularly manipulative mother. I actually just read that this one has a sequel; I'm going to have to get onto that stat!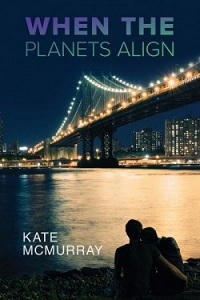 When the Planets Align: This is one of those never in the right place at the right time kind of stories. Simon, who is quiet and shy and always practical, has been in love with Michael all his life. But Michael has never been in the right "position" for Simon to pluck up the courage to make his move. Now the time has come, it's just a matter of these guys getting their feelings gathered and taking a chance on love.
Kate McMurray does the friends to lovers type of trope really well, and I love the heartwarming feel that I get from this story. However, sometimes I had problems with the chemistry between the guys and I felt that the flashbacks (there are a lot of them) were a little disruptive to the overall romance. On a more positive note, this is one of those books where my mind just clicks and I think that this is the perfect title and strangely enough enhanced my enjoyment of the book. Unfortunately, this is probably my least favorite story in this bundle.
The Windup: This is the first book in Kate's Rainbow League series (FYI love the series, read it if you love hot guys playing baseball). Our introduction to this world is through Ian. He had grown up in Brooklyn, escaped for some years and has returned "home" to a very different city. Ian had used his job to move around for some years and fully intends to continue his lifestyle – settling down to help refurbish one hotel before picking up his life and moving on to the next hotel. Upon his return, Ian's high school friend convinces Ian to join his baseball team, in the hopes to get Ian out and meeting some new guys.
At baseball, we meet Ty. He likes to call himself the team slut, but he has a lot more depth than that. There is an instant attraction between Ty and Ian that is palpable and had me immediately and emotionally invested in these guys getting together and actually staying together. There is plenty of sexual tension going on between these two. These guys are great together but I have to admit that I have a soft spot for Ty and his Texan drawl.
This is a busy book, there is a lot going on other than the Hipsters playing baseball. However, the most of the loose ends of story involving Ian and Ty are all tied together is a pretty little bow by the end of the book. The only threads of storyline left hanging are the stories that have been set up for future books.