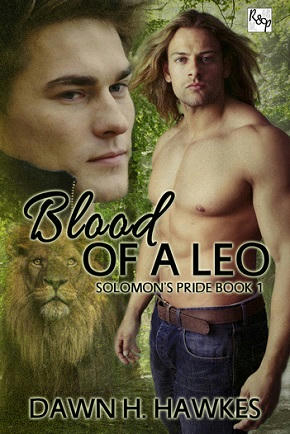 Title: Blood of A Leo, (2nd Edition)
Series: Solomon's Pride, 01
Author: Dawn H. Hawkes
Genre: Paranormal, Vampires, Shapeshifters
Length: Novella (110 pages)
Publisher: The Rooster and The Pig Publishing, Inc (July 17th 2015)
Heat Level: Explicit
Heart Rating: ♥♥♥♥ 4 Hearts
Blurb: One fateful night, Leo Adams is kidnapped and forced to serve as an unwilling blood-donor for a coalition of vampires. It is a harsh life,and he doubts he will live much longer. Part of him feels like that might not be such a bad thing. One day, unforeseen events allow Leo to escape his horrible life, and he ends up falling straight into the lion-shifter, Maddox.
Maddox is unsure of what has fallen into his arms, but he knows Leo is someone special. As they grow closer, he knows that he will fight, fang and claw, to keep Leo safe. If that means taking on the entire vampire coalition… then so be it.
ISBN: 978-0-69249-276-5 / B012IDTAO8  
Product Link: https://www.amazon.com/Blood-Leo-Taurus-Imprint-Solomons-ebook/dp/B012IDTAO8
Reviewer: Leigh
Review: This book starts off showing the type of hell Leo has been living in for the past several months.  The fact that he thinks his second "master" isn't as bad as the first because he doesn't get raped is sad.  Leo has really given up.  He hopes that one night a vampire will finally take too much blood and kill him.  Or that maybe the drugs they force on him will.
Take one traumatized man and drop him into the lap of his lion shifter mate and watch the fireworks.  Yes, things move fast considering the hell Leo has been through, but again it's only a novella.  So some leeway has to be given.  I think the biggest part is that Leo finally felt safe with Maddox.  Plus, there was the mating heat. 
These two are cute together.  Leo is really cute totally deserved to have a big mate to protect and love him.  And really they are sexy hot together. There is even sex in the third shifter form.  Which is always interesting.
I first read this book when it was released in 2011.  I followed through on the others books in the series and was unhappy that the series didn't continue when the publisher went defunct.  I am happy to see that Dawn H. Hawkes has found a new home and is releasing the series and hopefully continuing it. 
It was great to revisit this story again after so long and I look forward to re-reading the others.