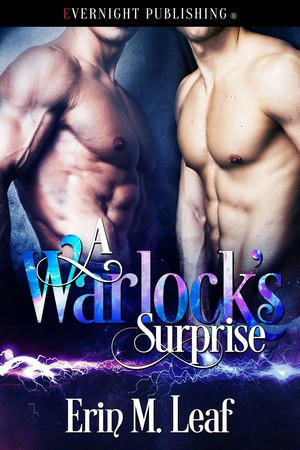 Title: A Warlock's Surprise
Series:  The Warlock's # 2
Author: Erin M. Leaf
Genre: Paranormal, Erotic, Humor
Length: Short (62 pages)
Publisher: Evernight Publishing (28th January 2017)
Heat Level: Moderate – Explicit
Heart Rating: ♥♥♥♥ 4 Hearts
Blurb: Leo thinks asking his soul-splice mate to marry him will be easy, but Dakota says no, again and again. When he finally capitulates, Leo believes happy ever after is in the cards, but Dakota isn't feeling well, and meddling family members hijack their plans. Neither warlock wants the drama of a large ceremony, but the Conclave gets its way. Witches always do, after all.
When the eventful day arrives, neither man expects their old enemy to raise a demon from Hell to ruin their wedding. Witches can't stand up to a demon, so the newly wed warlocks must save the day, but not before a surprise revelation leaves Dakota reeling.
Can Leo and Dakota survive a demon, witches, and a grandma intent on embarrassing them both as much as possible? Sadly, even magic can't guarantee a happy ending…
Be Warned: MPREG, m/m sex, public exhibition
ISBN: 978-1-77339-161-8
Product Link: http://www.evernightpublishing.com/a-warlocks-surprise-by-erin-m-leaf/
Reviewer: Shorty 
Review: This is a continuation from the first story. Leo is ready to move onto to the next step in his and Dakota's relationship. After begging and asking Dakato finally say yes to the marriage proposal. 
I really enjoy these characters interactions and the way they seem to take their time insted of just jumping into things.
Enjoyable read.