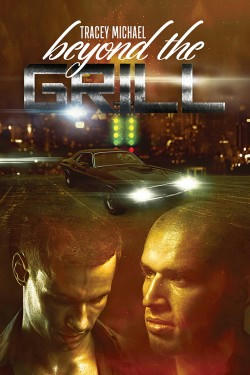 Title: Beyond the Grill
Author: Tracey Michael
Genre: Contemporary, New Adult
Length: 96 Pages (Novella)
Publisher: Dreamspinner Press
Heat Level: Low
Heart Rating: ♥♥♥ 3 Hearts
Blurb: Justin Walker is used to being the hookup but never the boyfriend, and that's okay. Justin has goals—he might sling burgers by night and work on his car by day, but he has plans to go to school and make a life for himself. He also has a few friends and loving parents. 
What more could a guy ask for?
Hot, muscular, manly Shane Steel is a walking wet dream. Justin fantasizes about having Shane as more than a casual acquaintance, and one night he works up the courage to flirt with Shane. To his surprise—and terror—Shane is interested. Very interested.
As they bond over their love of cars and drag racing, Justin begins to believe he can be more to Shane than a side guy. Too bad Shane's manipulative and dangerous ex is dead set against letting that happen. 
ISBN: 978-1-63477-753-7
Product Link: https://www.dreamspinnerpress.com/books/beyond-the-grill-by-tracey-michael-7596-b
Reviewer: Veronica
Review: Justin just wants someone to love and for someone to love him, and not only for one night stands. With the insecurities and lots of uncertainties in his life, it's hard to put himself out there without getting hurt. That doesn't only mean in relationships, he's been abuse by guys that he thought he had something good with. Justin and Shane have been friends for a while now, and they usually hang together enjoying each other's company. Shane is a Mechanic, who has his own business which he loves. Justin is a Supervisor in a fast food joint slinging Burgers. His job is a means to an end, because it helps to pay the bills, and he wants to go back to College to pursue his dream.
Hanging out at the Arcade and playing games. Justin realizes that he's developing feeling for his friend and starts to panic, because he thinks that Shane is straight because he only ever sees him with women, and he doesn't want to risk putting himself forward only to be shot down like a couple other times with other guys. Shane likes Justin as well and wants things to go further with him than just friends. Things are developing for both of them and it all takes a bad turn, when Shane comes across an old school friend that wants to insinuate himself between him and Justin. Once again, Justin ends up getting hurt, but will Shane figure out that not all the screws are connected in his old-school mate's head, before he loses Justin for good.
Looking at the cover of this book and reading the blurb is what got me reading this book. Bald head mechanic, and shy younger guy that is looking for someone to love, or as he said it, 'Cuddle'. But the blurb is lots more exciting than the book. Yes, I love friends to lovers' stories, but this short story really didn't do much for me. With who the dedication in this book is for. This story in no way compares, the only racing in this story is when they go to the track.