Hiya guys, we have Ariel Tachna popping in today with the blog tour for her upcoming release Talking in Code,  we have a fantastic guest post from Ariel where she shares a ficlet and we have two awesome giveaways, so check out the post and leave a comment to enter the ebook giveaway and share the post to enter the paperback giveaway! <3 ~Pixie~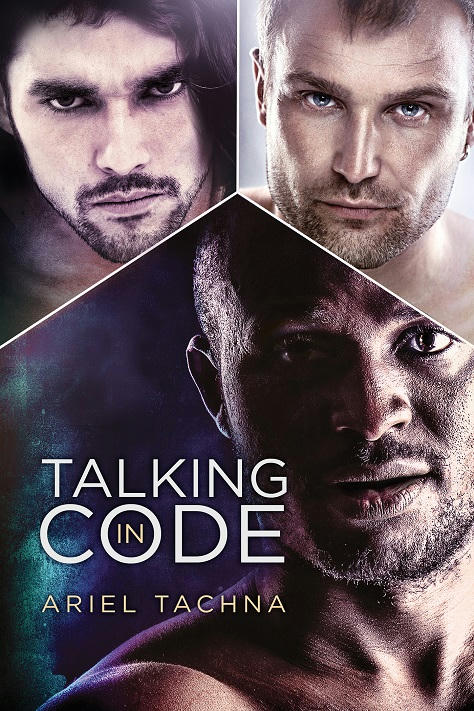 Talking in Code
by
Ariel Tachna
Some things crumble under pressure. Others are tempered by it instead. For three former soldiers, a tragedy might be the catalyst that binds them together—stronger than ever.
Richard Horn and Timothy Davenport met in the SEALs twenty years ago and have been lovers ever since. Now running their own paramilitary organization, Strike Force Omega, they work in the shadows to protect their country and its people. When Tim falls for Eric Newton, a deadly sniper and strategist on their team, Richard accepts that Tim's heart is big enough for two men. He respects, admires, and even desires Eric enough to accept him into their relationship—and their bed—but he's never been fully a part of what Eric and Tim share.
Then Eric is captured by terrorists and Tim is gravely injured in an op gone wrong, bringing Richard's world crashing down around his ears. Even if he gets his men out alive, Eric must face the aftermath of months of physical and psychological torture—and without Tim to lean on, Eric's PTSD is tearing him apart. Richard has to figure out the third leg of their triangle fast, or Tim won't have a life to come back to.
Release date: 6th March 2017

Ariel Tachna & Ficlet!
Talking in Code starts in media res. Eric, Tim, and Richard are already well and truly involved with each other, but the story includes references to moments before the book begins, moments that are not fully explored in the novel itself.
This is the second of those moments.
~~~
Reconnaissance
Richard Horn let himself into his private retreat and let the commander drop away as much as it ever did. "Dav? I'm home."
Silence greeted him, which was odd. Dav always made it home before Richard did, because on the rare times he wasn't finished at "quitting time," as he called it, Richard was ass-deep in whatever was keeping him busy too. He advanced deeper into the house and smiled when he heard the water running in the shower. Mmm… Dav naked and wet from the shower. That was the perfect start to an evening. He stripped off his shirt as he walked toward the bedroom.
The water shut off as he tossed his shirt on the bed and reached for the button on his pants. He pushed them down and walked into the bathroom in nothing but his underwear to find Dav drying off. He took the towel from Dav's hands and pulled him into a deep kiss.
Dav met him halfway, running his hands over Richard's back and down to his ass, making Richard wish he'd stripped off his underwear along with his pants. He could just back Dav into the shower and take advantage of the waterproof lube they kept on the shelf with the rest of their toiletries.
Dav pressed closer, fully hard against Richard's thigh. That made him pause. They weren't twenty anymore, popping wood at the drop of a hat. It took more than a kiss to get Dav that worked up these days. He broke the kiss but kept Dav against him. "What's got you all hot and bothered?"
"You mean besides you in your tighty-whities?" Dav teased.
"Yeah, besides that."
"Warren will probably quit tomorrow."
"He's been a pain in the ass since we hired him. It's no big loss. Why is he quitting?"
"Because I put him in his place today."
There was more to the story than that. Richard could tell by the way Dav wouldn't meet his eyes. "I've watched you give people a dressing-down and had them thank you for it. What's going on?"
"He's been picking on Newton ever since he got here, but it's gotten worse in the past few months. Obnoxiously so. At Amato's suggestion I went to the gym to watch her spar with Newton and found Warren and Taylor being particularly offensive. I took exception to it."
The last time Dav had "taken exception" to someone making comments about someone else, he'd put the man on the ground so hard he'd washed out of basic training.
And Richard had fallen ass over tits in love.
Watching Dav kick ass was always a sight. Watching him kick ass in Richard's defense had changed his life.
"Really…."
He expected Dav to laugh, to brush it off, or else make some comment about how he protected his people, no matter what. He didn't expect the flush beneath Dav's tanned skin.
"Trading me in for a younger model?" Richard quipped.
The flush darkened, staining Dav's cheeks bright red. Wasn't that interesting?
He ran through what he knew of Eric Newton. Twenty-four, Army reject, best aim he'd ever seen, and that included the snipers on his various SEAL teams, unapologetic smartass, brilliant situational awareness in the field, responsible for saving lives in several clusterfucks because he saw a way out that no one else did.
"Of course not," Dav said. "I love you. We might not wear rings or announce it to anyone but our families, but I take those promises we made to each other seriously."
"I've never doubted it," Richard swore. He might tease. He might even continue to tease, because he'd never seen Dav this flustered, not even in the heady, fumbling days of figuring out their attraction to each other and how to hide it from their comrades and their COs. Then again, Dav had always been at his most compelling when he was defending others. "You just don't usually get this worked up after sparring with someone, even in self-righteous anger."
"He's… different," Dav said slowly. He took the towel from Richard's hands and finished drying off quickly. "This isn't the place to discuss it."
Richard followed him back into the bedroom, only barely stopping his protest when Dav pulled on shorts and a T-shirt. "I'm underdressed," Richard observed.
"You can be as undressed as you want. I'll never complain."
Richard grinned. He might not be twenty-two anymore, but he had a better body than most men half his age, and he wasn't shy about showing it off for his lover of nearly twenty years. He sat down on the bed and pulled Dav down next to him. "Talk to me, Dav. Something is going on in your head, and I can't do anything to help if I don't know what it is."
"I look at him and I see all this potential," Dav said slowly. "I see a tactical mind that hasn't had any training and still sees ways out of situations no one else does. I see someone who could have ended up in jail or dead in a gang shootout but who survived anyway and ended up with us instead. I see us, twenty years ago, wanting desperately to make a difference in the world, except that the world has taught him he doesn't matter. He didn't have the advantages we did growing up. He didn't make it in the Army because he couldn't accept stupid orders. We complained about them for years. He refused to follow them. There but for the grace of God. That's what I think every time I look at him."
Richard could understand that. He'd read the reports of Newton's performance in the field. He was snarky and didn't take orders well when the purpose of the orders wasn't crystal clear, but he didn't miss and he didn't accept no-win situations. And he took the missions no one else wanted without complaint. With the right CO, he would have made a perfect SEAL. Richard and Dav had acquired him instead. "What are you going to do about it?"
"Nothing. I made vows to you, and nothing changes that." He grabbed Richard's hand and held on tight. "Nothing."
Richard twined their fingers together. "No, nothing changes that."
Nothing ever could, but he'd keep an eye on Newton anyway, if only because he already knew Dav would be.
About Ariel!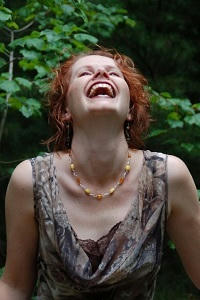 When Ariel Tachna was twelve years old, she discovered two things: the French language and romance novels. Those two loves have defined her ever since. By the time she finished high school, she'd written four novels, none of which anyone would want to read now, featuring a young woman who was—you guessed it—bilingual. That girl was everything Ariel wanted to be at age twelve and wasn't.
She now lives on the outskirts of Houston with her husband (who also speaks French), her kids (who understand French even when they're too lazy to speak it back), and their two dogs (who steadfastly refuse to answer any French commands).
Visit Ariel:
Website | Facebook | Twitter | E-mail: arieltachna@gmail.com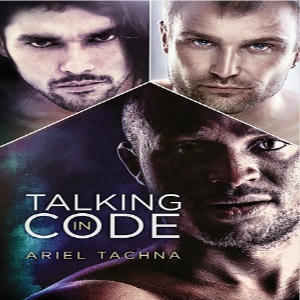 Giveaway!
Win an ebook copy of any of Ariel Tachna's backlist!
(Just leave a comment on this post)
Win a signed copy of Talking in Code to two winners! 
(Just share any of the blog tour posts (either the original posts or Ariel Tachna's FB or Twitter posts about them) and you'll be entered to win. Just make sure you tag Ariel if you share from the blog post directly so that she see them!)
(Ends when Ariel picks the winners!)