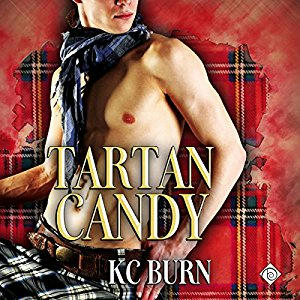 Title: Tartan Candy
Author: KC Burn
Narrator: David Ross
Genre: Contemporary
Length: 7 hrs, 21 mins
Publisher: Dreamspinner Press LLC (10th October 2016)
Heat Level: Moderate
Heart Rating: ♥♥♥♥ 3.5 Hearts
Blurb: Finlay McIntyre (aka Raven) is a successful adult film star with a penchant for kilts, until an accident cuts short his stardom and leaves him with zero sexual desire, lowered self-esteem, and no job. He knew his porn career wouldn't last forever, but he wasn't prepared for retirement at 28. While trying to figure out the rest of his life, Raven agrees to attend a high school reunion. That's when a malfunctioning AC unit in his hotel room changes everything.
Caleb Sanderson, an entrepreneur with his own HVAC business, has no idea what to expect when he steps into Raven's hotel room to fix his AC unit. They're attracted to each other, but Caleb, closeted, can't afford a gay relationship, not with his mom pressuring him to produce grandchildren. If he wants to keep Raven – who no closet could hold – he'll need to tell his family the truth. But Raven has a few secrets of his own. He refuses to reveal his porn past to Caleb, a past that might be the final obstacle to Caleb and Raven having any kind of relationship.
Product Link: Audible US | Audible UK
Reviewer: Prime
Review: This is a first time I've heard or read by KC Burn and I must admit that I was intrigued.
Raven is an ex porn star, with a penchant for wearing kilts, whose career was cut short by a car accident. Now he's between careers and toying with ideas in his head about the future. For now though, he's an escort to one of the subscribers to the company he had made movies for. The guy's a dick, to the short, but he does meet hot air con repairman Caleb. It's a mix of love and lust at first sight. Caleb is certainly the first guy Raven has been interested in since his accident. Raven is also scared that Caleb will run a mile if he knew that he had been in porn. Well guess what, that's a recipe for disaster. There's a lot of sweetness in this book nonetheless.
I enjoyed the book for the most part but I didn't enjoy this one as much as I had expected and I guess I'm a little disappointed about that. Ok, I'm a fickle person. I saw "Tartan" in the title and thought "oh, Scotsman"… well, not a Scotsman but there were definitely kilts. I suppose years of reading historical romances and the Outlander series had me thinking of hot highlanders. But that wasn't why I was disappointed, I think that was more to do with the story falling a little flat for me, I think because a major component of this story at the climax (pun intended) actually had everything to do with miscommunication between the two main characters.