Hi guys! we have K.C. Burn stopping by for a visit today with her upcoming release release Tea or Consequences, we have a short intro from KC, a great excerpt and an awesome 5x $10 Amazon GC giveaway, so check out the post and enter that giveaway! <3 ~Pixie~
Tea or Consequences
by
K.C. Burn
Riley Parker: temp, twink, geek… sleuth?
Maybe Riley isn't living up to his full potential, but being a temp executive assistant suits him. He's never bored at work, he's got friends who let him geek out, and he's got a carefully crafted twink exterior… which might be getting constrictive now that he's on the other side of thirty. Life isn't perfect, but it's comfortable.
It all unravels when he takes a job working for a tea-obsessed cosmetics queen, the owner of Gautier Cosmetics. During the launch party for a new product, Riley finds his boss dead under suspicious circumstances, and the homicide detective is none other than Tadeo Martin, Riley's high school obsession who never knew he was alive.
Tad drafts Riley to get the scoop on the inner workings of Gautier, and for Riley, it's like a drug. His natural inquisitiveness is rewarded with more and more Tad. Unfortunately, his snooping puts him in the running for two other roles: suspect and victim. The killer doesn't care which.
K.C. Burn!
Hello! So happy to be here to celebrate my upcoming release, Tea or Consequences. There's some mystery and romance, flavored with a few of my favorite things: tea, board games, and a slightly geeky hero.  Here's a tiny taste, hope you enjoy!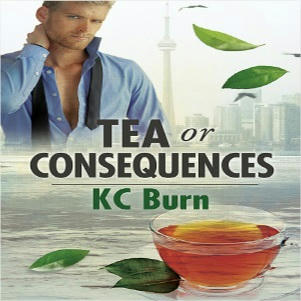 Excerpt!
Riley took a deep breath and knocked gently before opening the door. A man sat at Sandra Cheng's desk, dark head bent as he jotted in a notebook.
"Have a seat."
That voice, like aged whiskey, flowed over him. It sounded vaguely familiar, but Riley didn't know any cops, and despite the dark blue sports coat, there was no mistaking him for anything but police.
Riley sat and waited.
After several moments the cop lifted his head as he spoke. "I'm Detective Tad Martin. And you are?"
The room swam as Riley struggled to breathe. Or not throw up. This couldn't be happening to him.
Tadeo Martin had been a fucking god in high school. Watching him on the lacrosse field had pretty much catapulted Riley into fierce, aching puberty. Two years ahead of Riley, he had no reason to know who Riley was. After all, the jocks had only mingled with the A/V and drama geeks that one year because the head cheerleader broke her leg and decided to star in the school play.
No need to humiliate himself by trying to get Tad to recall someone even Riley barely wanted to remember. It wasn't like they'd been friends.
He stared at Tad, cataloging all the ways Tad's face had changed and all the ways it hadn't. His skin was still kissed with gold, as though the sun never quite stopped shining on his face, even in deepest winter. But there were fine lines at the corners of his eyes that probably crinkled when he laughed. A few silver threads sparkled in the smooth sheen of his dark hair. It was hard to tell, but Riley suspected they'd be about the same height, unless Tad had also experienced a late growth spurt after he'd left high school. Perhaps the absolute worst for Riley's equilibrium, though, was the stubble. He didn't know if it was a personal fashion choice or the result of overwork. Either way, Riley had spent so much time imagining Tad's lips gliding along his jaw and down his neck. Now he could add the rasp of dark stubble marking his skin with beard burn to the sounds in his mind, and goose bumps rose along his collarbone.
Fucking hell. Why had the universe seen fit to drop this on him today? The only thing good about Tad sitting in front of him was that there was no way Tad would know who he was.
Tad's jaw firmed and his nostrils flared ever so slightly. "Your name?" The words were almost glacial.
Riley made a sound that could generously be called a squeak as he sucked in a breath. He'd completely forgotten Tad had asked him a question.
"Riley Parker. Gabrielle's temp admin assistant." Heat flooded Riley's face as his voice broke like he was back in high school, rather than a twink facing the wrong side of thirty.
Tad tilted his head to the side and narrowed his eyes. Riley didn't quite like the speculation in his gaze and needed to divert it.
"T—" Riley swallowed the rest of Tad's name and coughed. If he started calling Tad by his first name, he'd either piss him off or amp up the speculation. "Er… Detective Martin. Can you tell me what's going on? Why have we been held all this time?"
Tad's official mien dissolved into incredulity. "Didn't my partner say anything?"
"Would that be the terrifying woman in the next office?"
A tiny laugh escaped from Tad, but he controlled his mirth too quickly for Riley to note if the corners of his eyes did indeed crinkle.
At least Riley wasn't going to get in shit for his imprudent, thoughtless description.
"Sorry about that. She quit smoking a couple of weeks ago."
Riley nodded because it did explain some things, but he didn't imagine Tad's partner exuded rainbows and buttercups even after smoking all the tobacco in the world.
Tad's amusement quickly faded. "You're the one who discovered Gabrielle Gautier?"
"Yes."
Tad made a couple of quick notes. "At the moment, we're treating her death as suspicious."
Suspicious? Riley's stomach flipped, and he got light-headed so fast he was insanely glad he was already sitting down. But he was truly afraid he might throw up, and he couldn't do that in front of Tadeo Martin. His mortification would be infinite.

About K.C.!
KC Burn has been writing for as long as she can remember and is a sucker for happy endings (of all kinds).  After moving from Toronto to Florida for her husband to take a dream job, she discovered a love of gay romance and fulfilled a dream of her own — getting published.  After a few years of editing web content by day, and neglecting her supportive, understanding hubby and needy cat at night to write stories about men loving men, she was uprooted yet again and now resides in California. Writing is always fun and rewarding, but writing about her guys is the most fun she's had in a long time, and she hopes you'll enjoy them as much as she does. 
Visit KC at her website, on Twitter, on Facebook, or find out about new releases by signing up for her newsletter.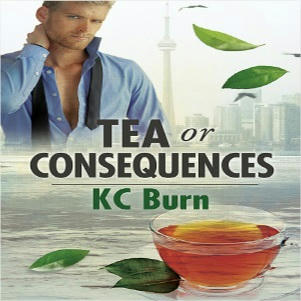 Giveaway!
Win! 5 x $10 Dreamspinner Press credit!