Hi guys! We have Shae Connor popping in today with her upcoming release Teaching Ben, we have a brilliant guest post from Shae and a great excerpt so check out the post and enjoy! ❤ ~Pixie~
Teaching Ben
by
Shae Connor
Learning to love means a study in patience.
Fresh out of the military, Ben Cooper is ready for a new start. He's away from his domineering father, making his own choices… and out of the closet. On his first day of college, he meets David Powell, who's just the kind of gorgeous man Ben's dreamed of. Too bad he's the teaching assistant—which makes him off-limits in Ben's eyes.
David is Ben's age, but his life has taken a different path. He's close with his family, who helped him deal with personal struggles after he came out. And while he's staying away from any hint of scandal, Ben's a kind of temptation he hasn't faced in years. If only they'd met on more equal footing.
As the semester progresses and their lives become more entwined, keeping their relationship platonic becomes more difficult. They just have to hold out until the end of the semester….
Shae Connor!
Friends, Family, and Teaching Ben
Wow. It's been a minute since I've done the whole blog tour thing for a new release. Need to stretch out a few muscles and settle in.
Ahhh. That's better.
So how's everyone doing out there? Staying warm during these long winter nights? Got your stack of pancakes ready for today?
Mmm, pancakes.
Okay, okay, let's talk books. I'm here today with my upcoming novel Teaching Ben, part of the Dreamspun Desires line from Dreamspinner Press. These books are category romance: short, sweet, and based on classic romance tropes. My story, which releases one week from today on February 20, is teacher/student—or to be more precise, teaching assistant/student.
In short: Ben, the student, has just left the Air Force after a six-year enlistment and is starting college, where he meets David, the TA for his very first class. The two are immediately drawn to each other, but the power imbalance between them keeps them from pursuing each other. Instead, they become "just friends"—and carry on a slow burn that lasts for four long months.
If you're looking for instant gratification, this ain't it.
But Ben and David don't waste the semester. With an assist from David's sister and several others, they truly do become friends, learning about each other's backgrounds, interests, and personalities. By the time the semester ends and they're free to explore a deeper relationship, the only real difference is physical intimacy.
Teaching Ben is about overcoming difficulties, finding your own path, and, of course, falling in love. But mostly about friendship and family—born and found—and the many different ways people help each other, often without even realizing it.
Plus it has mistletoe kisses, and who doesn't love those?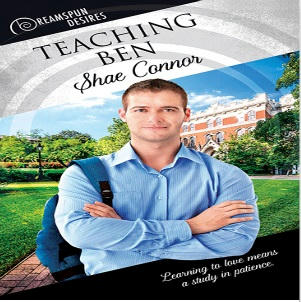 Excerpt!
THE LAST time Ben Cooper was this nervous, he'd been staring down his drill sergeant on his first day of boot camp.
Funny how an empty lecture hall could be just as intimidating.
His stomach doing calisthenics with each echoing footstep, Ben walked to the center of the front row and slid into a seat. After placing his backpack on the floor next to him, he sat, spine military-straight, and stared, unseeing, at the front of the room. It had taken him six years to get to this point—six long years of discipline, hardship, and fear of being found out. His service behind him, his father out of his life, he could finally move forward.
If only he could get past the knot of anxiety that he wouldn't be good enough.
He tried to relax, closing his eyes and taking a few deep breaths. You're just another student now, he reminded himself. No one expected him to follow orders without question, to dress a certain way, to eat at certain times. His discipline was his own. Sure, there were things he would be expected to do if he wanted to pass his classes and get his degree, and consequences if he didn't, but for the first time in his life, the choices were entirely his own.
He was free to live his life the way he wanted.
College was just one part of that, but he would do his best to acclimate himself to the change. He'd chosen Savannah University because he liked the city, a nice blend of the slow pace of the South and the rush of a city, and because the school felt like a good fit—slightly smaller than average and not too expensive. He heard voices in the hallway outside the classroom, and as other students started to filter into the room through the door to his left, he hoped he'd made the right choice, that he could fit in and find his own way.
He watched his classmates as best he could without staring. The variety of clothing style choices alone made his head spin, after years surrounded by camouflage and shades of blue. Shorts predominated, likely in deference to the sultry late summer heat outside, though the air-conditioning left a chill in the air indoors. He took in torn jeans, flip-flops, faded T-shirts with logos he didn't recognize, and more than one pair of what looked like pajama pants. One female student was dressed as if she were going out clubbing rather than headed into a classroom, from her updone hair to her stiletto heels.
Ben glanced down at his dark-wash, nearly new jeans, polo shirt, and running shoes, all neat and tidy. He'd let his hair grow, but it still wasn't much past the near-buzzcut he'd worn in the Air Force. It would be difficult enough for him, being six years older than most of the others. A wardrobe as plain as his would be unlikely to make things any better. Or is it better to blend in than to stand out?
He took a deep breath and shook off that line of thought. No, this was going to be his chance to make a mark, not an excuse to keep hiding. Clothes might not matter, but being willing to step outside his comfort zone did.
A door at the front end of the classroom opened, the movement drawing Ben's attention away from inside his head, and a young man came in, a leather messenger bag slung across his chest. He wore jeans and sneakers like Ben, but with a snug green henley that emphasized his athletic build. Ben couldn't see his face; he was pulling the bag off his shoulder as he walked, looking inside for something, so his head was down. But the muscles moving under that shirt, combined with his tousled jet-black hair and the confident air that surrounded him, garnered the attention of Ben's libido.
Ben drew in a breath and pushed it out slowly. Do not go there, he ordered himself. This is your teacher. You do not need to start out your college career with anything that could even approach a scandal.
The man—gorgeous man, Ben's traitorous brain supplied—set his bag and the notebook he'd extracted from it on the desk at the front of the room, his back still to the students. He pushed up his sleeves and glanced at the clock on one side of the room before he turned to face the class, smiling.
Despite himself, Ben's breath caught at the sight. Beautiful, dark blue eyes, partially hidden behind wire-rimmed glasses, and an even more captivating smile, complete with dimples. Lightly tanned, clear, perfect skin, and a body that was even more amazing from the front.
Oh no.
Only day one of his new life, and already Ben found himself face-to-face with someone who could be deep, deep trouble.

About Shae!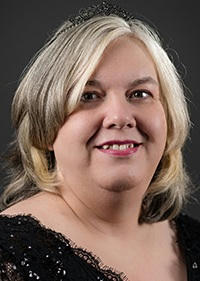 Shae Connor lives in Atlanta, where she's a lackadaisical government worker by day and writes sweet-hot romance under the cover of night. She's been making things up for as long as she can remember, but it took her a while to figure out that maybe she should try writing them down. A member of the Romance Writers of America, Shae was first published in 2010 and has a lineup of short stories, novellas, and novels available.
Shae is part Jersey, part Irish, and all Southern, which explains why she never shuts up. When she's not chained to her laptop, she enjoys cooking, traveling, watching baseball, reading voraciously, giving and receiving hugs, and wearing tiaras. She also volunteers as director and editor of the Dragon Con on-site publication, the Daily Dragon.
You can find Shae hanging out on Twitter most any time @shaeconnor, or on Facebook at https://www.facebook.com/shaeconnorwrites, but for the more direct route, you can visit her website at shaeconnorwrites.com or email her at shaeconnorwrites @gmail.com. You can also sign up for her mailing list.