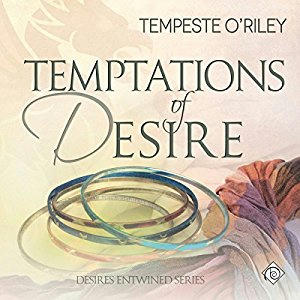 Title: Temptations of Desire
Series:  Desires Entwined 03
Author: Tempeste O'Riley
Narrator: Jeff Gelder
Genre: Contemporary
Length: 6 hrs, 17 mins
Publisher: Dreamspinner Press LLC (15th June 2016)
Heat Level: Moderate
Heart Rating: ♥♥♥♥ 4 Hearts
Blurb: Alexander James Noble is a gender-fluid gay man who gave up on finding Mister Right a long time ago. He's not asking for much, though. He just wants a guy who loves all of him and appreciates his feminine form too.
At the local LGBTQ center where Alex regularly volunteers, he meets Dal Sayer, an officer of the Milwaukee PD. Because he's been rejected one too many times, Alex doesn't trust the huge cop and the interest he shows in him, but once Dal sets his mind on something, he goes all out. Pushing aside his preconceived notions, Alex opens up just a little and soon caves.
From their first date – while dealing with his father's failing health and his parents' demands for him to settle down and have children – Dal never takes his eyes off his goal of making Alex his. But proving to Alex he isn't like all the men who couldn't see him for who he truly was and only wanted to hide him away is harder than he thought.
Product Link: Audible US | Audible UK  
Reviewer: Prime
Review: Desires Entwined is absolutely fantastic series to get into. The audio is just made so much better with the wonderful narration by Jeff Gelder (although I was not a fan of his impression on what I assume to be a Welsh accent). How he tells the story of the different characters makes it feel just so real. It's an absolute pleasure.
Now, I know that I said that Book 2 can be read as a standalone, but I really do recommend if you don't start with Book 1 you have to read Book 2 before getting to Temptations of Desire. This story follows Dal Sayer and Alex Noble. Dal is a detective for the Milwaukee police department. He also happens to be the brother of Rhys, one of the main characters in book 2. It is as part of the voluntary work that he undertakes for a local LGBTQ centre with his brother that he meets Alex. Alex is a personal chef to a rather wealthy gentleman who has more than one business encounter with Dal's circle of friends. Alex also volunteers at the centre, making sure that the kids – and even the adults – get a decent meal at least once a week. Alex also has the added depth in his character that he is genderfluid, which I found to be an interesting spin on his character and is added dimension to Dal's bisexual nature.
I would say that Alex's story had more depth than Dal's story. But as we found out in Book 2 when Rhys and his boyfriend went for a family meal with Dal and their parents, the parents want Dal married off and they want grandchildren. That seemed to work in Rhys's story because we did not see their parents on page a lot owing to them being overseas. However, though we do not see their parents on page often in this book, we get to hear more about the family. The background info suggests that they are they are a very close and loving family. The well meaning meddling from the parents – it seems weird but I assure you that it is explained enough, at least to satisfy me.
Alex's side of the story is somewhat understated, but it is clear that with him Dal has to work to show that Alex can trust him. Alex has had trouble in the past because he is genderfluid and finds himself comfortable wearing female or male gendered clothing, depending on his mood.
The flow of the story is really good and overall is well paced. Just like other books in the series this one is really sweet and I found myself quickly invested in the relationship between Dal and Alex. The ending is just nice as well. However, it left me eagerly waiting for the next installment. The short stories are not available in audio, unfortunately and I have to admit that I have not read them, but with book 4 we have another couple to follow.