Hiya guys! We have Amy Spector stopping by today with her upcoming release That Rat, Carter Janson, we have a brilliant guest post, a great excerpt and a fantastic giveaway where you can win your own ecopy of That Rat, Carter Janson, so guys, check out the post and leave a comment to enter the giveaway! <3 ~Pixie~
That Rat, Carter Janson
(States of Love 35: Illinois)
by
Amy Spector
Every man has secrets, but some are bigger than others….
Felix Peake escaped a shady past to carve out a successful career as an expert in Mesopotamian art and gain the respect of the Chicago art community. But when an assistant curator—a man Felix could easily see himself falling for—asks him to reauthenticate a cuneiform tablet to avoid a looming scandal, Felix's carefully constructed life could crumble.
The tablet is a fake, and Felix is intimately familiar with the artist. Master forger Carter Janson—Felix's ex and first love—disappeared from his life six years before without a word of explanation. Now, to hold his world together, Felix must find the original tablet, steal it back, and replace the forgery—all before the museum exhibit debuts. It'll mean slipping back into a role Felix wanted to leave behind and risking his promising future. But even then, he can't do it alone. He'll have to confront that rat, Carter Janson.
States of Love: Stories of love that span every corner of the United States.
Amy Spector!
Hello, everyone! I'm Amy Spector. Some of you probably know me—more of you probably don't—but I'm thrilled to be here today on MM Good Book Reviews to share a little about myself, my newest book, and some background on how That Rat, Carter Janson came to be.
When I write, more often then not, a little something of me slips onto the page, but never more so than with this book.
That Rat, Carter Janson takes place in Illinois, Chicago mostly, with some stops in some of the more seedy places. That's just one of the many ways a little of my own experiences can be glimpsed in the book.
My first trip to Chicago consisted of an all-night drive, a delivery van, 4000+ pounds of printing press motor, and a boyfriend I had to drag kicking and screaming. Not even the prospect of the two of us alone in a hotel room—we both had roommates—seemed to make him any happier! Quite frankly, I should still be insulted! Why I married him, I'll never know. I assure you it had nothing to do with sexy bangs and combat boots. 😀
Chicago has an amazing art community and museums that you could spend your life wandering and never grow bored. It also has some places that you might be better off avoiding completely.
On that first trip—a 24-hour emergency run for my employer to get a printing press motor repaired—the giant, burly man with a thick German accent I had been sent to see, gave the two of us directions to a Days Inn he said was nice and in a decent area. Well, Chicago is huge, and very shortly we had gotten hopelessly lost. We called our burly giant from a phone booth—yeah, a phone booth, this was before I even had a cell—told him where we were, and his exact words were Get the hell out of there. LOL
Since then, I've visited Chicago nearly a dozen times. Spent hours in its museums, eaten too much of its pizza, shopped and have even gotten to see a Christmas parade from its streets. So when Dreamspinner Press announced their States of Love series, there was really only one state I wanted to claim, and I knew exactly the story I wanted to write. Well, almost. There were certainly some tweaks along the way, and that former boyfriend with the sexy bangs and combat boots? He helped a little too.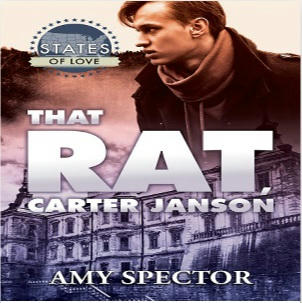 Excerpt!
"How long have I been cleaning for you?"
"I don't know." Carter shrugged. "A few months?"
"It's been three years, man." Cabbage looked exasperated, opening her mouth to say something else but closing it again when the waiter stopped to take their orders.
"You know I'm not good at remembering that sort of thing."
She had to know. She had to remind him every Friday it was payday and every month when it was time to give her the cash for new cleaners. Maybe he needed a personal assistant? Is that what a personal assistant did, pay your bills and make sure you had Pine-Sol for the maid?
"Maybe I need a personal assistant."
"What you need," Cabbage began, her voice a little too loud for Carter's comfort, "is to get your head out of your ass."
"I'm pretty sure you're not supposed to talk to your boss like that."
"You might be my client." She emphasized the last word. "But I've got four more houses to clean this weekend, so you aren't my only client, and I don't need any of you anymore, anyway." Cabbage smacked Carter's hand where he was shredding his paper napkin. "And stop making a mess."
"Sorry."
"As I was saying, you might be one of my clients, but I'm willing to bet I'm your only friend."
God, was that true? Carter thought about it and realized it probably was.
"You're a pretty mean friend." It was the best he had. He was running on too little sleep. Oliver had been a talker.
"You don't need to be coddled. You need a reality check. You're a grown fucking man who hooks up with college boys and paints the ugliest paintings I've ever seen. And that says something 'cause I used to work at a thrift store. We'd sometimes get that creepy big-eyed kid shit in there."
Why was everyone so down on his art today?
"The way I figure it—" Cabbage paused just long enough for the waiter to top off their drinks. "You're a commitmentphobe. No steady job, no steady boyfriend, your longest running relationships are with me and the hottie who picks up your laundry."
"Justin."
"Yeah, Justin." She rubbed circles on her pregnant belly, and Carter was afraid he was about to hear more on how pregnancy made her horny. "That man is fine, fine, fine."
"He really is."
"So why is that, Carter?" Cabbage stared at him as if she was waiting for an answer. When he realized she actually was, Carter thought he might hyperventilate. "Have you ever even had a boyfriend?"
"Of course I have. I—"
"No, no, no," Cabbage interrupted. "I mean with a guy you cared about more than your own dumbass self?"
Carter had once, and it ended the way it had to. He wasn't going to talk about that with his cleaning lady, even if she was his closest thing to a friend. That one still hurt. Maybe it didn't hurt like the motherfucker it used to, but it still left an ache. Instead he gave a noncommittal grunt.
"That's what I thought."
Their dishes arrived. His grilled fish tacos and Cabbage's… something that looked like chicken and smelled like peanut butter.
"What do you suggest, then?" Carter figured he might as well get it over with.
"I don't know. Find yourself a purpose. Just because you've got a little money, doesn't mean you shouldn't get a real job."
Wasn't it good enough that he worked at the art center? Didn't that give him enough of a purpose, even if it wasn't forty hours a week?
"You ever thought about being a security guard at some senior center? Those places are always looking for people."
Senior center? "Why the fuck would I want to be a security guard at a senior center?"
"I don't know. My cousin does it and says if you don't mind some of them getting handsy, it's a real nice gig."
"I'm an artist." Why was everyone busting his balls about this today?
"Oh, but baby, you can't paint for shit."

About Amy!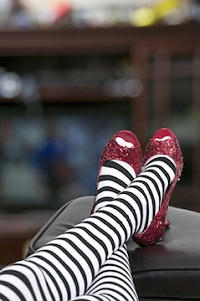 Amy Spector grew up in the United States surviving on a steady diet of old horror movies, television reruns, and mystery novels.
After years of blogging about comic books, vintage Gothic romance book cover illustrations, and a shameful amount about herself, she decided to try her hand at writing stories. She found it more than a little like talking about herself in third person, and that suited her just fine.
She blames Universal for her love of horror, Edward Gorey for her love of British Drama and writing for awakening the romantic that was probably there all along.
Amy lives in the Midwest with her husband, children, and her cats Bowie and Poe.
Connect with Amy online!
Facebook || Twitter || Goodreads || Website/Blog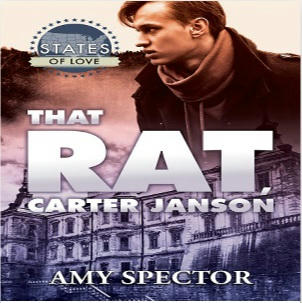 Giveaway!
Win an eBook of That Rat, Carter Janson!
(Just leave a comment on this post)
(Ends 19th January 2017, winner will be chosen randomly from the comments.)