Hi guys, we have Quinn Anderson stopping by today with her new release The Academy, we have a great exclusive excerpt and a fantastic giveaway so check out the post and enter the giveaway! ❤ ~Pixie~
The Academy
by
Quinn Anderson
True love stabs you in the front.
Nick Steele just wants a normal life, cliché or not. He had one once, back in Chicago. Before his father died and he took a year off from college to grieve. Now, he's starting fresh at a prestigious—but tiny—Catholic university. Adjusting to small-town life will be a challenge, along with making friends and keeping his scholarship. All he wants to do is blend in, get his diploma, and go back home.
But Sebastian Prinsen—campus heartthrob and a notorious player—has other plans. He notices Nick right away and makes a bet with his two best friends: Who can kiss the new kid first? Nick seems immune to Sebastian's charms, and yet genuine chemistry sparks between them. Even worse, real feelings do too. Sebastian falls more and more every time Nick blows him off, but if he comes clean about the bet, Nick will hate him forever.
The last thing Nick wants is to fall in love while he's still grieving, but Sebastian feels like home to him. Nick wants that so badly he may ignore the warning signs and risk his fragile heart once more.
Exclusive Excerpt!
Hi, everyone. I'm Quinn Anderson, and I'm here to share some behind-the-scenes facts about my latest release, THE ACADEMY. Stay tuned and comment on stops along the way for a chance to win a $10 Riptide gift card.
~*~
Nick heard footsteps nearby—probably someone walking past on their way to class. He didn't look up from his sketch as he added fine, individual eyelashes to one of the gray eyes.
A second later, the footsteps stopped, and a shadow was cast across his sketch.
Without thinking, Nick said, "You're blocking my light."
There was a pause. Then, a familiar voice made the hair on Nick's nape stand up. "I'm sorry. I didn't realize."
Nick jerked his head up. Sebastian Prinsen was standing next to the picnic table. He was dressed in a simple black T-shirt and jeans, and yet the clothing fit him so well, it seemed like a fashion statement. Nick had always been attracted to men who were muscular, but looking at Sebastian now, in all his tall, wiry glory, he had to rethink his preferences.
While Nick struggled to remember what words were, Sebastian flashed an apologetic smile. "I didn't mean to block your light. I'm an artist as well, so I understand how important it is. What are you sketching?"
He leaned over, as if to look at Nick's drawing. Nick quickly covered it with his hands and stared at him with wide eyes. "It's not finished."
If Sebastian thought his evasiveness was odd, he didn't comment. "Fair enough. I'm Sebastian, by the way. We met yesterday."
Nick's blood throbbed in his ears. All the times he'd imagined running into Sebastian again, he'd never thought it would be so . . . casual. Tame.
He blurted out, "I know who you are."
The second he said it, he wanted to bite his tongue, but Sebastian looked inexplicably pleased. "Oh? Did you ask around about me?"
Nick stepped right over that. "What are you doing here?"
"I go to school here." Sebastian looked Nick over, as if he were checking him for signs of trauma. "Remember?"
"I know that. I mean, what are you doing here"—he indicated the picnic table—"talking to me?"
"Am I not allowed to?"
Much as his insides warmed at the mere sight of Sebastian, he was loath to let his excitement show. He shrugged. "Free country, I guess."
For the past day, Nick had been asking himself a question without really asking it: Did he want to run into Sebastian again? The rational side of him had said no, especially now that he knew Sebastian's reputation for partying and playing with people's feelings. But now that the man himself was standing in front of Nick, his rational side had fallen silent.
Didn't mean he was going to make things easy for Sebastian though. Nick was not going to fall for the whole handsome, charming, rich thing.
Easier said than done.
Instead of being deterred by Nick's brush-off, Sebastian's smile came back full force. It looked good on him. He eyed the empty seat next to Nick as if he was contemplating taking it, but mercifully, he didn't. "How was your first day at the Academy?"
It was an innocent enough question, but Nick answered with caution. "It was fine."
"Do you like it here so far?"
"It's nice enough."
"Hm." Sebastian wet his lips. "Not very talkative, huh? I thought as much yesterday, but then I wondered if I scared you off by coming on so strong. You're not shy, are you?"
Ah. So, he was flirting with me. There's one mystery solved.
Nick was tempted to be blunt and address the elephant in the room by name. But then, he didn't really know what Sebastian's intentions were. If Sebastian was just making conversation, then Nick might ruin a potential friendship with a well-liked student before it began. That wouldn't be a stellar way to start off the year.
On the other hand, he couldn't picture himself being friends with Sebastian. Something about him—his mannerisms, or the sharp glint in his eyes—both put Nick off and pulled him in. Like a moth who knew he was flying toward fire.
In the end, Nick headed for the middle ground. "I'm not shy. But I think a fruit basket would have been a more appropriate way to welcome me, you know?"
Sebastian chuckled. "You're funny. I like people with quick tongues." His smile grew downright wicked. "Is yours good with more than just words?"
Wow, this guy really is a flirt.
About Quinn!
Quinn Anderson is an alumna of the University of Dublin in Ireland and has a master's degree in psychology. She wrote her dissertation on sexuality in popular literature and continues to explore evolving themes in erotica in her professional life.

A nerd extraordinaire, she was raised on an unhealthy diet of video games, anime, pop culture, and comics from infancy. Her girlfriend swears her sense of humor is just one big Buffy reference. She stays true to her nerd roots in writing and in life, and frequently draws inspiration from her many fandoms, which include Yuri on Ice, Harry Potter, Star Wars, Buffy, and more. Growing up, while most of her friends were fighting evil by moonlight, Anderson was kamehameha-ing her way through all the shounen anime she could get her hands on. You will often find her interacting with fellow fans online and offline via conventions and Tumblr, and she is happy to talk about anything from nerd life to writing tips. She has attended conventions on three separate continents and now considers herself a career geek. She advises anyone who attends pop culture events in the UK to watch out for Weeping Angels, as they are everywhere. If you're at an event, and you see a 6'2" redhead wandering around with a vague look on her face, that's probably her.

Her favorite authors include J.K. Rowling, Gail Carson Levine, Libba Bray, and Tamora Pierce. When she's not writing, she enjoys traveling, cooking, spending too much time on the internet, playing fetch with her cat, screwing the rules, watching Markiplier play games she's too scared to play herself, and catching 'em all.
Connect with Quinn: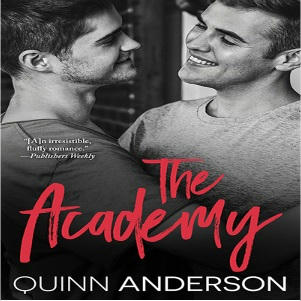 Giveaway!
To celebrate the release of The Academy, Quinn is giving away a $10 Riptide gift card!
(Just leave a comment with your contact info to enter the contest.)
Thanks for following along, and don't forget to leave your contact info!
(Entries close at midnight, Eastern time, on September 22, 2018. Contest is NOT restricted to U.S. entries. )