Hi peeps! We have Louisa Masters popping in today with her upcoming release The Athlete and the Aristocrat, we have a fantastic bonus holiday scene and a brilliant giveaway so check out the post and enter the giveaway! ❤ ~Pixie~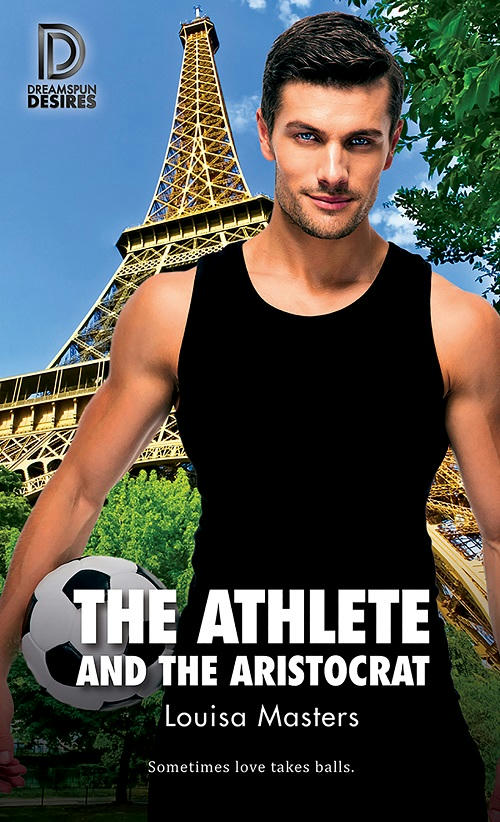 The Athlete and the Aristocrat
by
Louisa Masters
Sometimes love takes balls.
Newly retired championship footballer Simon Wood is taking on his next challenge. His plan for a charity to provide funding for underprivileged children to pursue football as a career has passed its first hurdle: he has backers and an executive consultant. Now it's time to get the ball rolling.
Lucien Morel, heir to the multibillion-euro Morel Corporation, is shocked—and thrilled—to learn his father has volunteered him as consultant to a fledgling football charity. Better yet, the brains behind it all is heartthrob Simon Wood, his teenage idol and crush.
Although Simon and Lucien get off on the wrong foot, it's not long before they're getting along like a house on fire—sparks included. But with the charity under public scrutiny, can their romance thrive?
Holiday Bonus Scene:
A Peek into the Lives of Simon and Lucien after The Athlete and The Aristocrat
"Luc?" Si let the door slam behind him and began unwinding his scarf from around his neck. "Are you home yet?" He winced. Wouldn't he feel like a tosser if he'd just asked an empty apartment that?
"In the kitchen," Lucien called.
Dumping all his stuff—which included bags full of presents that needed to be wrapped—by the front door, he went to find the love of his life and get a much-needed kiss. Lucien, intelligent man that he was, met him with a beer.
"You're a saint," Si declared, and stole that kiss. "I hate Christmas shopping. What possessed me to leave it so late?"
Lucien just looked smug, and in that moment Si wanted to throw the beer in his face. He took a long swig instead. His lover must have read his thoughts, because he grinned.
"You are the one who said hiring a shopper was too impersonal," he reminded Si.
"But it is," Si protested, although he wasn't sure why, since two hours ago he'd been willing to pay any price to have someone rescue him from the hell of the stores and finish his shopping for him.
That gallic shrug that normally turned him on was just irritating right then.
"My mum would never forgive me if she knew I'd had some stranger choose her present," he added, and Lucien laughed.
The bastard.
"Simon, you left home this morning with a detailed list of exactly what you were buying for everyone. The gifts were chosen, they just needed to be purchased," he pointed out.
Si put down his beer and sagged against the counter. "I hate when you're right," he muttered. "Fine. Next year, I pay someone else to do the actual buying. Or I just get everything online." He groaned. "It's not even over yet. I still have to wrap all the bloody damn things."
Lucien wrapped him in a hug, and he leaned into it, inhaling the familiar smell of home and comfort. "Paul has the number for a gift-wrap service," he tempted softly. Si made a half-hearted effort to resist, knowing he was going to give in.
"Okay."
One more kiss, and then Lucien moved away to the stove, where something delicious-smelling simmered. Si hoisted himself to sit on the bench and retrieved his beer.
"Walk me through it again," he said. "Christmas Eve with your parents here in Paris."
Lucien nodded, turning his amused gaze back to Simon. "It is not that complicated. Why are you so worried about this?" He looked so handsome standing there, blue eyes and golden hair and white smile, charming and elegant and all his. Si took a moment to admire him before answering.
"I'm not worried. I'm preparing. I used to do this before a match, too, go over everything I knew about the pitch and the opposing team. I did it before I went to meet your dad the first time, and before I met you. Preparation is key," he declared.
"It's Christmas, not a professional football match or a business meeting," Lucien countered. "But okay. Christmas Eve at my parents' home. Brunch on Christmas Day here with Léo, Ben, and Malik. Then in the afternoon we fly to England for Christmas dinner and Boxing Day with your family."
Si sighed. He wanted to spend that time with everyone, but it was going to be a hectic couple of days. "You know, we haven't talked about what we're doing New Year's Eve. We've been invited a few places."
Lucien turned off the stove and came to stand before him. "Was there anywhere you wanted to be?"
The answer was simple, of course. "With you. It doesn't matter where."
The grin that lit Lucien's face was worth any party Si had to go to.
"We will stay here, then. Just us and some champagne."
His man was perfect.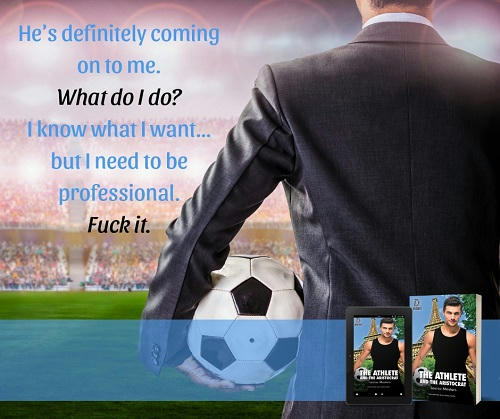 About Louisa!
Louisa Masters started reading romance much earlier than her mother thought she should. While other teenagers were sneaking out of the house, Louisa was sneaking romance novels in and working out how to read them without being discovered. She's spent most of her life feeling sorry for people who don't read, convinced that books are the solution to every problem. As an adult, she feeds her addiction in every spare second, only occasionally tearing herself away to do things like answer the phone and pay bills. She spent years trying to build a "sensible" career, working in bookstores, recruitment, resource management, administration, and as a travel agent, before finally conceding defeat and devoting herself to the world of romance novels.

Louisa has a long list of places first discovered in books that she wants to visit, and every so often she overcomes her loathing of jet lag and takes a trip that charges her imagination. She lives in Melbourne, Australia, where she whines about the weather for most of the year while secretly admitting she'll probably never move.
Website | Facebook | Twitter | Instagram | Newsletter | Amazon | BookBub | Goodreads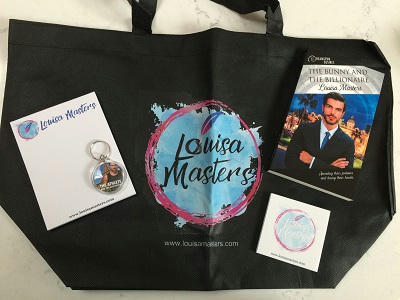 Giveaway!
Win a Prize Pack!
Prize pack includes:
* Signed copy of The Bunny and The Billionaire
* Athlete and The Aristocrat keyring
* Tote bag
* Notepad
* Sticky notes
* Bookmark pack
Winners selected January 31, 2019.