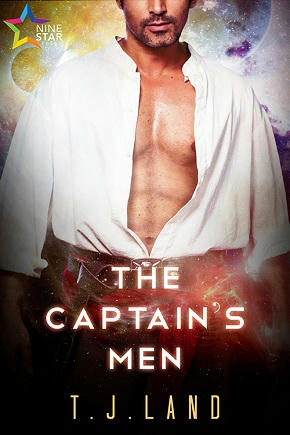 Title: The Captain's Men
Series:  Adrift # 1
Author: TJ Land
Genre: Erotic Romance, Ménage, Sci-Fi & Fantasy
Length: Short (65 pages)
Publisher: Nine Star Press (March 14, 2016)
Heat Level: Explicit
Heart Rating: ♥♥♥♥ 3.75 Hearts
Blurb: The Prayer and her crew have been lost in space for four years. Thomas is lonely and homesick; Zachery is angry and mutinous; Rick is just terrified. And all of them are really in need of some hands-on time with their captain.
The only thing holding them together is their captain, an aloof, sharp-tongued man whose methods of keeping up morale are unconventional, but extremely effective. But now the captain has a choice to make: do they continue their fruitless search for a way home or try to start a new life in this strange galaxy?
ISBN: 978-1-911153-36-8
Product Link: http://ninestarpress.com/product/the-captains-men/
Reviewer: Shorty 
Review: This is the first book in the Adrift series. The crew of the Prayer wants to go home after being transported mysteriously to an unknown part of space. They travel aimlessly for years hoping they will get closer to earth. After some time they have all but given up hope. 
As expected the men look for companionship in these lonely times. Thomas, Echo, Zachary and Rick all hook up. I found it quite entertaining with these mixed personalities intermingling. The sex is hot and steamy.
The next installment is hinted at when the second in command talks the captain into landing on a planet. Good read with plenty of mystery and hot scenes to keep the reader entertained.