Hi guys, we have Anna Butler stopping by today with her new release The Chains of Their Sins, we have a great excerpt and a brilliant giveaway so check out the post and click that giveaway link! <3 ~Pixie~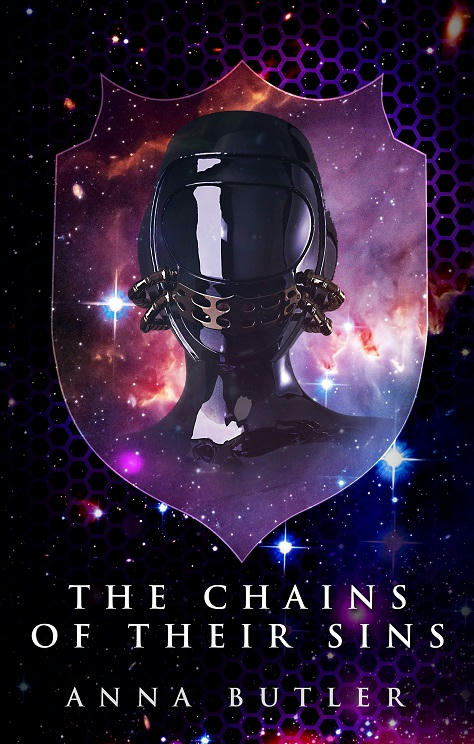 The Chain of Their Sins
by
Anna Butler
Shield Captain Bennet arrives on the Gyrfalcon to take up his final year's posting before returning to the Shield Regiment after his rotation out.
On Gyrfalcon he faces up to the fallout from Makepeace—ethical, political and above all, personal. Will he be able to accept necessity: that knowing what the Maess are up to outweighs the humanitarian issues surrounding the prisoners he rescued from Makepeace? Can he ride out the political furore that follows the loss of the dreadnought Caliban? How will he cope with an entire year of serving under his father, Caeden? And worst of all, how in the name of every god in the Pantheon can he stand to see Flynn every single day, with the Fraternisation Regs standing between them and keeping them apart?
It will be an interesting year. Bennet can hardly wait for it to be over. Of course, things never really do go to plan…

Excerpt
More Hornets were out of the tubes, racing to catch up; almost everyone, now. Bennet had the Patroklus squadron on visual, little points of light on his left, speeding towards him. He held the Starboard and Port wings in position, waiting for Patroklus to join him, listening to the continuous stream of inter-ship Comms that gave him the intel he needed on everyone's position. Captain Sergei reported he was in position.
"Heads up, boys and girls," Bennet said over the command line. "Bandits will be here in two minutes. Battlecode comm transmissions only."
All chatter stopped. Everything around him fell silent. It took him a second to realise that the dull muffled thumping that he felt as much as heard, was his own quickening heartbeat. His eyes never stopped moving—to port, ahead, the scanner, to port, ahead, to starboard, ahead, the scanner, ahead, to port…
His gaze flickered to port-side most. His pilots were out there, tackling the outriders to the first wave of fighters. Nothing much to see. The fighters were drones, with no internal atmospheres to give even the briefest flash of light and heat when they were destroyed. If he saw a flash, it would be one of their own.
Port, ahead, the scanner, port, ahead, starboard…
"All advance bandits accounted for," Kyle said. "No survivors."
"Casualties?"
"None. Clean strike."
"Good. Stand by." Look to port, ahead, the scanner, ahead, to starboard, ahead, the scanner, ahead… "Kyle, you have their left flank. Sergei, their right. Starboard Wing, we're punching right through these guys to take on the second wave."
"Yes!" The excitement in Kyle's voice was unmistakable.
"Ready." Sergei was more subdued.
"We're ready," Cruz said, steady as ever. "We're all ready."
Bennet took a split-second to watch them get into position, the usual cold clenching around his guts, knowing they wouldn't all come back. He had the fighters on visual now, a close-packed phalanx of ships, blotting out stars. There had to be more than a hundred of them, with a second wave of at least another hundred, maybe more, behind. A full complement of a battleship's fighters all stacked up against the little Hornets.
Bennet opened his private comline to the Gyrfalcon. "Ten seconds, bridge. We're going in." He only half-heard Quist's acknowledgement. He'd already keyed into the battle code comline. A deep breath. "All Attack Wings, intercept attackers and engage the enemy. Go!"
Five seconds later the front ranks of Hornets and fighters smacked right into each other.
Other books in the series!
Gyrfalcon
(Taking Shield #1)
Earth's last known colony, Albion, is fighting an alien enemy. In the first of the Taking Shield series, Shield Captain Bennet is dropped behind the lines to steal priceless intelligence. A dangerous job, and Bennet doesn't need the distractions of changing relationships with his long-term partner, Joss, or with his father—or with Flynn, the new lover who will turn his world upside-down. He expects to risk his life. He expects the data will alter the course of the war. What he doesn't expect is that it will change his life or that Flynn will be impossible to forget.
Heart Scarab
(Taking Shield #2)
Telnos is an unpleasant little planet, inhabited by religious fanatics in the festering marshlands and unregistered miners running illegal solactinium mines up in the hills. But the Maess want Telnos, and Shield Captain Bennet's job is to get out as many civilians as he can—a task that leaves him lying on Telnos while the last cutter of evacuees escapes in the teeth of the Maess invasion.
  Bennet is listed missing in action, believed dead on a planet now overrun by Maess drones. His family is grieving. His long-term partner, Joss, is both mourning and guilt-ridden. And Fleet Lieutenant Flynn? Flynn is desolate. Flynn is heart-broken…no. Flynn is just broken.
Makepeace
(Taking Shield 03)
Returning to duty following his long recovery from the injuries he sustained during the events recounted in Heart Scarab, Shield Captain Bennet accepts a tour of duty in Fleet as flight captain on a dreadnought. The one saving grace is that it isn't his father's ship—bad enough that he can't yet return to the Shield Regiment, at least he doesn't have the added stress of commanding former lover Fleet Lieutenant Flynn, knowing the fraternisation regulations will keep them apart.
  Working on the material he collected himself on T18 three years before, Bennet decodes enough Maess data to send him behind the lines to Makepeace, once a human colony but under Maess control for more than a century. The mission goes belly up, costing Albion one of her precious, irreplaceable dreadnoughts and bringing political upheaval, acrimony and the threat of public unrest in its wake. But for Bennet, the real nightmare is discovering what the Maess have in store for humanity.
It's not good. It's not good at all.

About Anna
Anna Butler was a communications specialist for many years, working in UK government departments on everything from marketing employment schemes to running an internal TV service. She now spends her time indulging her love of old-school science fiction. She lives in the ethnic and cultural melting pot of East London with her husband and the Deputy Editor, aka Molly the cockapoo.
Where to find the author:
annabutlerfiction@gmail.com | Website and Blog | Facebook | The Butler's Pantry | Facebook Group | Pinterest | Twitter
Giveaway!
Win a $25 (or equiv) Amazon Gift Card!
Win a signed copy Taking Shield Book 01: Gyrfalcon!
(Just click the link below)