Hi guys! We have Vivien Dean stopping by for a quick visit with her upcoming release The Charlatan's Conquest, we have a brilliant guest post and a great excerpt, so check out the post and enjoy! <3 ~Pixie~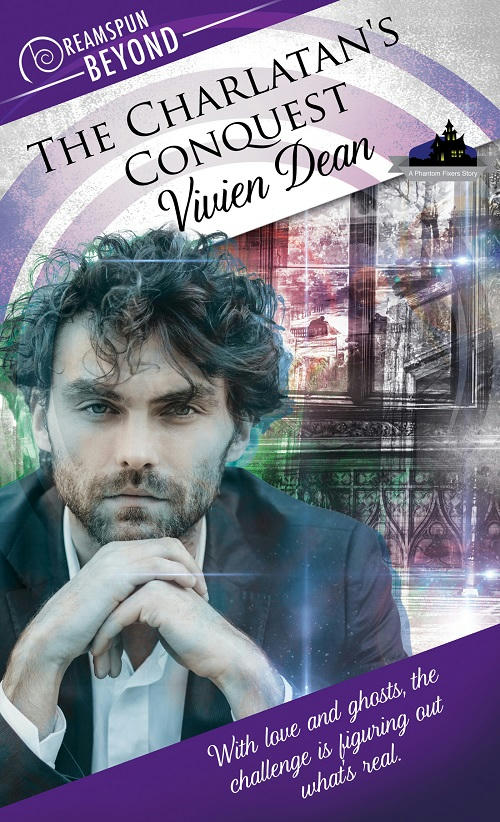 The Charlatan's Conquest
(Phantom Fixers 01 / Dreamspun Beyond 02)
by
Vivien Dean
With love and ghosts, the challenge is figuring out what's real.
Software engineer Cruz Guthrie needs money for his sister's cancer treatments. He needs it so badly he's willing to stand in for a ghost hunter friend and investigate a millionaire's supposed specters. It should be an easy gig—after all, nobody thinks the haunting is real.
Neurological researcher Brody Weber is furious that Cruz would take advantage of Brody's father. But his mind changes when spirits manifest—and he realizes Cruz genuinely wants to help. When they learn the paranormal activity centers on Brody, Cruz is willing to fight to free Brody from the entities determined to make his life miserable. With a little help from friends and family—both living and dead—they must figure out why Brody is attracting spirits and how to banish them. Only then can they pursue a future together.
SMART IS THE NEW SEXY!
by
Vivien Dean
My name is Vivien Dean, and I have a kink for smart people.
Don't get me wrong. I'm the first girl to stand up and shout out her love for tattoos and black leather (hello, Jax Teller!), but someone who can keep my brain working and challenges me intellectually on a daily basis? Whoa, mama. Nothing beats it. It's why I fall for characters like Ravi, the brilliant medical examiner on iZombie, rather than Major, his Ken-doll, zombie military roommate. It's why I prefer Spock over Kirk, because you just know Spock's detail-oriented, intense demeanor completely spills over into the bedroom. It's why I love Willow more than Buffy, because how can anyone not love sweet, adorkable Willow?!? Toss in a bit of geekiness, and I'm pretty much a goner, i.e., almost every character Jay Baruchel has ever played.
Smart is just downright sexy.
It was inevitable, then, that I'd choose smart heroes for the ghost story I created for Dreamspun Beyond. I was intrigued by the idea of how men who valued tangible proof reacted when confronted with the paranormal. How does a scientist cope with something he can't touch or test? I was dying to find out. That's how Cruz and Brody in The Charlatan's Conquest were born.
Cruz is a software engineer who knows from firsthand experience that ghosts are real. Brody is a neurological researcher who's spent his entire career trying to understand how the brain works. He has no patience for people who profess to believe in the paranormal. For him, everything should be explained by science. The two men butt heads from the moment they meet, when Brody crashes Cruz's meeting with Brody's father about ridding the family house of ghosts.
But Brody's confusion begins almost immediately. Cruz is obviously intelligent. He recognizes a Descartes reference without hesitation, and he's the engineer spearheading the work of a thriving software company. In Brody's mind, ghosts are for crazy people, not someone as educated and grounded as Cruz. The more they talk, though, the more attracted Brody becomes.
That's not to say he isn't attracted to Cruz's other fine attributes, but there's something different about finding someone who engages your mind as well as your body. It's exhilarating to be exposed to new things, as well as have someone get excited when you offer the same. There's a constant sense of anticipation as you wonder what you'll find out next. It's almost never boring, and in a world where boredom is one of the biggest reasons relationships fail, that's definitely a goal to strive for.
With this type of attraction as the basis for their fledgling relationship, Brody and Cruz have a real chance at a future…provided they can resolve the whole ghost situation that brought them together in the first place. But let me tell you, as someone who found her own scientist to share the rest of her life with…the journey is just as worthwhile as the destination.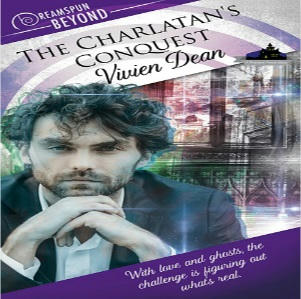 Excerpt!
"HOW WOULD you like to make the easiest twenty grand of your life?"
From anybody else, Cruz Guthrie would've dismissed the proposition as irresponsible hyperbole, most likely brought on by drunken rambling after a particularly long day at work. With so many people he knew struggling to make ends meet, trying to find ways to make quick money was practically their favorite pastime.
But the question didn't come from any of them, and this was a dry get-together since Cruz didn't think it was fair to imbibe when half the party wasn't allowed to drink. He couldn't brush it off as nonsense when he knew full well it was meant to be taken seriously.
Still, he wasn't in the mood for dealing with reality, especially since reality had been kicking the asses of everyone he loved in recent weeks.
"There's no such thing as easy," he said, flipping the lone burger on the grill. His portabella was already done, resting on the upper rack because even his barbecue timing was out of whack these days. "Are you sure you don't want this medium-rare? We can eat right now if you give it a chance."
"You know my position on pink meat."
"'Only on my knees,'" Cruz muttered, then sighed when his stomach rumbled. "C'mon, I'm starving here."
"I don't recollect telling you to cook me dinner."
"Who else was going to do it?"
No answer came, because they both knew there was nobody else. When it came to friends, Etienne Newman claimed only one—Cruz. He alleged it was because Cruz was the only guy north of the Mason-Dixon Line crazy enough to stick around. The truth was a whole lot more complicated, even with the fact that Etienne's theory wasn't completely off base.
"I'm serious as a heartbeat about the twenty grand," Etienne said, going back to his original question. "Aren't you even a little curious?"
"Does it have anything to do with your work?"
"Yeah."
"Then no."
Etienne huffed in indignation. "Since when are you so against what I do?"
His mushroom was starting to wilt. Cruz scooped it up and set it in the middle of his plate of roasted vegetables, resting on the side of the grill, before lowering the cover in hopes it would speed up the burger's cooking time. Only then did he turn around and face Etienne.
"First, we both know I've got nothing against your line of work," he said. "Never in all the time we've known each other have I judged you for it. But second, and more importantly, how on this good green earth can you expect me to listen to a job pitch when you literally just got home from the hospital after getting stabbed on your last job?"
To his credit, Etienne blushed. Not a common response, since almost nothing ruffled him. But sitting in the deck chair with his crutches propped against the table beside him, the bruises still visible on his arms where he'd been battered around, he could barely meet Cruz's gaze in the face of that particular truth.
Something hot and wet smacked into the side of Cruz's head. He jerked back to see his portabella land with a splat on the wooden deck.
Etienne sighed. "Don't be so childish, Simone. He's got a point."
"And now only half a dinner," Cruz said, snatching up a towel to wipe away the juices that ran down his cheek.
"You're the only one here who qualifies fungus as food."
Before Cruz could come back with a rejoinder, the mushroom rose in the air, floated to the garbage bin at the end of the grill, and plopped inside.
"Thank you, Simone," Cruz said automatically.
"You can have my burger," Etienne offered.
"Nah, that's okay. I bought a two-pack. I'll just cook the other one." He shot Etienne a smile as he headed inside. "It's not like I don't have time."
In the kitchen, he grabbed the portabella from the fridge and quickly cleaned it, but his attention kept getting diverted to the window and the sight of Etienne arguing with thin air. Etienne had been good about holding his tongue in the hospital. If the staff had seen this, he'd be in the psych ward now instead of nestled in his very private backyard. But half the reason Etienne had bought the six acres outside of Quakertown to call his home base was so he would never have to worry about what neighbors thought.
Life was rough for a ghost hunter when few people actually believed ghosts existed.
Cruz had made up his mind by the time he stepped back onto the deck, but Etienne spoke before he had the chance.
"Forget what I said. I just figured since you won't take any money from me, you might want the chance to earn it yourself. But I've got no right to put you in harm's way, even if I don't think there's any harm to be had. I'm sorry."
Cruz believed him. Most people did, actually. That was one of Etienne's gifts. With his tousled blond curls and New Orleans drawl, he had a snake charm few could resist. Cruz hadn't when they'd first met. That was why he'd agreed to go out with him, even though his gut told him they wouldn't be compatible romantically. As it turned out, his gut had been right, but the friendship they struck instead made that sole date more than worth it. Each was willing to do whatever it took to protect and fight for the other. For ten years, Cruz had lived with the certainty that Etienne would never consciously let him get hurt. He had no reason to think that had changed.
"So how do you get paid twenty thousand dollars without danger as part of the package?" he asked.
The tension in Etienne's shoulders eased. They didn't need the words to understand that apologies had been offered and accepted on both sides. "By putting an old rich man's paranoid delusions to bed."

About Vivien!
VIVIEN DEAN is a firm believer that love doesn't care about gender. That's why her titles encompass both GLBT and het, erotic and sweet, as well as a wide variety of genres. After growing up in the snowy and isolated Midwest, she went off in search of her creative muse. She performed on stage, wrote and directed indie films in Orlando, then met her British soulmate online. One wedding, two children, and ten addresses later, she resides in the Bay Area where it's easy to indulge in her favorite pastimes—good theater, great movies, and amazing food.
Vivien is a three-time EPIC eBook Award winner and collaborated with Pepper Espinoza to write as Jamie Craig for five years.
CONTACT VIVIEN
www.viviendean.com | Blog | E-mail: vivien_dean@yahoo.com | Facebook | Twitter