Hi guys, we have Z. Allora stopping by today with the tour for her upcoming release The Craving, we have a fantastic guest post where Z. chats about The Craving, we have a great excerpt and there's a fantastic giveaway! So guys check out the post and leave a comment to enter the giveaway! <3 ~Pixie~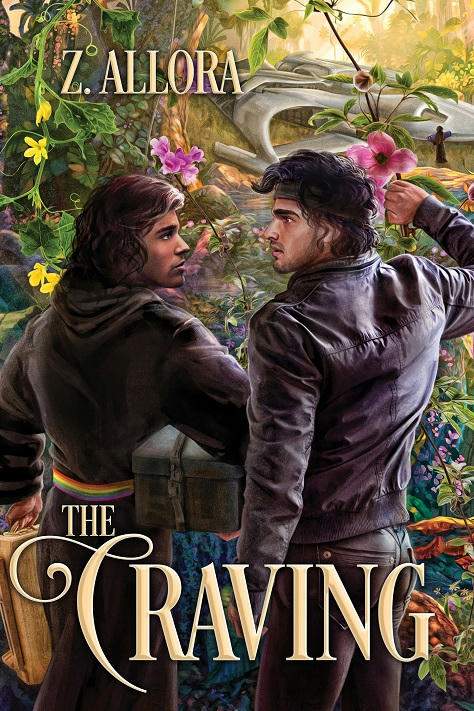 The Craving
by
Z. Allora
The craving is an undeniable urge that drives K'Dane citizens to find their life mates—if only to sate their uncontrollable physical longings.
Thrilled at being named a Chosen, Phoenix Dotir leaves K'Dane to become an artist-monk who will create dimensional art capable of changing worlds. Living by the monastery's Principles of Purity will surely help him overcome the craving. But he never accounted for star chaser Zadra Solav.
Zadra doesn't believe in rules and makes his own future. Fate separates him from the man he loves, but one touch renders him helpless to his own desires. Bonding with a monk is forbidden, and Zadra's family sends him to deep space to avoid disgrace. Unable to give up, Zadra must find a way to reunite with his Chosen.
Tormented by enforced separation, Initiate Riva Quinton struggles with his vow of chastity and risks all to rescue his lover. Together with his Eros, he stows away on board a star craft to follow his heart.
Four men defy destiny and tradition for love… but their love is a crime punishable by death.
Release date: 3rd February 2017

Z. Allora: Sex in Space!
I want to thank MM Good Book Reviews for allowing me to share one of my favorite aspects of the science-fiction genre. Sci-fi lets the reader discover a whole new world, with its own inhabitants, rules and taboos. (Psst, sharing allows you to enter the giveaway).
If you read my stories or you're one of my Facebook Pretties, you know I believe the relationship we have with sex and gender affects how we view the world. For my upcoming release, The Craving I had to figure out generalizations about each planet's sexual attitudes and then figure out if my characters adopt or deny their society's view on sex.
With this in mind, I created my universe. The Xantha star system is made up of thousands of habitable planets, each with their own customs. Viking Haven (the capital planet) tries to enforce certain star system standards, though some individual differences are still ingrained.
Does this sound familiar to current world events?
Here's a brief rundown of the groups you'll encounter.
K'Dane: (moderately wealthy and technologically advanced planet)
The K'Danes believe they are sexually progressive. They openly discuss recreating (masturbation) and sex. However, there's a strong belief in forming nuclear units of two males and two females, which are best to birth and care for a child.
Due to this child-rearing model, orientation isn't on their view screen. It is simply accepted that K'Danes are comfortably bisexual. Some might have a leaning toward males or females, seen as a preference rather than an orientation. The nucleus is expected to make preferences work.
Ambrosial: (Garden planet, half vacation destination and half monastery)
There is no sex at the monastery. One of the fundamental rules is to uphold the Principles of Purity. Chastity is believed to be the key to artistic expression to reach higher levels of dimensional art.
Monks and initiates wear a protective unit (chastity belt) that allows them greater focus. The sexual energy not released goes into their dimensional art capable of affected the behavior of the viewer and encourage action.
Song Di Wangan II: (Uber wealthy and technologically advanced planet)
Historically, the Song people heart linked with one partner for life, forming a soul-deep bond that even death couldn't sever.  The remaining partner in a heart-linked pair couldn't survive the excruciating bereavement from the loss of the other, making death a welcome relief.
When a virus ravaged the planet, it was the loss of the heart linked that almost wiped out the entire population.
The planet adopted a non-monogamous stance, with citizens developing a circle of friends with benefits and never allowing themselves to become too attached to one individual.
Though there are no laws against heart-linked love it's viewed as backwards and dangerous. Even though affections are limited, there are no sexual acts considered taboo.
Viking Haven: (Capital planet and blessed in most ways)
Females threatened the current ruler's great-great-great-great grandfather legitimacy. Rather than surrender his seat of power, or worse, share it, he mandated a gender divide. Male lords and slaves remained in Viking Haven's capital while all others were banished to Valhalla. This gender divide encouraged homosexual relationships.
Feri: (radiated rock, life expectancy: short death painful)
The citizens of Feri learned at a young age that if you had privacy, time and energy you sought as much satisfaction as you could. Tomorrow wasn't promised, so Feri enjoyed everything they could to the fullest.
A Feri finding the right mate rivals a super nova. They firmly believe in love and marriage.
~~
Exploring each of the main planets views toward sex and love allowed me to develop what their stances would be on various issues. The official tagline line won't be Sex Among the Stars… but to me that exploration is just as exciting as the planets and adventures I created.  I hope you enjoy The Craving.
Hugs,
Z. Allora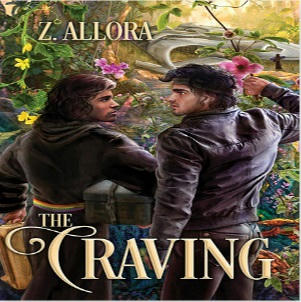 Excerpt
"SHARDS!" FIRE licked up Nix's leg, jerking him awake. He kicked the silver mycra blanket his mother had brought back from a trip to Sona IV to the floor. Something bit at his thigh?
A bang at his sleep-room door echoed through the room.
He opened his mouth to answer, but agony stole his words. Sweat broke out all over his body as the wicked heat devoured him.
The privacy code to the room must have been overridden because the door slammed open. Someone rushed to his side. "Lights!"
"Mom." Nix writhed in anguish as the bright light burned his eyes. He moaned and waved to his leg.
"What in K'Dane is wrong?" His mother tried to shift his robe out of the way, but the fabric tangled.
The pain swirled on top of his skin. "My leg! My leg! It's on fire! Ow!" He jumped off his sleepfoam and yanked open his robe to expose his thigh.
"Nix? What's—No! The mark? It can't be!"
He stared down at the mark. The pain evaporated like it was never there. Excitement, pride, and shock fought for dominance. He exhaled in amazement and plopped back onto the sleepfoam. He was marked. "Galaxy!"
With a long tail surrounded by flames fluttering around his calf, a multicolored, multidimensional bird etched its way along his thigh.
"Look, Mother, look!" He turned his leg to see the entire imprint. The bird seemed to take flight.
His mother collapsed onto the hard stone floor at his feet and stared at his leg. "No! How can this be! You're still a boy. No! You're only fourteen full seasons. No!"
Did this mean… "Am I one of the elite? Does this mark make me one of the Chosen?"
His mother wiped at tears running down her cheeks. "The mythical bird appears only on one of the Chosen."
"It's a miracle." Nix couldn't imagine himself as one of the Chosen. He wasn't worthy, but without question he'd devote himself to the betterment of the Xantha galaxy through the creation of dimensional art. He could create art with the potential to change the hearts and minds of the citizens who viewed it, art that allowed people to see beyond themselves to the whole. Dimensional art had been credited with stopping wars, building alliances, and making people thrive in the Xantha galaxy.
He had planned to apply through the Ambrosial monastery's usual acceptance process. They took artists able to create third-dimensional art, and he'd shown consistent ability to do fourth-dimensional work.
But the bird branded him as one of the Chosen through mystical intervention. Or maybe it was what his older sister claimed it was: in vitro manipulation. No one was sure. Nix didn't care! He needed no admissions process. It was done.
"I'm to be an Ambrosial monk." This was a fulfillment of a dream. He'd always loved painting, but during this past season his talent for morphing dimensional artistry went beyond any of the master artists at his learning space.
"No!" His mother wept and clutched at his leg. "My poor baby."
What? No. He slid to the floor and knelt next to her. "Mother, it's an honor to be among the Chosen."
She squeezed her eyes shut and pulled him close. He inhaled her light, flowery perfume. His mother always smelled the same—when she bandaged his cuts, when she wiped his tears, and when she stood next to him when his fathers were jetted off for their eternal rest. Her scent meant stability and that everything would be okay even if right now the universe spun out of control.
His mother sighed. "I know, but you won't have the normal life of a K'Dane citizen. You won't have mates or children, and you'll be stuck devoting your entire life to the service of the galaxy's art."
"Mother!"
She hushed him and petted his hair. "Ah, the geneticists were good, carrying out Xantha's royally decreed skin-tone conformity as if that would ensure the planets of the Xantha system fuse into one. K'Dane followed the letter of the law, though I can see your fathers in you. You're a combination of both their handsome faces, same almond-shaped brown eyes as Dam, your hair has the exact wave that Brodit had, though your skin is a touch deeper bronze than either of them…. You know, before you were born, they both wore their wavy, tawny hair down to their shoulders just like you…." She sniffled. "And now you'll leave me too… like them!"
"Only to study at the monastery. But not until I'm eighteen full seasons old." Why was she worried? That's a lifetime away.
"It's too young to leave me." Most children stayed within the same complex of living units as their families.
His new status meant his family would receive many benefits. Not that it was difficult, but since his fathers' deaths, his mother needed to work additional hours. "You could cut back on labor hours."
"I love my job." She worked as a grief counselor. "It is very rewarding work, and I'm making a difference."
"I know, but I bet we even get a larger monthly stipend. We'll be able to move back to better housing."
"We came here to be closer to your sister. We don't need more spending credits." His mother looked right and left and lowered her voice. "Maybe you don't want to let anyone—"
"Mother! Do not speak of such a thing." He cut off her mutinous idea. She was distraught. Not thinking clearly.
She blew her nose. "I wish one of your fathers was still with us."
His mother had been so besotted with her life mates that she never rebonded after she lost both of them in a transport accident. They had been good fathers, and they doted on Nix and his older sister.
Nix missed both of them every day. "I wish my fathers were alive too. But I'm happy you'll receive the honor and benefits of giving a son to the monastery."
"I'd rather keep you all to myself." His mother sounded like his older sister when she was in a mood.
"But, Mother, we can holo picture each other all the time, and I don't have to go anyplace for many seasons."
"I can't hug a hologram." She frowned.
Lacking a better idea, he tightened his arms around her. Life had gotten complicated. He allowed himself to sink into the safety of her arms and absorb the last bits of his childhood.

About Z.
Z. Allora believes in happily ever after's for everyone. She met her own true love through the personals and has traveled to over thirty countries with him. She's lived in Singapore, Israel and China. Now back home to the USA she's an active member of PFLAG and a strong supporter of those on the rainbow in her community. She wants to promote understanding and acceptance through her actions and words. Writing rainbow romance allows her the opportunity to open hearts and change minds.
To contact Z. Allora:
E-mail: Z.AlloraHappyEndings@gmail.com  | Facebook author page | Website | Twitter | Facebook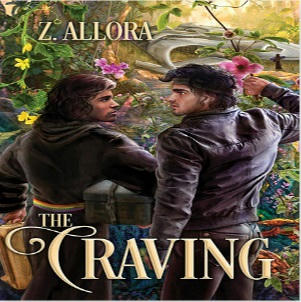 Giveaway!
There's two ways to win: You'll be entered into win a $20 Dreamspinner gift certificate (which goes across all the blog sites on The Craving tour) and I'll also pick a winner from each individual site for an e-book from my backlist.
(Just leave a comment on this post)
Leave a comment about your favorite sci-fi series (TV or book)
(Ends when Z. Allora says it ends!)