Hi guys! We have Ardy Kelly popping in today with her new release The Cub Club, we have a great exclusive excerpt and a fantastic $10 Amazon GC giveaway so check out the post and enter the giveaway! ❤ ~Pixie~ p.s. keep an eye out for our review in the next couple of days!
The Cub Club
by
Ardy Kelly
What would you do if your adopted son shifted into a wolf cub before your eyes?
For single dad Steven the choice was simple – find the boy's family and hope they had the answers.
As the alpha of Lone Wolves Ranch, Mack trusted in humans as much as he trusted in love. Not at all. But he has a soft spot for the brave man searching for his son's relatives. When he discovers Steven is his fated mate, he's stuck between a soft spot and a hard place.
The Cub Club is a gay wolf shifter romance containing Mpreg and knotting. A complete 65,000-word novel – no cliffhanger!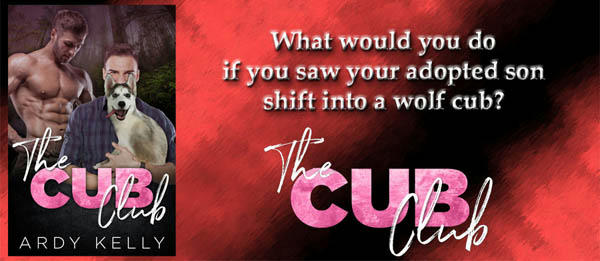 Exclusive Excerpt!
Sheriff Thompson only visited when there was a problem. The wolves had assisted him over the years. The first time had been when he was new on the job. He drove out to the ranch, asked for Mack by name, and then explained he needed help looking for a lost child who wandered off into the woods. Without ever saying the words, the message was clear: You're the best wolves for the job.
His pack made quick work of it, finding the child, and letting her ride on the back of a wolf to safety. The little effort it took paid off handsomely. The nearby residents had always distrusted the ranch. There were even some who believed they kidnapped the child as a sacrifice to satanic gods. Returning the toddler to her parents (after changing back into human form, naturally) garnered them some respect. Community service had paid off.
Mack insisted Sheriff Thompson take all the credit. The ranch didn't need any publicity.
And there was plenty of publicity. Sheriff Chet, as the media loved to call him, was a tall, well-built, blond hunk. Of all the natural wonders found in Timber Crossing, he was the one most photographed. There was even a bachelorette party who paraded nude on Main Street just to be arrested by Sheriff Chet.
It was obvious there was more to Chet than just his good looks and work ethic. The sheriff had a sixth sense of things. If he said, "I have a feeling," it was probably more likely a vision. Not that they ever asked about his powers. In their working relationship, Chet didn't ask what they did, and they didn't ask what he did.
Sarge and Chet were waiting for Mack at the guard station. None of them were much for small talk, which was another trait that bonded them.
"What's up?" he asked.
"I was just telling Sarge, there's been a series of robberies in the towns around here. The one last night was in Timber Crossing." Chet flipped open a little notepad. "The suspect was described as tall, thin, dark hair, with multiple piercings and a prominent neck tattoo."
The message between the words was that the sheriff was pretty sure the culprit was on the ranch. Mack had played this game often enough to know how to respond. "We can't have that behavior going on around here. Would you like us to search for him?"
"No need. Just wanted to let you know in case you run into him. The suspect broke into a senator's car who's vacationing in the area. When that got to the governor, he authorized checkpoints to be set up until the prominent politician leaves." He flipped the pad closed. "Just letting all our upstanding citizens know in case they were wondering about the roadblocks."
"To think one bad apple is going to inconvenience so many people," Sarge said. "I'd like to shoot him myself."
Chet stood in the doorway. "No need for that. Nobody's been hurt, thankfully. I have a feeling our little problem will take care of itself. I wouldn't be able to sleep at night if I thought a violent criminal was somewhere in my jurisdiction."
Mack nodded. "If that was the case, we wouldn't hesitate to help."
Chet nodded, turned, and then… Nothing. He just stood in the doorway, neither completely in nor completely out of the guard station. His hands were on his hips, as he stared up at the clear blue sky.
Mack and Sarge exchanged a look behind the sheriff's back. It wasn't until Mack was about to say something when the man finally spoke. "Are Steven and Peter getting along with everyone here?"
It was rare anyone caught Mack off guard. At least it had been rare before Steven arrived. "They're both great," he replied.
"Sheriff," Sarge said. "Are you inquiring about our guests as part of your professional duties?"
Chet turned back to face them. "No. I just passed Steven's van on the road, and thought I'd ask. Be sure to tell him I hope to see him again soon, will you?"
The wolf wanted to leap out of Mack's skin and sink his teeth into the sheriff's throat. Instead, he replied, "I'll try, but my memory isn't as good as it used to be."
Chet laughed and walked back to his car.
Mack waited until he was sure even a shifting sheriff couldn't overhear. "What the hell, Sarge? You just let him drive away?"
"Yep."
"Did you have anyone follow him?"
"Nope."
"What if there's an emergency? Who has his number?"
"Peter."
"He just takes off without telling me? Do we know when he's coming back?"
"Friday."
"So he is coming back," Mack confirmed. "He said that?"
"Verbatim."
Mack stared at Sarge. "For someone with all the answers, you're a man of few words."
"Yep."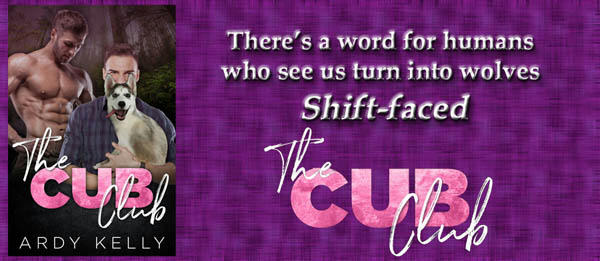 About Ardy!
Ardy Kelly is my paranormal pen name. I work for one of the top boutique event planning companies in San Francisco, and I can't risk having our clientele (or my boss) discover my passion for aggressive, sexual, alpha men.

I started writing steamy contemporary romance in 2015 under the name Robyn Kelly. At that time, only virgins seemed to be nabbing troubled billionaires, and I thought it was time to write a book where experience counted for something. When I discovered the Omegaverse last year, I noticed a lot of stories where Omegas were weak little victims, and decided to tackle that issue as well.

Much as I love writing all types of romance I don't mind poking fun at the genre, too. My books always have a lot of humor, and usually one character is reading or writing a particularly silly romance book.
Giveaway!
Win a $20 Amazon Gift card!