Hi guys! We have Philip William Stover stopping by today with his upcoming release The Evolution of Love, we have a brilliant guest post from Philip and a great excerpt, so check out the post and enjoy! ❤️ ~Pixie~
The Evolution of Love
(World of Love 29: Ecuador and the Galapagos Islands)
by
Philip William Stover
When a charming but misguided account manager gets stuck on a cruise to the Galapagos Islands with his hunky zoologist ex, he might rediscover his true passion—in and out of the bedroom.
After art school, Mike Davis gave up on his dream in favor of a stable job. But when he gets an opportunity to teach wealthy travelers how to paint stunning sunsets, it seems like the perfect break. Until he finds out he'll be sharing a suite with his ex, charismatic Benton Aldridge—a British scientist cuter than the baby animals he studies. Mike makes it clear he has no intention of getting back together with Benton, but sharing a suite makes it almost impossible keep his distance.
As they climb over volcanic peaks and swim with manatees through sparkling jade-colored water, can they also heal past wounds and take the next step in the evolution of love?

The Evolution of Love and the Sites of Quito, Ecuador!
by Philip William Stover

The Evolution of Love takes place during a luxury tour of the Galapagos Islands. About a decade ago my husband called me from work and asked how long it would take for me to buy a wet suit. He had been asked to replace the watercolor instructor on a tour of Ecuador that included Quito and the Galapagos. Three days later we were on a plane headed to a country and landscape about which I knew very little.
I set The Evolution of Love in Ecuador for many reasons one of which is the fact that the city holds a special magic that I thought would be a sensational backdrop for a romance about a painter and a zoologist who have a chance at finding love again.
I'm lucky that I get to travel so much for work. I'm always inspired by setting and love to sit in a café in a crowded square and imagine all of the stories that might unfold in a particular time and place.
I hope you'll consider reading my first romance novella and taking a quick vacation with me to South America. Here are five spots in Quito that you'll find in The Evolution of Love.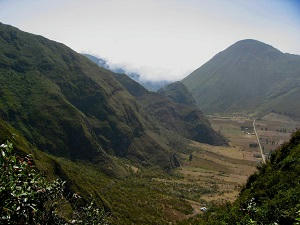 The active volcanos that surround Quito create a valley that is breathtaking. The last eruption was in 1999 and covered the city in a few inches of ash. Like many beautiful things they are also dangerous.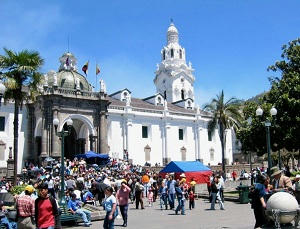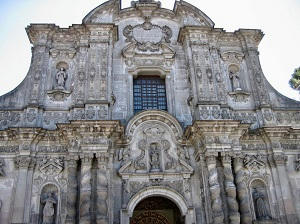 The Plaza de la Independencia is often the first stop for tourists to Quito since it's the largest and most important public square in Quito. The Cathedral of Quito pictured here plays an important role early on in the book.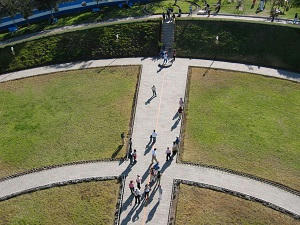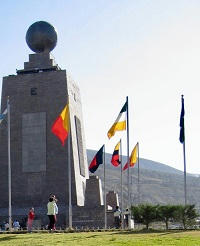 The first time our heroes in The Evolution of Love reconnect they are in two different hemispheres. When we visited Ecuador we kept hearing that we would visit the "historic" equator. I thought it was odd that they kept qualifying the word equator. It turns out the actually equator is about 240 meters north. The French had already built the marker by the time the error was corrected so tourists now visit the "historic" equator and water still spins down the drain two different ways when you are 240 meters north.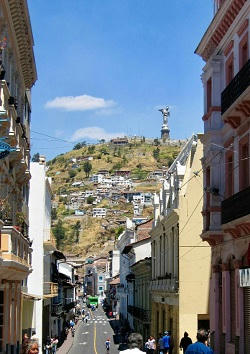 Quito is not a city where it's easy to get around. Traffic and narrow streets are manageable but the severity of the incline can be dauting to the strongest of thighs. I'm out of breath just seeing this photo.
I grew up reading romance that transported me to places I never thought I would be able to visit. I never dreamed I would one day visit those places with my husband and then write my own romances set in those locations.
Thank you for taking this brief trip with me and please accept my invitation to travel to Quito and the Galapagos Islands with me aboard a luxury cruise ship. I'd love for you to get to know Mike and Benton as they re-connect in this beautiful landscape.

Excerpt!
"MIKE, DOLL, it's the trip of a lifetime. All you'll have to do is teach two watercolor classes at the end of the cruise. The San Isabella III is one of the world's most beautiful ships, not to mention touring the stunning Galapagos Islands. This might be your last chance to see the blue-footed booby," Penny pleads as she sips her Irish coffee.
I have always wanted to see those marvelous animals and their lapis webbed feet. As a little kid I'd spend hours drawing strange creatures with oddly colored talons; when I found out there was an actual bird that looked like the ones in my imagination, I was deeply intrigued. But I thought I had plenty of time to make that childhood dream come true. Didn't I?
"Last chance?" I ask Penny. "Are they in danger of becoming extinct or something?" The thought of any species perishing, especially one I held in such high regard, was disturbing.
"Not that I know of, but I don't have a direct line to the World Wildlife Federation. What's in danger of extinction—is you!"
I put down my cup of non-Irish coffee and look across the veranda of the Hotel Del Coronado and focus on the sandy beach of Coronado Island just a few yards away. I love Penny. I've always loved Penny. I loved Penny when Penny was my uncle Paul, before her transition, but I have never loved the lectures.
I should have known when she asked me to coffee at the opulent Hotel Del she had something up her three-quarter-length sleeves. She first brought me to the gleaming white Victorian hotel as a kid. We would have a glass of water and split a cucumber sandwich, the cheapest thing on the menu. Now she can afford whatever she wants, and she uses the covered patio that overlooks the ocean as her personal throne room.
"Penny, you're being dramatic."
"If you take the promotion Mr. Biddle is offering you, your life will become extinct faster than the dinosaurs."
"Actually that took thousands of years."
She takes a deep inhale and points her finger at me. "Don't you get smart with me, Michael Robert Davis."
Penny is only a few years older than me, even though she is technically my aunt. We've been best friends since we were teens, but she has always had a maternal side that is somewhere between Carol Brady and Joan Crawford.
Penny flies around the world escorting wealthy travelers on adventures from the Great Wall of China to icebergs in Patagonia. It's a perfect job for Penny since you need to be strong but liked by everyone. She was once an All-State lineman for UC San Diego, so nothing gets in her way, but people still adore her.
"Mike, I'm being serious. I need your help, and you can take the time off. You've never really wanted to work at Biddle anyway."
She's right, of course. She's always right, which is really very annoying. I started doing some small drawings for Biddle Communications part-time. I had just returned home to San Diego after graduating from art school in New York. My student loans were like wolves howling outside my door, and, of course, I was still helping Mom with some of the bills and taking care of my younger brother and sister. I had been doing that since my dad walked out when I was a kid. So my part-time work turned into a full-time staff position. Now I've been asked by Mr. Biddle to become the senior account manager of operations for the entire firm. I never thought I would be working for a communications company that specializes in public relations for healthcare providers, but here I am, managing projects duller than the wheels on a used skateboard. I've even had to hire someone else to do the artwork, so I don't even get to do that anymore.
"Penny, need I remind you of the salary that goes along with this promotion?"
She throws her arm in front of her and dramatically looks at the freckles on her wrist where a watch would be if she were wearing one. "Oh dear me. Is it quarter past a freckle already? Mike, doll, you mention the salary every hour on the hour. I love you, so I'm going to say this gently. Cut that shit out! I don't give a crap."
"That's the gentle version?"
"That's the honest version."
Some people say they never knew they were poor growing up. That wasn't me. I knew it and I hated it. I hated having to lie about where we bought our clothes. I hated that none of the furniture in our house came from the same decade. I hated eating Hamburger Helper. Actually that's a lie. I absolutely loved Hamburger Helper and still do.
"Are we going to talk about the real reason you don't want to go? Or should we keep pretending?"
"Pretending," I say, my voice strong and clear.
"Mike!" she says sharply, then puts her hand on mine and looks at me with her big artificial-green eyes. She gently rubs my knuckles with her hand. She has more rings than fingers, so they sparkle like a royal scepter in a fairy tale. "I know. It's still hard. I understand. But you can't bury yourself in work just to forget what happened."
But that's what I want. I want to be so busy with work that nothing else can breathe, so busy that I never even think about Benton.
"Penny, it's been almost an entire year since he left. Why am I still…?" I can't finish the thought.
What's the equation? A one-year relationship takes six months to get over? Half the time. Something like that? Then why am I still not over Benton?
My entire upper body tenses when I think of how he left. Things got worse and worse until he just told me he was taking a research fellowship back in the UK and that he didn't think I had my priorities "sorted out." Well, screw him. My priorities are just fine.
"It might do you good to get away, nothing to remind you of anything." Penny's phone vibrates, and she looks down at it, then rolls her eyes. "It's the cruise people. Mike, you think. I'll be back in a minute." Penny grabs her phone and walks away from the table.
Mr. Biddle did give me time off before I start my new position. There are a few thousand miles between Benton and me now. A few thousand more couldn't hurt. I'd even get to paint for a brief stint, and I'd be helping Penny. There really isn't a reason why I shouldn't go.
Penny returns and bats her incredibly long fake eyelashes at me. "Well?"
"Fine," I say.
"Are you serious? Mike, I need a definite 'yes.' This Galapagos cruise has been a complete nightmare to plan. The cabins are fully booked, and the lecture staff keeps changing. We have some very high rollers, and I cannot send another 'Sorry about the change in the itinerary' email."
"I get it," I say. "You can count on me."
"Wonderful," she says and slaps her hands together in delight. "Honestly it's going to be the best gig of your life, and you'll get to see the blue-footed booby."
I take a sip of my now-cold coffee and think about all the pictures I've seen of this alien creature in magazines and online. That bird better not disappoint me.

About Philip!
Philip William Stover splits his time between Bucks County, Pennsylvania, and New York City. He has an MFA in writing and is a clinical professor at New York University. As a freelance journalist, his essays and reviews have appeared in Newsday, the Forward, the Tony Awards, the Atlanta Journal-Constitution, the Houston Chronicle, the Milwaukee Journal Sentinel, and other national publications. For many years he ghosted for an international best-selling women's fiction author. He has published multiple middle-grade novels for Simon & Schuster and was the American Theater critic for About.com.
His gay romance series set in New Hope, PA will debut with Carina in spring of 2020.
Philip grew up tearing the covers off the romance novels he devoured so he wouldn't get teased at school. Now he enjoys traveling the world with his husband of over twenty years and would never consider defacing any of the books he loves.
He can be found on social media as Philip William Stover and at: Website | Twitter