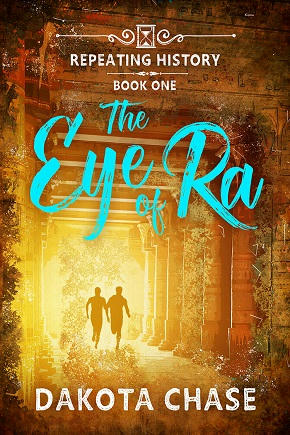 Title: The Eye of Ra (2nd edition)
Series:  Repeating History 01
Author: Dakota Chase
Genre: High Fantasy, Historical Ancient World, Teen Fiction, Time Travel
Length: Novella (170 pages)
Publisher: Harmony Ink Press, (Dreamspinner Press) (May 16, 2017)
Heat Level: Low
Heart Rating: ♥♥♥♥ 4 Hearts
Blurb: Repeating History: Book One
Both Aston and Grant have a talent for finding trouble—it's what landed them at the Stanton School for Boys—but this time, their mischief might send them to a completely different world.
When they accidentally destroy their teacher's priceless archaeological artifacts, he demands they replace them. And since the teacher in question is Merlin, refusing isn't an option for the two boys. Thanks to Merlin's magic, they're about to become time travelers.
The first piece on their list is the Eye of Ra, a mystical amulet belonging to the young King Tut. Ancient Egypt is nothing like Aston and Grant expected, with its war, disease, and lack of modern technology. To survive, they must befriend King Tut and learn to trust him—and each other. In a primitive world, where death and danger wait around every corner, one thing is clear: revisiting history could cost someone their life.
First Edition published by Prizm Press, 2010.
ISBN-13: 978-1-63533-370-1
Product Link: https://www.dreamspinnerpress.com/books/the-eye-of-ra-by-dakota-chase-8337-b |  https://www.harmonyinkpress.com/books/the-eye-of-ra-by-dakota-chase-469-b
Reviewer: Shorty 
Review: Grant and Ashton are two school boys who are thrust into the past to retrieve the Eye of Ra that was destroyed in a fire because of them. I found it intriguing and interesting that it was Merlin's possessions that were destroyed. I liked that instead of reporting the boys he decides to take matters into his own hands and as a result the boys learn a valuable lesson in history first hand.
At times it seems as if the young men are not going to make it through the story in one piece. I felt myself immersed in a story that I would have enjoyed seeing with my own eyes.
Though this journey was not without danger, Ashton and Grant make the most of it while trying to stay alive. The environment was beautifully written as was the interactions. A magical and historical story that grabs you from the start and does not let go until the end.
Great read.