Hi guys, we have Matt Doyle stopping by today with his new lesbian release The Fox, the Dog, and the King, we have a great excerpt so check out the post and enjoy! ❤ ~Pixie~
The Fox, the Dog, and the King
(The Cassie Tam Files 02)
by
Matt Doyle
New Hopeland City may have been built to be the centerpiece of the technological age, but some remnants of the old world still linger. The tools of the trade have changed, but the corruption remains the same, even in the criminal underworld …
When PI Cassie Tam and her girlfriend Lori try to make up for their recent busy schedules with a night out at the theatre to watch the Tech Shift performer Kitsune, the last thing they expected was for Cassie to get a job offer. But some people are never off the clock, and by the end of the evening, Cassie has been drawn into a mundane but highly paid missing pet case. Unfortunately, in New Hopeland City, even something as simple as little lost dog can lead you down some dark paths.
Until now, Cassie wasn't aware that there even was a rabbit hole, let alone how far down it goes.
Intro & Exclusive Excerpt!
Tracking the dogs excerpt
By Matt Doyle
I wanted to give an excerpt that shows part of how Cassie is working the case in The Fox, The Dog, and The King. Here, she has a suspect in relation to the missing dog that she's been hired to find, and has also discovered that the police are working a number of similar cases. When she uncovers some information regarding the potential whereabouts of the missing pets, she sets up a working relationship with Lieutenant Hanson of the New Hopeland PD. Unfortunately, some of the tech that the possible dognapper has been using knocks out Cassie's communications with the team, and she ends up having to wait for them to get back in touch. So, here's how things get going again:
~~~
I open my mouth to respond, but a voice cuts in on my earpiece. "Cassie, you there?" Hanson asks.
"Yeah, I'm here," I reply, my relief mixing with my frustration. "What happened?"
"We got hit with a bunch of fuzz when they used the first set of Gloves in the tunnels, but the auto-reset didn't kick in. I think you were probably too close and they did a number on the equipment. We lost your tracker too."
"Diu. Is it back on now?"
"Yeah. It says you're around Fenchurch Street. That seem about right?"
"Really? You think I'd be able to tell that down in the tunnels?"
"I don't know. Can you?"
"Not down there, no. But yes, I'm on Fenchurch Street."
"So, you're not down in the tunnels now?"
"No, I lost the group and ended up back topside. Any ideas what to do now?"
"Yeah, get yourself back down there. Another guy went in about ten minutes after you. If you're lucky, you'll be able to catch him and pick up the trail again."
I rub my forehead and ask, "And if I get too close to him when he uses the Gloves? Then what? The tracker's gonna cut out again."
Hanson pauses, then says, "It'll come back again eventually."
"Yeah, by which time, I could've been jumped by twenty people with no sign of backup in sight."
Hanson clicks her tongue over the earpiece. That I can hear it means that she's intentionally transmitting it. Thanks for that, Hanson.
"You could shout, really loud," she tries.
Charlie taps my shoulder and hands me a sheet of paper that reads, Did the Tapping affect Bert? I reread it and glance at the little mechanical gargoyle who's wandering around the room and examining the furniture in his ongoing quest for a decent scratch post. "Thank you," I say to Charlie, then hit the transmit button and say, "The Tapping didn't seem to effect Bert. Familiars are built not to be damaged by small surges, right?"
"You tell me," Hanson replies, slightly bemused.
"Yeah, it was something about avoiding the risk of having their programming scrambled too easily. If I send you his tracer details, you should be able to connect to that if the main tracer cuts."
"OK, but what if the comms go down again?"
"If comms go down but you can still follow one of the tracers, then send a team in if we stay in one place for more than a minute. If you can't catch either tracer, then send a team to the point where it went down. If the message was right about timings, I can't be too far from the meeting point now. If you can, though, get them to enter from above. The way this is going, the sewers are a direct route to wherever they're holding the dogs, but the actual building will be on street level."
"Roger that. I'll get them ready to move. Keep us updated if you can."
"Will do," I reply and turn back to Charlie, who is now staring at me with a suspicious look on her face.
"Dogs?" she asks.
"Long story. Bert, come here a minute." Bert waddles over and I slide a panel on his stomach aside so I can check the identification number on the outside of his frontal servicing hatch. I hit the transmit button and read it off to Hanson, then confirm that we'll move when we know the straggler has gone by. Bert, being Bert, wanders off completely unfazed. Charlie, on the other hand, is still looking at me. "What?"
"I need to know what our halls are being used for."
I could argue with her on that point, but that would only slow me down right now, so I take the quick route instead and confirm, "Someone's set up a dogfight. The audience is definitely using them to get to the venue. I don't know if they were used to transport the dogs themselves, but it's possible."
"You've gotta be…and when were you gonna tell me that?"
I shrug. "After we stop it."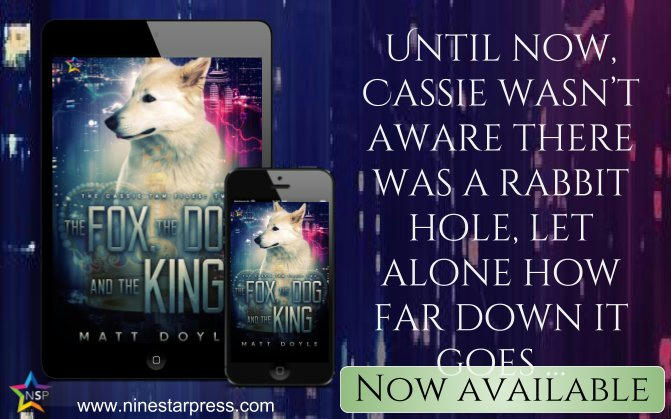 About Matt!
Matt Doyle lives in the South East of England, sharing a house with a wide variety of people and animals including a dog, a cat, a snake, a rabbit, and an ever changing selection of teas. Matt is pansexual and gender-fluid, and is happy for people to use whichever pronouns they wish.
Over the years, Matt has spent a considerable amount of time chasing dreams, gaining varying degrees of success in a great number of fields. This has included spending ten years as a professional wrestler (both working shows under the ring name Tad, and working backstage booking and running several successful shows in his local area), game creation, and completing a range of cosplay projects.
Website | Facebook | Twitter | eMail | QueeRomance Ink | Amazon Author