Hi guys! We have Z. Allora stopping in today with her upcoming release The Great Wall, we have a fantastic guest post, a great excerpt and an awesome giveaway, so check out the post and leave a comment to enter the giveaway! <3 ~Pixie~
The Great Wall
by
Z. Allora
Destiny will be decided by a battle between heart and mind….
Jun Tai "Styx" Wong loves two things: playing the drums and his best friend, Jin. But being a good Chinese son means he can't have either—he'll have to marry a girl of his parents' choosing and settle into a traditional job. His move to the bigger city of Suzhou is both a blessing and curse, as living with Jin makes it harder for Styx to suppress his desires. Nearly dying while trying to eradicate his feelings serves as a wake-up call for Jin, who takes extreme measures to keep Styx safe from harm.
When given a second chance at life and happiness, will Styx be able to claim the future he wants with Jin, his bandmates, and his music? Can love and hope grow with the constantly looming threat of Styx's parents ordering him home? Great things await—if Styx finds the courage to break down the wall that stands between him and everything he wants.
The Gardens Of Suzhou
by Z. Allora
Greetings! I want to thank MMGoodBookReviews for the opportunity to share a little bit about me, China and my new release The Great Wall. To celebrate I'll be doing a giveaway: 3 ebooks of Secured and Free, 5 ebooks of Finally Fallen and a $20 gift card to Dreamspinner. (Details about the giveaway are below.)
The Gardens Of Suzhou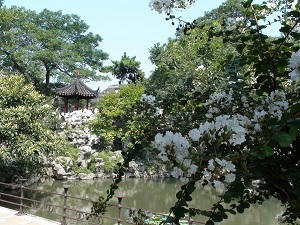 Living in China started with a museum and a wish.
Love slave that I am, I travel with my love. In 2004, one of his business trips took us to San Francisco. As usual I went to the Japanese Tea Garden, and then to the Asian Art Museum. (I adore art and stalk every museum I can). I was meandering through the galleries, and I came upon an exhibit that focused on Suzhou (pronounced Sue-Joe) China.
The exhibit presented videos on the "Venice of the East". Suzhou earned the nickname because of the numerous canals that used to transport goods through China. The town appeared to be a beautiful place but most stunning were the gardens of Suzhou. Due to the mild climate, many of the Emperors gardeners retired in Suzhou creating their own masterpieces. There are eighteen magnificent gardens and each is different.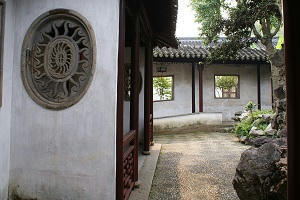 I was taken by these exquisite works of art. Every step gifts you with another view the gardener wanted you to see. Around every turn a new perspective that draws you further into the depths of the natural beauty perfected and enhanced by the master gardener.
I watched the 20-minute video 3x crying at the magnificence. Over the weekend, I brought my love to the museum mostly see the videos of Suzhou. He was impressed.
Z.: "I wish we could live there. It's so beautiful."
My Love: "Be careful what you wish for…"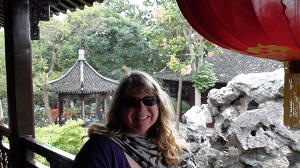 Two years later, my love and I settled into an apartment in Suzhou China. We lived in Suzhou for almost six years. I spent many early mornings and late afternoons, meandering through these works of art trying to appreciate every gift the gardener had left.
In The Great Wall Styx and Jin go to the gardens quite often. Here's an excerpt from one of their garden adventures that changes everything between them.
Many hugs, Z.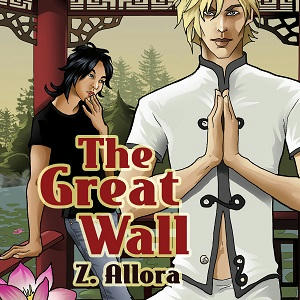 Excerpt!
"Let's go to the Lion Grove Garden."
A short train ride later, Styx and Jin were climbing around the rockery of one of their favorite gardens.
Ornate gray limestone protrusions shot up around a tranquil lake, its glassy surface marred only by occasional koi surfacing to feed and ashes of their orange and silver gliding by. The limestone rocks, some of which resembled lions, were littered with natural holes of various sizes and shapes and formed an interesting maze. If the right path was chosen, it led to the towering teahouse pavilion. The teahouse had been refurbished in the last century, but the Chinese craftsmen were so precise with their restoration it appeared original. Parts of the garden were untouched from the 1300s, though braces now held up several of the ancient pine trees to prevent them from toppling.
Styx sighed in irritation when a tour guide screamed to her group, interrupting the garden's peace. Her voice carried to them an explanation of how the rocks came all the way from Taihu Lake. It wasn't far by modern standards, but in the Yuan dynasty, it must have seemed like an interplanetary move.
As expected, around three thirty the tour groups left. Apart from a few older folks, Jin and Styx had the garden to themselves.
Jin beamed at Styx. "We have to thank your grandfather again for these passes. Mmmm, smell the jasmine."
He stuck his face in the large bush to inhale. When he finally stepped back, he came away with several white petals stuck in his golden hair.
"Come here." Styx plucked each flower petal out of Jin's hair. He fought the need to exchange kisses for each petal.
Jin leaned over, bringing with him the intoxicating scent of the flowers mixing with his own.
Styx was glad Jin relished the gardens of Suzhou as much as he did. With the garden passes, they visited the eighteen popular gardens created by the emperor's retired gardeners, and even the smaller, lesser- known ones commissioned by rich merchants.
"Yeah, just remember we have to renew the cards soon. Hard to believe we've been in Suzhou for almost a year," Styx mused.
They climbed the steep, rough-hewn limestone steps, along at stone bridges between formations, and down into the rockery that rimmed the pond. Across from their position, a number of elderly people gathered for an informal senior social club at the old teahouse. The excited words of two men playing a heated game of mahjong carried to them, making Styx recall how animated Jin became when he won a game.
"Styx?"
"Jin?" He hoped to lighten the direction of the conversation he was sure Jin would take.
"Why didn't you tell me you were depressed?" The words tumbled out of Jin as if he'd held them back far too long.
Styx tried to make fun of the diagnosis. "According to the doctor, I'm not. I need to focus on my work."
He didn't miss the concern on Jin's face. Turning away, Styx climbed onto the next section of rocks. The trees blocked their view of the tea pavilion's ornate carved guardians and the people gathered in their protective shadow. Styx almost believed they were the only ones in the world.
"Styx?" A one-word warning told him he'd better fess up and do so quickly. "I don't know. I guess I didn't want you to know." No man wanted to show such a loss of face. His inner voice demanded he act as culture dictated.
Styx jumped off the bridge path and landed on the rock face. He stepped around the peak, grabbing one of the jagged edges as he climbed over to grin at Jin.
"Careful, Styx."
He scaled the unexplored parts of the rockery, relishing the fact he was breaking the rules. He'd left the proper-acting, rule-following boy back in Yintang. Here with Jin, he became himself—Styx, the boy who loved making Jin laugh, and not Jun Tai, the boy who had to marry a neighbor girl to please his family and honor tradition.
Styx orbited Jin, leaping from limestone outcropping to tiny footholds in the rocks until once again he stood beside his favorite person in the world.
About Z!
Z. Allora believes in happily ever afters for everyone. She met her own true love through the personals and has traveled to over thirty countries with him. She's lived in Singapore, Israel and China. Now back home to the USA she's an active member of PFLAG and a strong supporter of those on the rainbow in her community. She wants to promote understanding and acceptance through her actions and words. Writing rainbow romance allows her the opportunity to open hearts and change minds.
To contact Z. Allora:
FACEBOOK | Blog | Website | Twitter | E-mail: Z.AlloraHappyEndings@gmail.com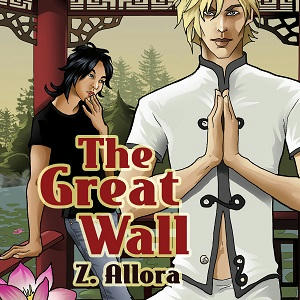 Giveaway!
Win! 3 ebooks of Secured and Free!
Win! 5 ebooks of Finally Fallen!
Win! 1 $20 gift card to Dreamspinner!
(Just leave a comment sharing favorite museum and why.!)
(Winners will be picked on Jan 19th by Z. Allora!)