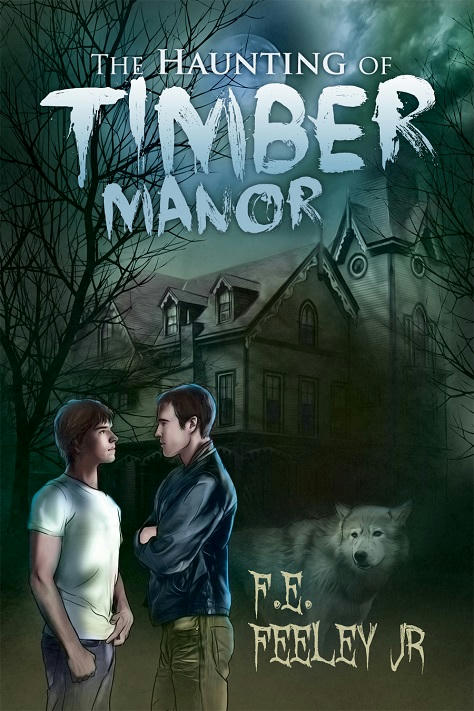 Title: The Haunting of Timber Manor (2nd Edition)
Series: Memoirs of the Human Wraiths 01
Author: F.E. Freeley Jr.
Genre: Mystery, Horror, Fantasy, Contemporary
Length: Novel (230 Pages)
Publisher: Dreamspinner Press (January 7, 2017)
Heat Level: Low
Heart Rating:  ♥♥♥♥♥ 5 Hearts
Blurb: While recovering from the recent loss of his parents, Daniel Donnelly receives a phone call from his estranged aunt, who turns over control of the family fortune and estate, Timber Manor. Though his father seemed guarded about the past, Daniel's need for family and curiosity compel him to visit.
Located in a secluded area of the Northwest, Timber Manor has grown silent over the years. Her halls sit empty and a thin layer of dust adorns the sheet-covered furniture. When Daniel arrives to begin repairs, strange things happen. Nightmares haunt his dreams. Memories not his own disturb his waking hours. Alive with the tragedies of the past, Timber Manor threatens to tear Daniel apart.
Sherriff Hale Davis grew up working on the manor grounds. Seeing Daniel struggle, he vows protect the young man who captured his heart, and help him solve the mystery behind the haunting and confront the past—not only to save Daniel's life, but to save his family, whose very souls hang in the balance. 
ISBN:   978-1-62380-282-0
Product Link: https://www.dreamspinnerpress.com/books/the-haunting-of-timber-manor-by-f-e-feeley-jr-8008-b
Reviewer: Lisa
Review: I have never been a fan of the creepy crawlie's, spooks, horror or just plain down scary stories.  However I have read a few stories by this author, and somehow the way they are written just captures you and drags you into its world whether you want to or not.  So when I saw this particular book, I jumped and took a chance.  And damn what a chance it was.
Daniel was in his last year of college, just twenty-three when his parents were killed out sailing.  A trip that he was supposed to take with them, if he hadn't thrown a temper tantrum and went with his friends instead.  He didn't think he had anyone left, that is until his Aunt Carol called asking him to come home.  Hell he didn't even know he had an Aunt Carol but things just couldn't get any worse could they.  Never ask that question if you want a true answer.
Hale is the Sheriff and also helps Carol out with her horses.  He came across Daniel when Daniel had stopped his truck in a storm. He started to like what he saw.  However there was some hidden and dark secrets at the manor.   Wolves that spooked them all, hauntings that were physical scared out of their mind terror for the family.  However Hale and Daniel are determined to get to the end of it.
I have got to say that I hope to find more of this type of story in the m/m sub-genre because it was unique and fascinating.  You come across vampires, werewolves, witches and so forth, but not many good ghost stories.  Danny has inherited the whole thing.  Strange things are happening and falling in love on top of it all.  I think the manor is a top hit for me and what a story this author has given.  I wasn't really a fan of the multiple points of view but with this story it rocked perfectly.  Although it was just a bit hard to get used to.  
Overall this story was very entertaining and I had a blast reading it.  I definitely can't wait for another story from this author.  I loved the characters and those wolves were a big surprise.  I had a lot of fun with this and would definitely recommend it.