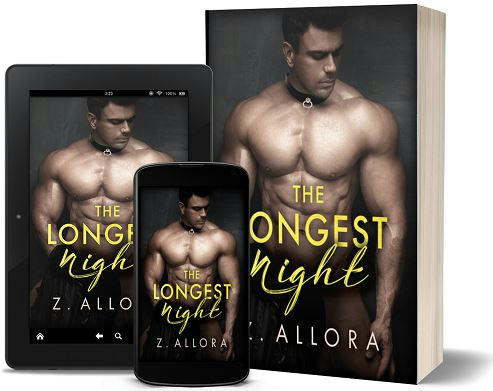 Hi guys! We have Z. Allora popping in today with the cover for her upcoming release The Longest Night, we have a great excerpt so check out the gorgeous cover and enjoy the excerpt! ❤️ ~Pixie~
The Longest Night
by
Z. Allora
The holiday season is lonely for construction worker Benjamin Morgan, a big muscular guy who just wants to submit, obey, and serve. But the men he's attracted to usually don't have a dominant bone in their bodies. He's done seeking his BDSM dreams with someone who isn't interested in putting him in his rightful place—on his knees at their feet.
When a friend sets up a meeting with Foster Ridgeway at the BDSM club, Entwined, Benjamin has his doubts. Of course he is attracted to bookish Foster, who works for the same construction company, but how will someone so small and delicate-looking master Benjamin? But when Foster–the tiny temple of dominance wielding a crop—heads toward Benjamin, he might get what he's always wanted, just in time for Solstice.
Release date: 20th December 2019
Pre-order:
.•.•.**❣️ Dreamspinner ❣️

**.•.•.
Excerpt!
DECEMBER'S PROMISE of rain turning to sleet propelled Benjamin Morgan through the doors of Entwined.
The BDSM club might be overly fancy for Benjamin's tastes, but everyone accepted his submissive nature. In his early twenties, he discovered Albany's leather bars and adored their clear definitions of top and bottom, but he never quite fit in. People too often attributed his height and muscles to being dominant—something he certainly wasn't.
At Entwined, the founders made respect the foundation the club was built on. Disrespecting someone's beliefs, gender identity, orientation, or fetishes wasn't tolerated. He was grateful for a safe space to be his most submissive self.
One side of the lush, chandeliered, all-wood entryway was taken up by lockers for members to stash their belongings. The other side housed the club's administration—a huge mahogany desk, laptop, landline, standing files of blank forms, a cup of purple pens, and a locked filing cabinet.
"Happy holidays, Benjamin!" Audrey shouted from her gatekeeping perch. She was decked out in her usual purple lace and satin.
Benjamin restrained a sigh. He hated the holidays. This year he had hoped that throwing himself into the club's decorating committee would help soothe the jagged edges that kept him ripped open. He'd have to settle for some mindless sex tinted with a little subspace to survive the holiday season.
"Same to you, Audrey." He handed her his driver's license and took the locker key. He tossed his cell phone, wallet, keys, coat, and shirt into the locker box. Damn, if only there were a place to lock away the mistake of reading his brother's yearly holiday text message.
Please leave your devil worship and gay lifestyle. Save yourself. Repent! Turn away from sin! You have a place at our table when you do.
"Any plans for Solstice?" Audrey played with the white furry ball at the end of her purple Santa hat like a kitten. Sweet of her to remember he was Pagan.
There were only a few other Pagans who belonged to Entwined, but the club owners always encouraged members to celebrate everyone's traditions, so no one felt left out.
"Nah, just a quiet evening at home." He might not even cut a Yule tree. Last year he couldn't, and this year….
"You should celebrate somehow. If I was going to be in town, I'd have you over." Her frown was out of place on her pretty face.
"Audrey, have fun in the sun with your Master and make sure you post a lot of pictures. I'm counting on you to help me figure out which island I want to go to next year." He widened his pasted-on smile, hoping to convince her that he'd be fine.
She jumped off her stool and launched herself at him in full-on hug mode. "I know it's not for several weeks, but just in case I don't see you, have a very happy Yule and an even better New Year." Then she whispered, "And most of all, I hope you find a Master."
He allowed himself to absorb her warmth and affection for a moment, then swallowed around the lump in his throat and thumped her back, maybe a bit too hard. Though knowing her, she probably liked it.
A couple of years ago, he and Audrey bonded at one of Entwined's bimonthly sub meetings. Their friendship was cemented by their warm feelings on humiliation, collars, and leashes.
Stepping back, he nodded and cleared his throat. "A Master…. Ha, not counting on that fantasy becoming reality anytime soon. Tonight I'm here to meet Sophia."
"Hey, you never know. Have a great night," she said as other members entered.
He escaped into the club. Hell, he was done inviting love into his life. He'd be content to find someone who could top him and didn't expect him to be versatile.
He glanced out over the pine boughs, twinkling lights, and rainbow ribbons that turned Entwined's main space into a holiday forest. As he trudged down the stone stairway littered with Hanukkah and Kwanzaa symbols, he stopped to reattach the two paper decorations that had slipped off the wall.
At the bottom of the stairs, a huge tree decorated with whips, handcuffs, rope, blindfolds, garland made of twisted bondage tape, and twinkle lights greeted the members. Tables on either side flanked the tree. One was covered in a blue-and-white tablecloth and held a menorah, chocolate coins, and dreidels scattered over it. The other had a red-green-and-black cloth draped over the sides. It held seven handmade candles in a kinara, a unity cup, mat, fruits, nuts, and corn. Across the room, there was another table piled with wrapped presents that would be taken to the homeless shelter later this week.
Holidays highlighted all of Benjamin's have-nots. He was glad Entwined collected money and presents several times a year to help give folks a few haves.
Benjamin's mother had always joyfully knitted hats, scarves, and gloves throughout the year, which they would not only take to shelters but to the street for the people too scared to seek help. Unfortunately, last year she'd been too sick, and then early last December she died. Now this year he didn't know if he could find a reason to celebrate.
Benjamin got some orange juice from the bar and then found a place in the back corner. Maybe he'd chosen the wrong place to sit—a front-row seat to hopeful couples going into the back, subs kneeling next to their Masters, and others emerging from the private rooms, blissed-out and happy.
Sophia tottered over on her heels. "Glad you made it. You weren't waiting long, were you?"
"Nah, only ten minutes." He shrugged. "You said you wanted to chat."
"I know how hard the holidays are after you lose someone. You know she'd want you to find happiness." Sophia, the paramedic who'd responded last summer when he'd dislocated his shoulder, slid into the seat next to him. They'd recognized each other at the sub meetings and become fast friends ever since.
She put her elbows on the table and leaned close to stare at him.
He fidgeted and gestured to the room. "I tried something different. I helped decorate at the party."
"Only because I begged."
"I stayed to the very end." Mostly because the day after Thanksgiving no one else had come who was tall enough, even with the ladder, to put the bondage angel on top of the tree. He glanced over—she did look beautiful all trussed up like that.
Sophia pointed at the fireplace. "But you haven't cut a Yule log."
He shrugged, trying not to look like a bad Pagan for not taking care of it. "I'm sure someone will do it."
She gazed out over the area. "Any prospects here for you?"
He shook his head. "Nah."
"What about that hot guy at your work who was asking you out?"
An image of Foster Ridgeway's bright blue eyes behind his wire-framed glasses—which didn't hide his pretty face—danced through Benjamin's head. The glasses gave Foster a bookish yet stern expression. Benjamin couldn't help feeling regret at avoiding him. "He's stopped asking. Besides, he's the boss."
She tsked at him. "He's in management, but he's not your boss. From what you've said, your crew doesn't even report to him."
He hated that Sophia yanked away his excuse, because now only the truth glared at him. Maybe he was doing the same stereotyping that bit him in the ass, but he didn't want to be disappointed by expecting the barely five-foot-five sexiness would want to top him on a regular basis or even ever.
"You could ask him out." She nudged him.
Benjamin couldn't imagine doing the inviting. "Sophia, have you not met me? I can't do any such thing. Besides, I'm telling you, it wouldn't work."
Though it didn't stop Benjamin from jerking off to visions of Foster. Oh, how I'd show my appreciation if Foster fucked me.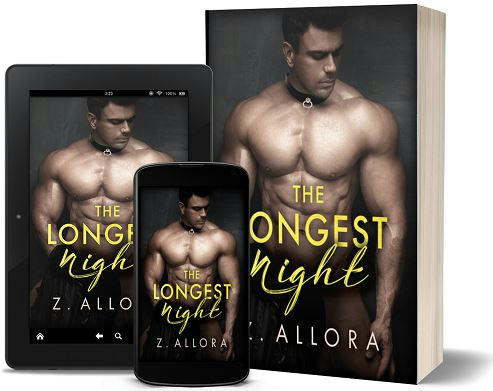 About Z!
Z. Allora never expected to share her words with anyone, but things don't always work out as planned. Growing up in Upstate NY, she was a tomboy: playing basketball in the park, twirling a rifle in color guard, and in secret she composed stories filled with angst.
She didn't always believe in romance, although before giving up on it completely, she took out a personal ad in a college newspaper. On October 20th 1987, at 5:08 PM she found what she didn't think existed, and married her best friend five years later.
A bit of an overachiever, Z. received three Bachelor's degrees (Psychology, English & Philosophy) and a Master's degree in Psychology. She loved enhancing the quality of life of people in her residential and day programs, but her love's job swept Z. overseas to Singapore, Israel and China.
While living in China, she discovered M/M romance and a new world opened. The magic of the genre gave her new insights about herself and those around her. When she saw protests in Malaysia by parents who genuinely believed watching a singer could make their children gay, the ignorance was too staggering to ignore. No longer content to keep her words to herself, she published her stories hoping to add another voice to foster understanding, and to promote equality.
Z. Allora believes that each of us is wonderfully unique and deserving of a happily ever after. Regardless of where we are in the infinite spectrum of gender identity, orientation, or sexuality our differences and similarities should be both respected and celebrated.
However, Z. will never apologize for having too much yaoified smexy goodness in her books. She teases that plot is simply the words between the sex scenes (though that's a bit of an exaggeration). Sex is one of our most important and basic forms of communication, and she feels it's a vital part of understanding her characters.
Z. Allora truly believes this rainbow romance is changing hearts and minds, and will continue to speak out for love for all of us
To contact Z. Allora:
FACEBOOK | Blog | Website | Twitter | Dreamspinner Press Author | E-mail: Z.AlloraHappyEndings@gmail.com